uO BookIn - Acadissima by Jean-Louis Grosmaire (in French)
Join our spring-summer uO BookIn meetings!
About this event
In August, the Alumni Relations Office and University of Ottawa Press invite you to celebrate National Acadian Day by diving into Acadissima, by Jean-Louis Grosmaire.
The University of Ottawa Alumni Association is proud to offer a hard copy of the book to the first 10 alumni who register for this meeting.
This online uO BookIn book club is meant to be a friendly forum in which you can ask questions and discuss the selected book with the group, whether you've read it all, in part — or not yet. All are welcome.
Date: Thursday, August 19, at 11:30 p.m.
Cost: Free. The University of Ottawa Press is offering you a discount on their website.
• Hard copy version (20% off) — Promo code: CLUBLECTURE20
• PDF version (50% off) — Promo code: CLUBLECTUREPDF50
• EPub version (50% off) — Promo code: CLUBLECTUREEPUB50
Platform: The meeting will take place on Zoom. We'll send you the link a day in advance.
Language: This discussion will be led in French but you can ask your questions in French or English.
Do I have to read the book to take part? Of course not! The discussion is open to all.
How to participate: At 11:30 a.m., connect to Zoom using the link we sent you the day before. You can ask your questions on mic or submit them in chat.
Book summary
Acadia, 1917. In an Acadian seaside village, where life unfolds through its seasons and its struggles, in its beauty and its harshness, Jean-Baptiste, on the cusp of manhood, and the beautiful Angelaine are madly in love.
Overnight, their world turns upside down. Orphaned in a time of war, distraught, the young man enlists in the Canadian army and leaves the shores of his native Acadia and his beloved behind.
He thinks about leaving for the front, but finds himself in the spectacular mountains of Franche-Comté, roughly chopping wood day after day.
Against the backdrop of the enormous and little-known efforts of the Canadian and Acadian soldiers during the First World War in Jura, Franche Comté, Acadissima uncovers the power of the love that unites two young Acadians, despite the war, the distance and the struggles of life.
Published in French.
Remember to follow the Alumni Association social media as well as the book club Facebook group to share excerpts or pictures of what you're reading. Use the hashtag #uOBookIn
If you have any questions, comments or accommodation needs, please email us as soon as possible: alumni@uottawa.ca
Photographs, videos and audio recordings of events might be produced and might include your recognizable image. By participating in this event, you consent to appear in photographs, videos and audio recordings, and you authorize the University to use any of the above for its activities and events, as well as for its print and electronic promotional material, including the University website and social media. For questions or comments, email us: alumni@uottawa.ca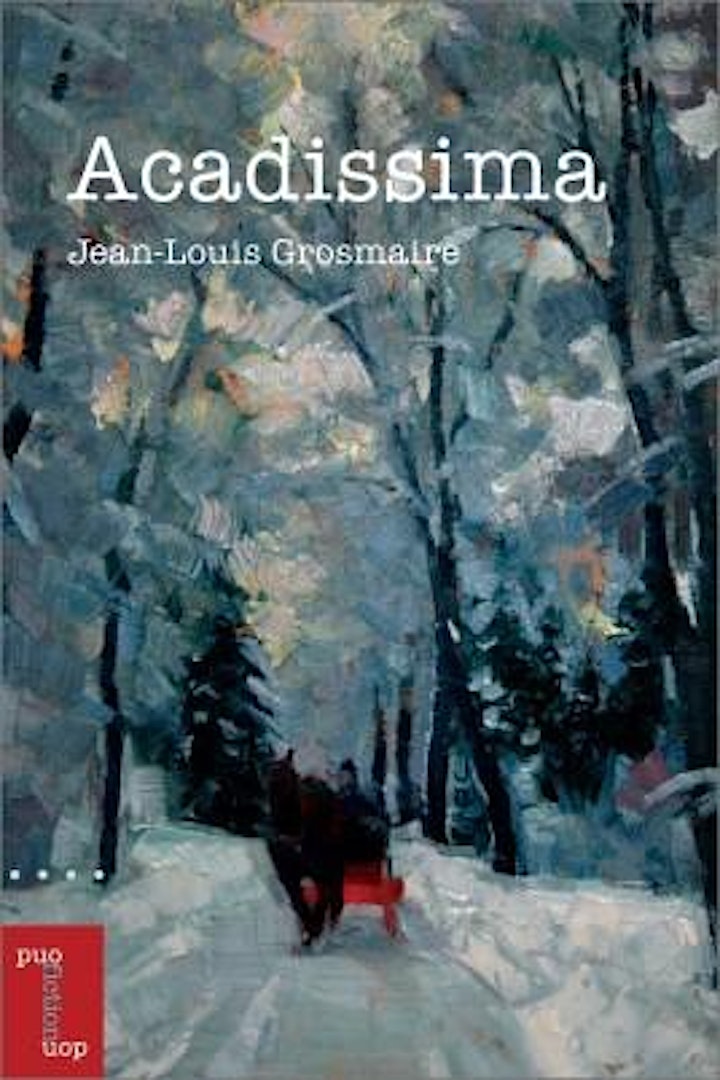 Organizer of uO BookIn - Acadissima by Jean-Louis Grosmaire (in French)