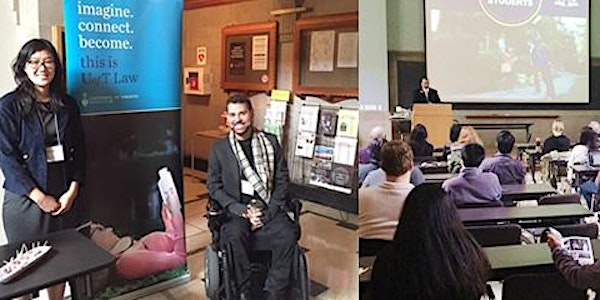 UofT Law | JD Admissions hosts UofT PoliSci, Criminology & ESL depts (2021)
This is the most comprehensive information session on getting into UofT Law
About this event
GETTING INTO UofT LAW
Absolutely Everything You Need to Know
UofT student webinar, registration is required.
In collaboration with the UofT undergraduate programs in Political Science, Criminology & Sociolegal Studies and Ethics, Society & Law, we invite you to join us online on Zoom for the most comprehensive presentation on JD admission to our law school.
This interactive discussion will better prepare you for a successful law school application. Get the inside scoop on applying to the University of Toronto directly from our friendly JD Admissions expert advisors.
Topics reviewed in this interactive session include:  
Our admission requirements and unique selection process
Our Black Student Application Process (BSAP)
Our dynamic curriculum 
Combined program options and certificates  
Career supports to help you succeed
Financial aid and student life 
"Out of class" opportunities including legal clinics, programs and exchanges   
EVENT REGISTRATION
This is not a drop-in event, please plan to attend in-time for the 6:00pm start
At this Eventbrite website register now
Zoom access information will be emailed prior to the event start, from 24hr earlier for early registrants, to 1hr earlier for late registrants
We encourage you to submit your questions to our advisors in advance, on the event registration form
 HELP
Contact us by email at admissions.law@utoronto.ca
Organizer of UofT Law | JD Admissions hosts UofT PoliSci, Criminology & ESL depts (2021)
Should you require any assistance please contact:
 JD Admissions Office
Faculty of Law
University of Toronto
78 Queen's Park
Toronto, Ontario
Canada
M5S 2C5
Tel: (416) 978-3716
E-mail: admissions.law@utoronto.ca