A discussion on the intersections of space and medicine.
About this event
Recent advances in both private and public sectors have led to tremendous progress in realizing the vision of humanity beyond Earth. In 2021, an estimated $92 billion were spent worldwide on the space sector, indicating that nations worldwide are committed to this vision. As we get ready to embark on this new phase of exploration and innovation, there are key questions that arise– who gets to go to space? How will we ensure that critical procedures, ensuring the health and safety of astronauts, work effectively under microgravity? And crucially, is pursuing the advancement of space technology worth its cost, in spite of the multitude of problems that exist on our planet's surface?
Interstellar Health: Medicine to New Heights is an event aimed at exploring these intersections between space and medicine. Through two panel discussions, we will address pressing questions regarding the past, present, and future of aerospace medicine. By hearing from the diverse perspectives of physicians, researchers, astronauts, and bioethicists, we will learn about how we can overcome barriers, increase collaboration, and work towards a more comprehensive and inclusive vision of healthcare in space. And of course, we'll learn about how these advances can affect our lives here on Earth!
Please join us virtually on June 2nd from 6:00-9:00 PM (EST) on Zoom as we discuss the state of space medicine. Our first panel will begin at 6:15, followed by engaging workshops by our local community partners at 7:15, after which our second panel will follow at 7:45. Please come prepared with questions for our wonderful panelists!
Please feel free to reach out to us with any questions or comments at uofttalks@gmail.com. More information at http://www.uofttalks.com!
Moderator
Bob McDonald has been bringing science to the public for more than 40 years. In addition to hosting Quirks & Quarks, the award-winning science program that is heard by 500,000 people each week, McDonald is also science correspondent for CBC TV. As a writer, he has authored five bestselling science books, and contributed to numerous textbooks, magazines, and newspapers (including The Globe and Mail). McDonald has been honoured for his outstanding contribution to the promotion of science within Canada.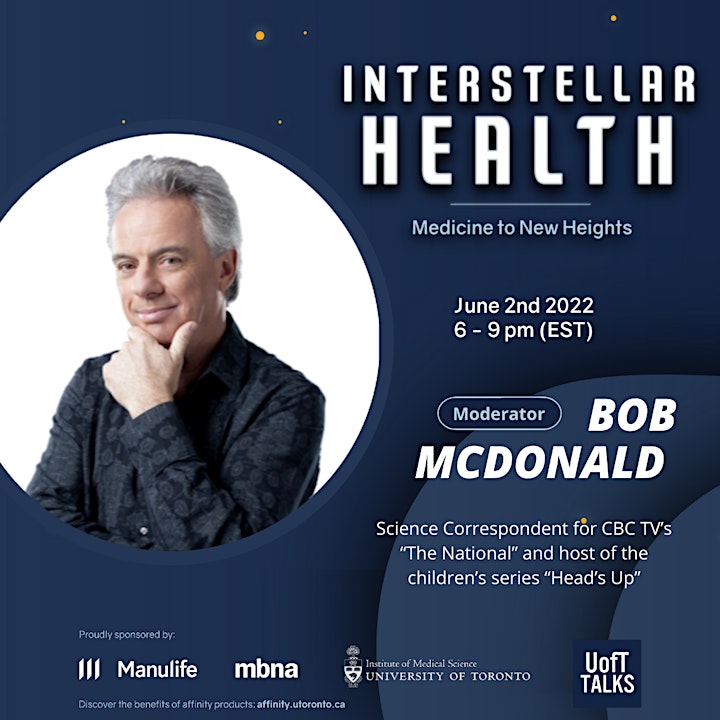 Panel 1: Intersection Between Space and Medicine
Dr. Hilding Neilson is an interdisciplinary scientist, working on astrophysics and on the intersection of science, astronomy, and Indigenous knowledge. As a Mi'kmaw person, he strives to embrace and integrate Indigenous knowledges and methodologies to better understand the physics of stars and the Universe, and our place in it. Dr. Neilson enjoys teaching at the undergraduate and graduate levels, as well as participating in public outreach and science communication.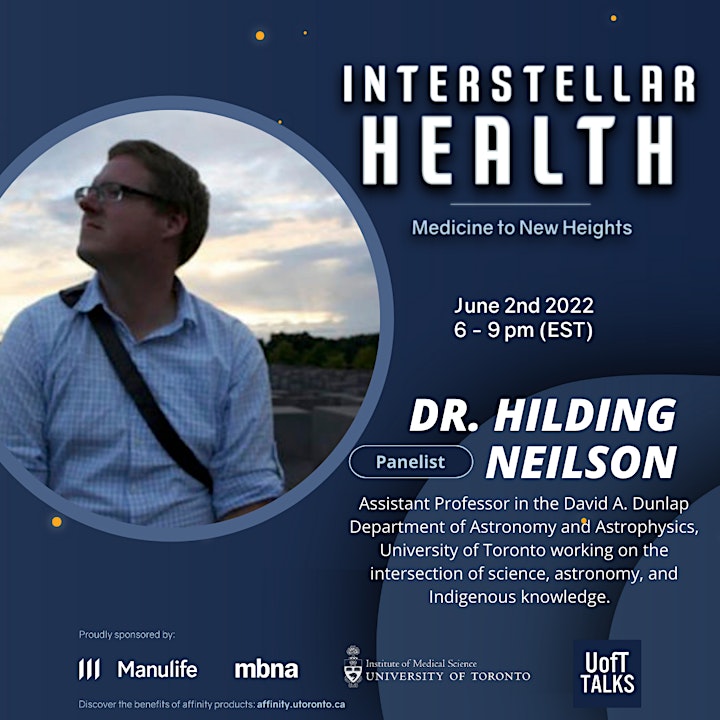 Dr. Shawna Pandya is a Canadian physician, scientist-astronaut candidate program graduate with the International Institute for Astronautical Sciences (IIAS), aquanaut, speaker, martial artist, advanced diver, skydiver, pilot-in-training, VP Immersive Medicine with Luxsonic Technologies, Associate Fellow of the Aerospace Medicine Association, and Fellow of the Explorers' Club. She is currently completing a fellowship in Wilderness Medicine (Academy of Wilderness Medicine).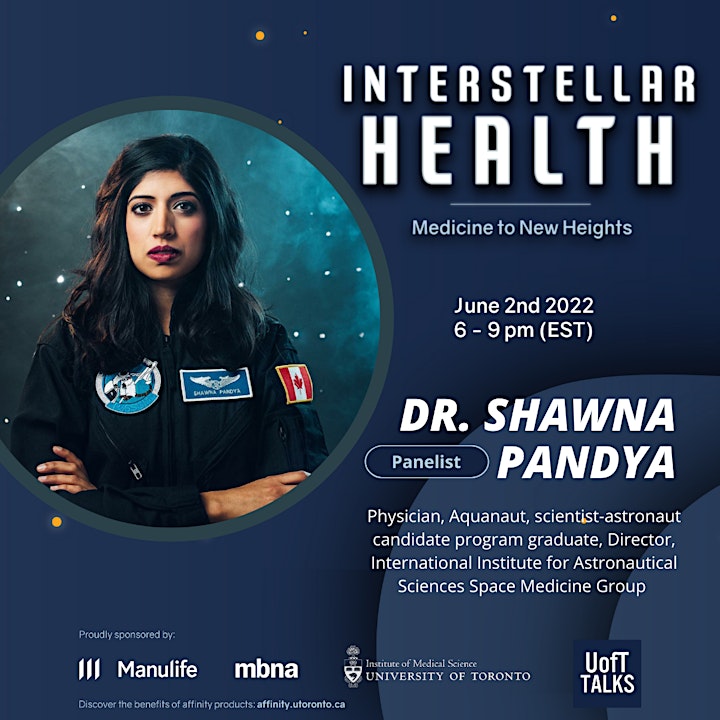 Dr. Robert Thirsk has academic backgrounds in mechanical engineering, medicine, and business administration. He has flown on two space missions as a member of the Canadian Space Agency astronaut corps in 1996 and 2009. Bob and his crewmates performed multidisciplinary research, robotic operations, and maintenance of Station systems and payloads. Bob continues to be a strong promoter of an economy based upon exploration, innovation, and lifelong learning.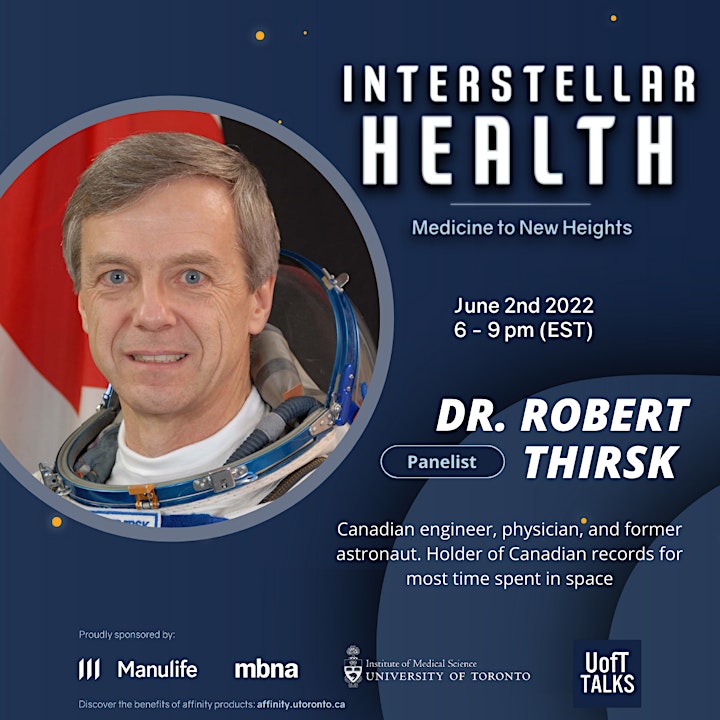 Panel 2: Emerging and Future Trends in Space Medicine
Dr. Kristi Ray is a current aerospace medicine resident working at NASA Johnson Space Center. She received her medical degree from Nova Southeastern University College of Osteopathic Medicine and has a background in family medicine and dive medicine. Her research interests include aerospace decompression sickness prevention and mitigation strategies.
Dr. Joan Saary is a physician in Occupational Medicine with unique expertise in aerospace medicine. She is an Associate Professor in the University of Toronto's Department of Medicine and a consultant to various organizations including the Royal Canadian Air Force/Canadian Forces Environmental Medicine Establishment and the Canadian Space Agency. She serves as Chair of Aerospace Medicine at the Royal College of Physicians and Surgeons of Canada and is a Past President of the Occupational Medicine Specialists of Canada.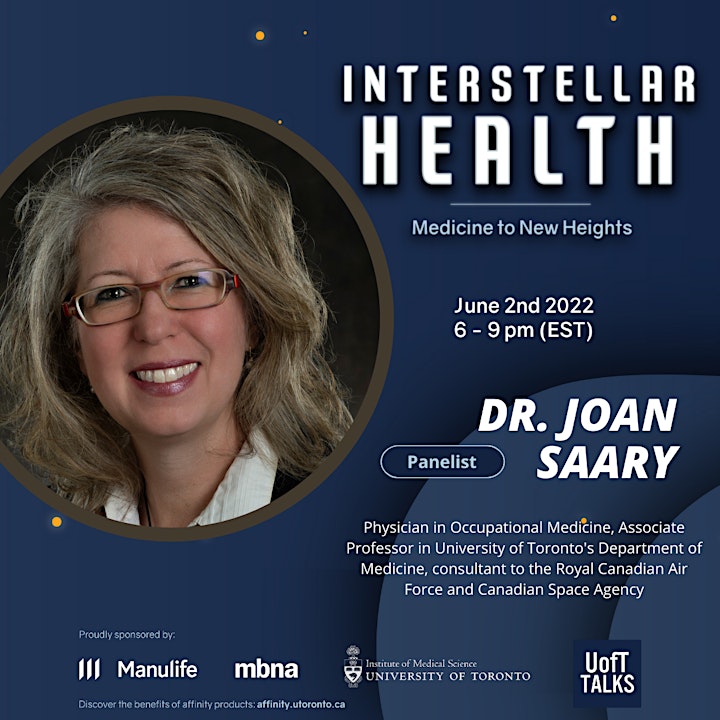 Dr. Konrad Szocik is a visiting fellow at the Yale Interdisciplinary Center for Bioethics, as well as an assistant professor at the University of Information Technology and Management in Rzeszow. His research interests include philosophy, ethics, and bioethics of space exploration, human enhancement, feminism, and selected issues on the border of futures studies and technology. Dr. Szocik is the author of the monograph "Bioethics of space exploration" to be published in 2022 by Oxford University Press.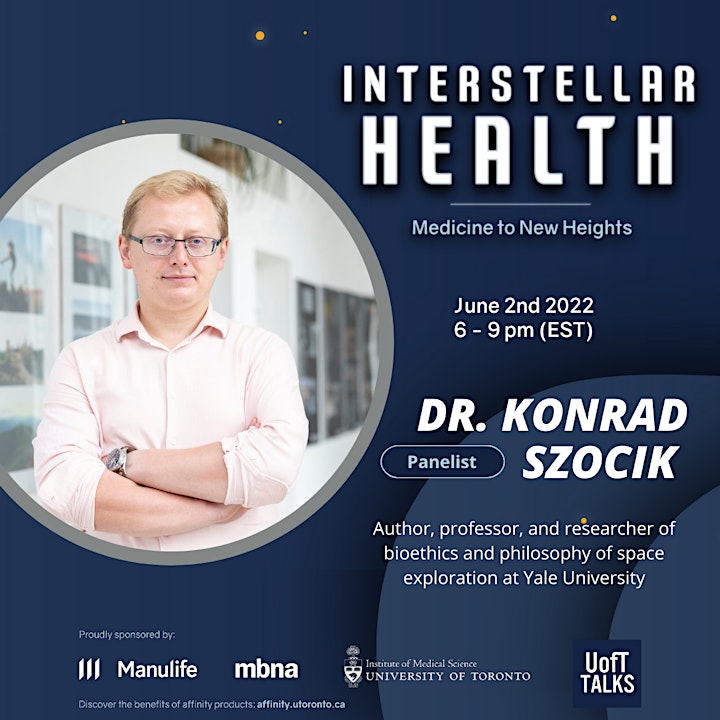 Community Workshops and Booths
This year, we will have interactive workshops or informational booths by 8 amazing community partners doing work in the field of space medicine! Please drop by our expo to learn more about AstroGeo, Canadian Society for Aerospace Medicine, Canadian Space Agency, Canadian Space Health Research Network, UofT Dunlap Institute for Astronomy and Astrophysics, Indus Space, SEDS-Canada, and the UofT Aerospace Medicine Club!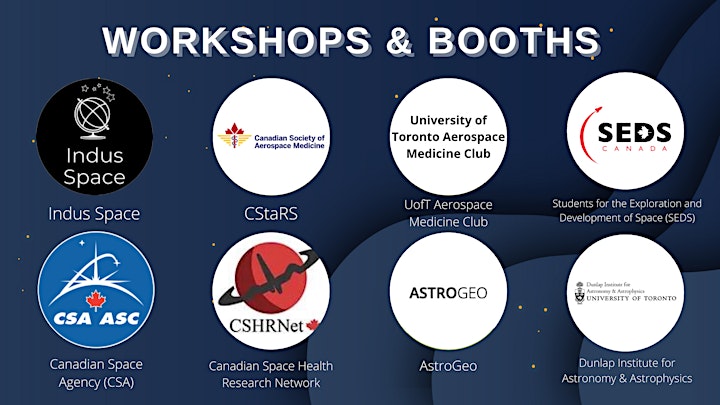 UofT Talks 2022 is are proudly sponsored by the Pillar Sponsorship, through MBNA and Manulife.