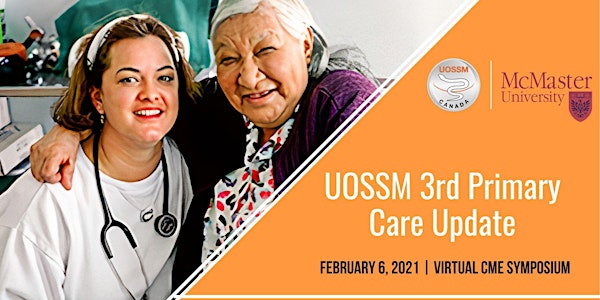 UOSSM 3rd Primary Care Update: Virtual CME Symposium
UOSSM's 3rd Primary Care Update .
About this event
By attending the Virtual CME Symposium, participants will be able to:
Implement advances in the diagnosis and management of common conditions in primary care – Diabetes, Obesity, Thromboembolic Disease and Osteoporosis with a special focus on the needs of Canada's First Peoples.
Apply and improve approaches for providing healthcare to female survivors of rape, and the provision of emergency contraception;
Understand important considerations to diagnose and determine the appropriate course of treatment for depression in the general population and Canada's First peoples.
**This event has been approved for a maximum of 3.75 MOC Section 1 credit hours and 3.75 Mainpro+ credits.
About UOSSM
UOSSM is a coalition of medical, humanitarian non-governmental organizations licensed in the United States, Canada, United Kingdom, France, Germany, Netherlands, Switzerland, and Turkey.
Union des organisations de secours et soins médicaux (UOSSM) was formed in Paris in 2012 and provides humanitarian support with medical aid delivered internationally - in Canada it also aims to enhance the quality of medical care delivered across the country by providing high quality CME and specifically addresses the needs of vulnerable populations including Canada's First Peoples as well as new comers and refugees. This year we are addressing common medical issues prevalent in primary care with a special focus on the needs of our First Nations.
UOSSM has become one of the largest providers of medical relief services and has expanded its work to several other countries affected by crises. UOSSM provides humanitarian and medical aid to all victims of crises, regardless of ethnicity, religion, race or political affiliation.
Event Sponsors
Our Gold and Platinum sponsors will be hosting virtual booths during the break.