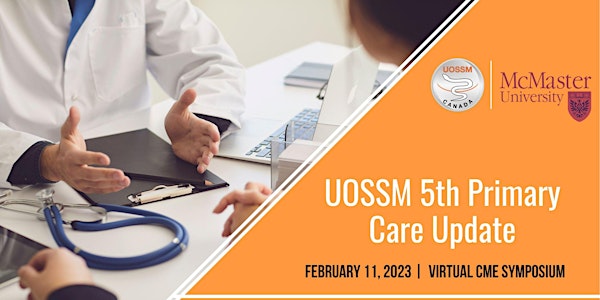 UOSSM 5th Annual Primary Care Update
UOSSM 5th Annual Primary Care Update
Date and time
Sat, Feb 11, 2023 5:20 AM - 10:00 AM PST
About this event
By attending the Virtual CME Symposium, participants will be able to:
Comprehend and implement advances for the diagnosis and management of hypo and hypercalcemia, diabetes, depression, and hypertension
Explain and apply SOGC guidelines and understand the risks and benefits of HRT
Apply new diagnosis and treatment guidelines and design personalized treatment plans in various vulnerable populations.
This event is accredited by McMaster University for Mainpro+ group learning – 3 credits & MOC section 1 – 3 hours
About UOSSM
UOSSM is a coalition of medical, humanitarian non-governmental organizations licensed in the United States, Canada, United Kingdom, France, Germany, Netherlands, Switzerland, and Turkey.
Union des organisations de secours et soins médicaux (UOSSM) was formed in Paris in 2012 and provides humanitarian support with medical aid delivered internationally - in Canada it also aims to enhance the quality of medical care delivered across the country by providing high quality CME and specifically addresses the needs of vulnerable populations including Canada's First Peoples as well as new comers and refugees. This year we are addressing common medical issues prevalent in primary care with a special focus on the needs of our First Nations.
UOSSM has become one of the largest providers of medical relief services and has expanded its work to several other countries affected by crises. UOSSM provides humanitarian and medical aid to all victims of crises, regardless of ethnicity, religion, race or political affiliation.
About the organizer
UOSSM- Canada is a chapter of the Union of Medical Care and Relief Organizations (UOSSM). A federation of humanitarian medical aid and relief, non-for-profit, non-governmental member organizations that provide independent and impartial relief and medical care to victims of war in Syria.