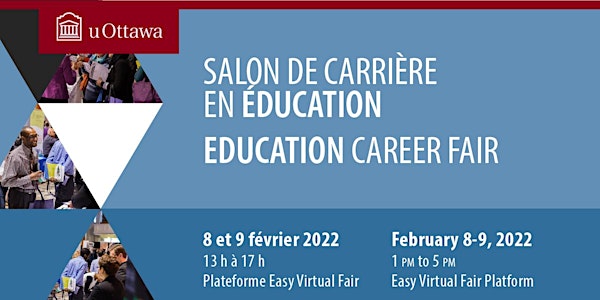 uOttawa - Salon de carrière en éducation / Education Career Fair
Salon de carrière en éducation (virtuel)/ Education Career Fair (virtual)
About this event
(English Follows)
L'utilisation du masculin vise uniquement à alléger le texte et comprend tous les genres.
Avez-vous envie d'établir un réseau de contacts qui pourrait influencer positivement votre recherche d'emploi? Venez réseauter et potentiellement trouver un emploi dans le domaine qui vous intéresse à notre Salon de carrière en éducation. Vous y trouverez des conseils scolaires et organismes cherchant à recruter de nouveaux enseignants.
Comment vous préparer?
VEUILLEZ METTRE CETTE DATE À VOTRE HORAIRE. Le jour de l'événement, les étudiants inscrits recevront un courriel avec les détails de l'événement et des conseils pour l'utilisation de la plateforme Easy Virtual Fair.
Les étudiants inscrits devront se créer un profil sur la plateforme (2 minutes seulement)
Date : 8-9 février 2022
Heure : De 13 h à 17 h
Lieu : Plateforme Easy Virtual Fair (virtuel)
Inscription : OBLIGATOIRE avant le 7 février 2022 à midi
Merci et au plaisir de vous rencontrer… virtuellement!
L'équipe Coin carrière
***
Do you want to expand your network with key people as a BEd student looking for a job? Drop by our uOttawa Education Career Fair to meet with school boards and organizations interested in hiring new teachers! You will find a variety of options for your career.
How can you prepare?SAVE THIS EVENT IN YOUR CALENDAR! The morning of the event, registered students will receive an email with details about the event and the Easy Virtual Fair platform
Registered students will have to create a profile on the platform (a 2-minute process)
Date: February 8-9, 2022
Time: 1 p.m. to 5 p.m.
Location: Easy Virtual Fair Platform (virtual)
Registration: MANDATORY – Before February 7, 2022 at noon.
Thank you, and we look forward to seeing you - virtually!
The Career Corner Team