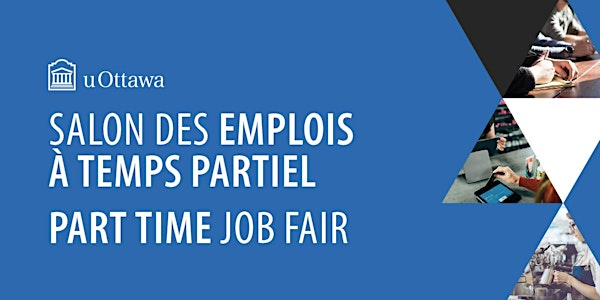 uOttawa - Salon des emplois à temps partiel / Part-Time Job Fair 2022
Inscrivez-vous pour le salon des emplois à temps partiel uOttawa / Register for uOttawa Part-Time Job Fair
When and where
Location
Jock Turcot University Centre (UCU) 85 University Private Ottawa, ON K1N 6N5 Canada
About this event
(English Follows)
Avez-vous envie d'établir un réseau de contacts qui pourrait influencer positivement votre recherche d'emploi à temps partiel ou contractuel? Venez réseauter et potentiellement trouver un emploi à notre Salon des emplois à temps partiel. Vous y trouverez des opportunités pour plusieurs types de postes.
Comment vous préparer?
VEUILLEZ METTRE CETTE DATE À VOTRE HORAIRE. Le jour de l'événement, les étudiants inscrits recevront un courriel de rappel avec les détails de l'événement.
Date : Jeudi 22 septembre 2022
Heure : De 10 h à 16 h
Lieu : Campus principal de l'Université d'Ottawa - Promenade UCU
Merci et au plaisir de vous rencontrer à nouveau en présentiel !
L'équipe Coin carrière
L'utilisation du masculin vise uniquement à alléger le texte et comprend tous les genres.
***
Do you want to expand your network with key people as student looking for a part-time job opportunity? Drop by our uOttawa Part-Time Job Fair to meet with professionals and potentially find your dream job! You will find a variety of opportunities for your career.
How can you prepare?
SAVE THIS EVENT IN YOUR CALENDAR! The morning of the event, registered students will receive a reminder email with details about the event.
Date: September 22, 2022
Time: 10 a.m. to 4 p.m.
Location: Main Campus - University of Ottawa - UCU Promenade
Thank you, and we look forward to seeing you on-site again !
The Career Corner Team