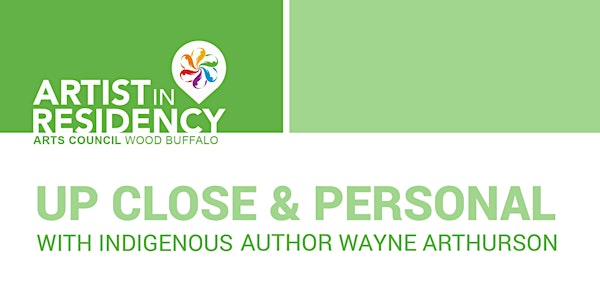 Up Close & Personal with Wayne Arthurson
Attend an artist reading of his literary works with a discussion to follow. Individuals can also book a 15 minute one-on-one session.
When and where
Location
Wood Buffalo Regional Library 151 C. A. Knight Way Fort McMurray, AB T9H 5C5 Canada
About this event
ACWB is excited to acquire the Artist in Residency program from the Regional Municipality of Wood Buffalo (RMWB). Building off of the RMWB's Artist in Residency program's structure, ACWB is molding the program and presenting it's first rendition, Up Close & Personal with Indigenous Author Wayne Arthurson, in partnership with Multicultural Association of Wood Buffalo.
Wayne Arthurson is a professional writer of Cree and French Canadian descent with over 30 years experience as well as the author of the bestselling and award-winning Leo Desroches crime series. The first novel in that series, Fall From Grace, was published by Forge Books in 2011 and won the $10,000 Alberta Readers Choice Award. The second, A Killing Winter, was published in 2012. The third was published in 2016. He is also the author of two other novels and five books of non-fiction. His freelance work has also appeared in over 100 publications and is also the co-author of one of the most popular fan blogs for Amazing Race Canada.
Meet Mr. Arthurson and listen to his in-person reading, with discussion to follow, on December 14th from 11am - Noon. Participants can also sign up to have 1 of 4 one-on-one 15 minutes session with the writer between Noon and 1pm. This is a great opportunity for individuals who want to dive into the inspirations of Arthurson's work, take a deeper look at what it takes to write a novel with such depth, and learn about his experiences as an Indigenous literary artist in Canada.
All dates in the 2019 Arts Council Wood Buffalo's Artist in Residency, Up Close & Personal with Indigenous Author Wayne Arthurson include:
Author Reading & Discussion, December 11 from 10am - 12pm at Fort McKay Métis Nation Office
Métis Elders Tea, December 12 from 11:30am - 1:30pm at McMurray Métis
Author Reading & Discussion, December 14 from 11am - 12pm at the Wood Buffalo Regional Library
15 Minute Individual Sessions with Author, December 14 from 12pm - 1pm at the Wood Buffalo Regional Library
Register for Author Reading & Discussion on December 11th and for Métis Elders Tea on December 12th by contacting Sharing Heading at sharon@artscouncilwb.ca or 780-381-6898.