Description
Up-level Your Career
Do you feel stuck and lost in your career? Are you doing everything and more and just not getting the desired position and salary? This workshop will give you tools on how to improve your CV, optimize your LinkedIn account, prepare for interviews, as well as negotiate your desired remuneration and conditions. Bring your CV and a pen and let's get busy!
In this session, you will learn:
How to: improve your CV

Optimize your LinkedIn account

Prepare for job interviews

Negotiate your desired salary and conditions
Presented in French
---
About Tanja & Samih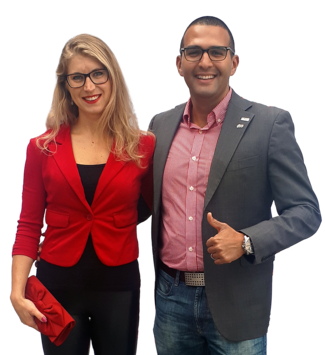 Tanja Senica has a Master's degree in Translation and Interpreting in four languages. She advanced from a receptionist to executive assistant position within two years in a new country.
Samih Terhzaz holds a Master's degree in Engineering and Project Management as well as an MBA from McGill University. He landed a Senior Sales Manager position at the age of 32.
Today, they are both certified coaches with 30+ years of combined international corporate and entrepreneurial experience. In order to share their know-how, they founded Hit Splits Coaching and are now emPOWERing clients to create their DREAM CAREER - with fun! :)
---
What is Sous les projecteurs?
We know that staying up to date on today's big ideas and tomorrow's big trends is a job in and of itself.
As the world's first working, learning and growing store – we are excited to introducing Sous les projecteurs: a new community gathering and learning space. Sous les projecteurs will engage communities with knowledgeable experts to both inspire, inform, motivate and educate.
Sous les projecteurs is a space accessible to persons that use mobility devices. We encourage people from all backgrounds to participate in our public programming