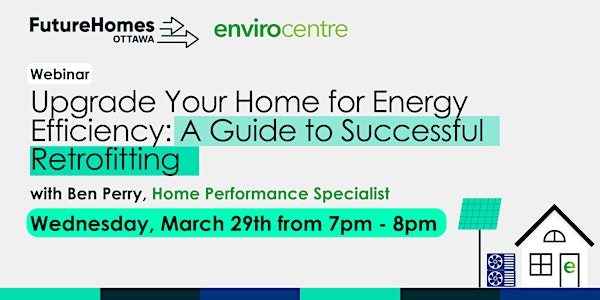 Upgrade Your Home for Energy Efficiency: A Guide to Successful Retrofitting
Join us on March 29th , from 7-8pm to learn more about where to start with home retrofits and energy audits.
Date and time
Wed, Mar 29, 2023 4:00 PM - 5:00 PM PDT
About this event
Are you ready to take the first step towards a greener home and a more sustainable lifestyle? Then mark your calendars for March 29th, from 7:00pm to 8:00pm, and join us for an informative webinar on home retrofits and energy audits. Led by Ben Perry, Home Performance Specialist at EnviroCentre, this 60-minute session will equip you with the knowledge and tools you need to make your home more energy-efficient and environmentally friendly.
But that's not all - we'll also be discussing the rebates and grants available to help you fund your retrofit, including the Better Homes Ottawa Loan Program. By participating in this session, you'll have the chance to ask our experts your questions and talk with other residents that have begun their retrofit journeys.
As a non-profit environmental organization, EnviroCentre is committed to supporting sustainable lifestyles and helping individuals take practical steps towards a better future. So don't miss out on this opportunity to make a lasting, positive impact on your home and your community. Visit envirocentre.ca and betterhomesottawa.ca for more information.
About the organizer
EnviroCentre is a local environmental non-profit which brings environmental change to life by offering people, organizations and communities across Ottawa and the province practical solutions to lighten their environmental impact in lasting ways.