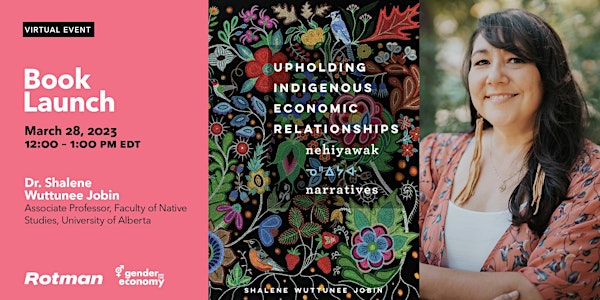 Upholding Indigenous Economic Relationships with Shalene Jobin
Shalene Wuttunee Jobin discusses her new book, "Upholding Indigenous Economic Relationships: Nehiyawak Narratives."
Date and time
Tue, Mar 28, 2023 9:00 AM - 10:00 AM PDT
Refund Policy
Refunds up to 1 day before event
About this event
Topic:
Upholding Indigenous Economic Relationships: Nehiyawak Narratives (UBC Press, 2023)
Speakers:
Dr. Shalene Wuttunee Jobin, Associate Professor, Faculty of Native Studies, University of Alberta
In Conversation with: Dr. Sarah Kaplan, Distinguished Professor, Strategic Management, Rotman School
Book Synopsis:
Upholding Indigenous Economic Relationships: Nehiyawak Narratives explains settler colonialism through the lens of economic exploitation, using Indigenous methodologies and critical approaches. What is the relationship between economic progress in the land now called Canada and the exploitation of Indigenous peoples? And what gifts embedded within Indigenous world views speak to miyo‐pimâtisiwin ᒥᔪ ᐱᒫᑎᓯᐃᐧᐣ (the good life), and specifically to good economic relations?
Shalene Wuttunee Jobin draws on the knowledge systems of the nehiyawak ᓀᐦᐃᔭᐊᐧᐠ (Cree people) – whose distinctive principles and practices shape their economic behaviour – to make two central arguments. The first is that economic exploitation was the initial and most enduring relationship between newcomers and Indigenous peoples. The second is that Indigenous economic relationships are constitutive: connections to the land, water, and other human and nonhuman beings form who we are as individuals and as peoples. This groundbreaking study employs Cree narratives that draw from the past and move into the present to reveal previously overlooked Indigenous economic theories and relationships, and provides contemporary examples of nehiyawak renewing these relationships in resurgent ways. In the process, Upholding Indigenous Economic Relationships offers tools that enable us to reimagine how we can aspire to the good life with all our relations.
This study will interest not only scholars and students of Indigenous studies, particularly Cree studies, but also Indigenous community members involved in community and economic development, planning, and governance.
Dr. Shalene Wuttunee Jobin is an Associate Professor in the Faculty of Native Studies, Director of the Indigenous Governance program, and a Canada Research Chair in Indigenous Governance at the University of Alberta. Shalene is Cree from her mother (Wuttunee family) and Métis from her father (Jobin family) and is a member of Red Pheasant Cree First Nation (Treaty Six).
Jobin brings a focus on the connection between Indigenous culture and economies. Her recently published book , Upholding Indigenous Economic Relationships: Nehiyawak Narratives (UBC Press, 2023) details the way Indigenous peoples move with and between economic structures imposed by the settler state with a particular focus on prairie Indigenous life and philosophy. This attention to the economic realities faced by Indigenous peoples ensures is attuned to the struggles of both land dispossession and the economic empowerment that can be realized from focusing on Indigenous orientations to economic relationships. She has founded and led two large Indigenous research and teaching programs involving multiple faculty partnerships, and is involved in numerous community-led research projects.
Jobin has published in the edited collections Creating Indigenous Property: Power, Rights, and Relationships (2020), Living on the Land: Indigenous Women's Understanding of Place (2016), and Indigenous Identity and Resistance (2010), and in the journals American Indian Quarterly (2011), Revue Générale de Droit (2013), and Native Studies Review (2016). She has also co-authored in Aboriginal Policy Studies (2012) and Surviving Canada (2017).
Dr. Sarah Kaplan is Distinguished Professor, Director of the Institute for Gender and the Economy (GATE), and Professor of Strategic Management at the University of Toronto's Rotman School of Management. She is a co-author of the bestselling business book, Creative Destruction. Her latest book—The 360° Corporation: From Stakeholder Trade-offs to Transformation—is based on her award-winning course at the Rotman School.
An innovation specialist by training, her current research focuses on applying an innovation lens to social challenges such as gender inequality. She was a strategic lead in developing the Feminist Economic Recovery Plan for Canada and regularly speaks to the media and advises corporations and governments on policies related to gender equality such as board diversity, care work, employment, pay equity, gender-based analysis and other topics.
Event Logistics:
This event is available to attend virtually via livestream.
Rotman Events is committed to accessibility for all people. If you have any access needs or if there are any ways we can support your full participation in this session, please email Mandi Gosling [events@rotman.utoronto.ca] no later than 2 weeks in advance of the event and we will be glad to work with you to make the appropriate arrangements.
General Admission: Livestream + Book
Rotman Events will email registrants a link to the livestream. Your registration fee includes access to the livestream, video replay for 30 days, a copy of the book and shipping fees. The book will be shipped to registrants after the event. Please allow 3 - 4 weeks for delivery.
30-day Catch-up Viewing
Unable to attend the event due to scheduling conflicts? Not to worry. All registrants (in-person or livestream) can access the full recording on-demand for one month after the live event.
Cancellation & Refund Policy
Refunds will only be issued for cancellations received in writing NO LATER than 24 hours prior to the event. Please email events@rotman.utoronto.ca for processing.
Questions: events@rotman.utoronto.ca, Mandi Gosling