Description
The Up!Skilling Food Festival has been building community skills in local and sustainable food from soil preparation through to your plate for the last three years. This year, the Up!Skilling Food Festival has expanded into a four day event thanks to the collaborative partnership of the Island Food Network and Cape Breton University.
Up!Skilling 2017 offers more seats, more workshops, and more space for engaging discussions. This four day event will include a film night, conference, food tours and Up!Skilling's signature workshop event.

---
Day 1 (Thursday, May 11) - 6PM - 9PM - Old Sydney Society Building (173 Charlotte Street, Sydney)
Film & Opening Reception - (reg. $11.20 unwaged or child $5.91)
Film screening and opening reception, in the newly renovated bank of Montreal Building. There will be a showing of an adult and children film simultaneously.
The adult film is "Just Eat It: A Food Waste FIlm
Popcorn, and other refreshments will be served.
---
Day 2 (Friday, May 12) - 8:00AM - 4:15PM - Holiday Inn Sydney (300 Esplanade, Sydney)
Academic Conference (Free)
A full day of academic conference discussing food from the perspectives of Tourism and Culture, Health, Agriculture, and Data, and Food and Civic Engagment. The Key-note for this event is Harry Boyte, who will be speaking about, "Higher Education, Citizen Professionals, and the Future of Democracy".
For a full conference program visit here.
Day 2 (Friday May, 12th) - 5PM - Evening Ceilidh (Free)
Join us after the conference for a ceilidh (party with traditional music) in downtown Sydney! This will be a fun informal event for networking and food discussions.
---
Day 3 (Saturday, May 13) - 9:20AM - 5PM - (340 Keltic Drive, Coxheath)
Food Tours (adult $11.20 child $5.91)
A day of food tours. We will meet at the Farmer's market for an informative tour of our local market, before we join in an interactive game about food security at a local brewery. Please note, children are not permitted in the brewery. There will be children's activities available at the Farmer's Market.Then we will bus to two different farms and will return back to the farmers market parking lot for drop off at 5:00pm.
Transportation from downtown Sydney is available upon request. Contact the organizer for more information.
---
Day 4 (Sunday, May 14) - 9AM - 5PM - CBU - (1250 Grand Lake Road, Sydney)
Up!Skilling Workshops (reg. $27.11, unwaged $16.51, childcare $11.20)
This is the signature Up!Skilling day of workshops. All day long we will build our food skills in 6 streams including: Cooking, Growing, Preserving, Discussion, Advanced Skills, and Cultural aspects. When you register you can pick the individual workshops you wish attend.
Transportation from downtown Sydney is available upon request. Contact the organizer for more information.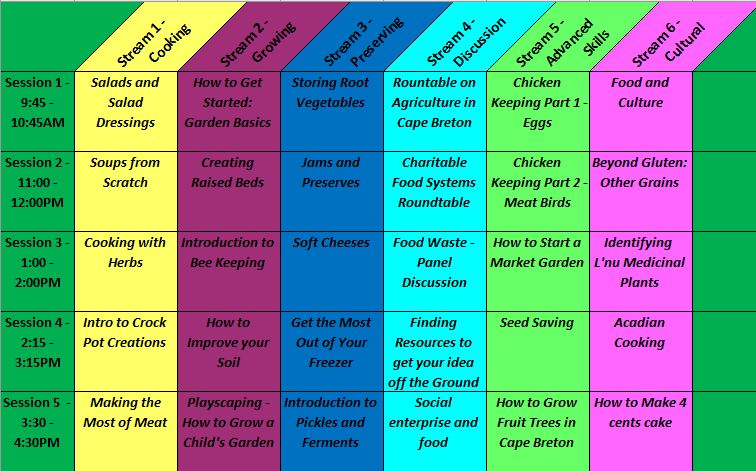 This research was supported by the Social Sciences and Humanities Research Council of Canada