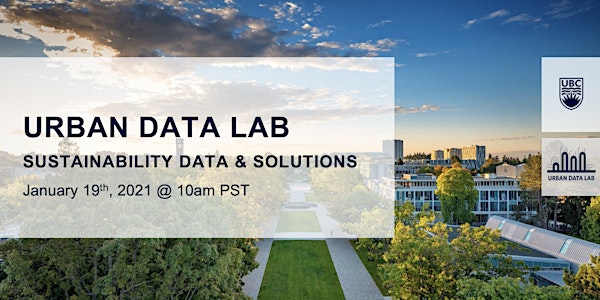 Urban Data Lab - Enabling and Supporting Sustainability
The purpose of this event is to provide an overview of the Urban Data Lab, sharing our vision along with past and current work.
Date and time
Tuesday, January 19, 2021 · 10 - 11am PST
About this event
Background
The Urban Data Lab was established in 2019 at the University of British Columbia to focus on the development of data and information systems to support UBC in achieving its 2030 climate change goals. The UDL focuses on interdisciplinary collaboration between Faculty, Staff, students and industry partners at the Point Grey and Okanagan campuses to pilot, validate and deploy new smart and green technologies.
Presentation
In this presentation Mike Kennedy, the Director of the UDL, will provide an overview of the work at the lab and host a discussion on the key challenges and opportunities for UBC as a leading organization in sustainability.
This presentation is for UBC Sustainability Initiative members, but we encourage other sustainability researchers and residents from UBC and surrounding areas to attend and learn more about the UDL's work and sustainability at UBC.
Logistics
This is an online event and will take place via Zoom. Please RSVP on eventbrite to receive a link to the meeting. For further information please contact: info@urbandatalab.io.
Stay up-to-date with the activities of UDL on LinkedIn and our website.