Master the basics of growing your own microgreens regardless of the size of your space and the seasons! ** FLASH SALE:30% OFF at checkout **
About this event
Important - Order cut off dates:
In order to guarantee you receive your kit in time please place your order by
Shipping Across Canada: Wednesday Sept 2nd
Kitchener-Waterloo-Cambridge Region Only: Sunday Sept 6th
The tickets offered include:
The Workshop fee
Choice 1 of 3 Seed Kits (Bold, Assorted, Essentials) :
5-6 varieties of Organic Certified Microgreen Seeds
Organic Coconut Coir Soil
(Includes cost of shipping across Canada)

Growing your own food is an excellent way to get healthier, cut down on your grocery bill & support a 100-mile diet. Once you have mastered the basics, you will be able to grow your own greens regardless of seasons from the comfort of your kitchen.
No green-thumb, no problem!
We promise you that growing microgreens can be really easy regardless of your skill level or experience! Learning to grow greens indoors in a skill that is easy to pick up and does not require expensive supplies or a lot of space. Did we mention that microgreens take only a week to grow and harvest? So if you're looking for a rewarding experience with quick results give it a try.
Through this intro workshop you will learn how to cultivate microgreens, and how to use them in meals!
Here's an example seed kit: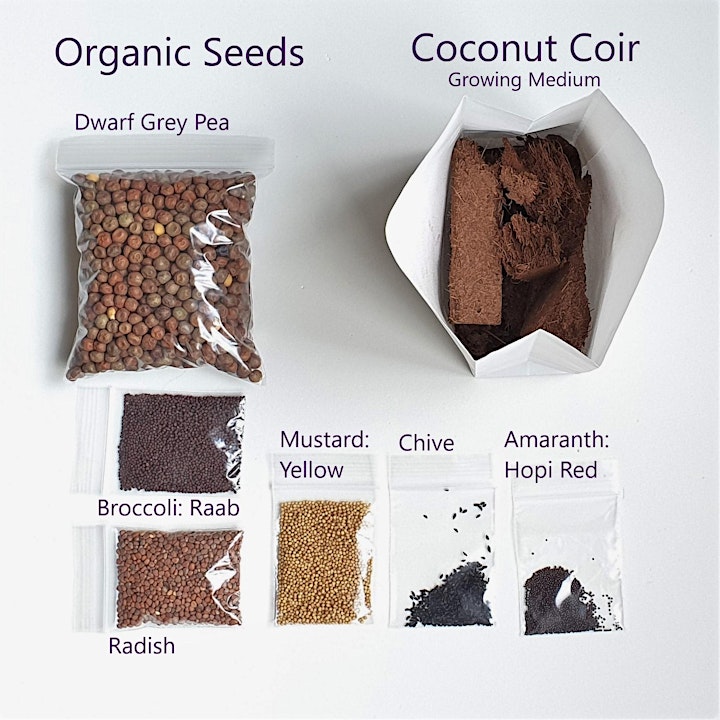 Please contact us if you are interested in purchasing a kit but are located outside of Canada.
To inquire further, contact us at: hello@mverte.ca
To learn more about us, visit: www.mverte.ca
Date and time
Location
Refund policy