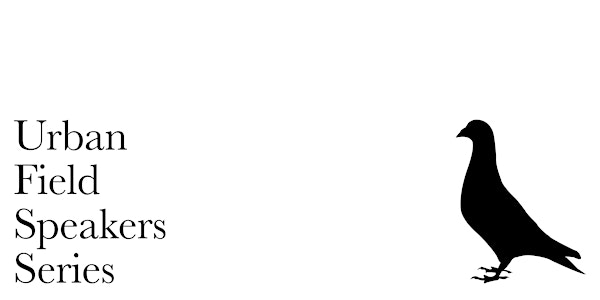 Urban Field Speakers Series, 2019 Programme
When and where
Location
Prefix Institute of Contemporary Art 401 Richmond Street West Suite 124 Toronto, Ontario M5V3A8 Canada
Description
Prefix Institute of Contemporary Art is pleased to present the fourteenth season of the Urban Field Speakers Series. Programmed by Scott McLeod and Gerald McMaster, this international lecture series brings together an array of global and local participants, including artists, architects, curators, designers and scholars, who offer unique perspectives on the role of art in transforming the experience of the city. Moderated by a host of local luminaries, past series have featured presentations by such erudite speakers as Theaster Gates, Lucy Lippard, Chantal Mouffe, Paul Chaat Smith and Rebecca Solnit, among many others.
The upcoming season includes the following events:
January 24, 2019, at 7:00 PM
Dieter Roelstraete
Sara Knelman, moderator
The curator of the Neubauer Collegium for Culture and Society at the University of Chicago speaks about the work of Canadian photographer Jeff Wall, with an emphasis on Wall's early work, including his only public sculpture, Lost Luggage Depot. Presented in conjunction with the symposium, The Man in the Mirror: The Work of Jeff Wall. Moderated by Sara Knelman, curator, educator, writer and director of Corkin Gallery.

February 7, 2019, at 7:00 PM
Deimantas Narkevičius
Vid Ingelevics, moderator
The Lithuanian artist speaks about the representation of political and social ideals in public space and the consequences for a city when its monuments no longer reflect a new political reality. Moderated by Vid Ingelevics, photography program at the School of Image Arts, Ryerson University.

March 7, 2019, at 7:00 PM
Candice Hopkins
Britt Gallpen, moderator
The senior curator for the Toronto Biennial of Art offers a critique of monuments as a colonial enterprise. Moderated by Britt Gallpen, editorial director of Inuit Art Quarterly.

April 10, 2019, at 7:00 PM
Iván Navarro
Tamara Toledo, moderator
The Chilean artist speaks about the relationship between his sculptural installations and his experience of being raised under the dictatorship of Augusto Pinochet. Moderated by Tamara Toledo, director and curator of Sur Gallery. Presented in partnership with Latin American-Canadian Art Projects (LACAP). Please note that this is a Wednesday-night event.
April 25, 2019, at 7:00 PM
Rosalyn Deutsche
The scholar of art, urbanism and feminism speaks about the relationship of art to spatial politics.
Admission Policies
Series passes are available in advance and at the door. Tickets to single events are only available at the door, with ticket sales beginning thirty minutes in advance of the event.
Series Passes*
$30 Prefix Photo Subscribers, Students & Seniors
$45 Regular
$180 Gold
Single Tickets
$9 Prefix Photo Subscribers, Students & Seniors
$14 Regular
* plus HST
For press inquiries or to schedule an interview with the speakers, please contact Sebastían Benítez, Public Programmes Manager, at programmes@prefix.ca.
Acknowledgements
For the presentation of the Urban Field Speakers Series, Prefix ICA acknowledges the support of its staff, volunteers and patrons. Prefix ICA also acknowledges the assistance of the Canada Council for the Arts, the Ontario Arts Council and the Toronto Arts Council with funding from the City of Toronto.