Urban Health Reception: Networks and connections in digital health
Description
A free networking reception – with special guest
Professor Judith Green
, Chair in Sociology of Health at King's College London and hosted by the O'Brien Institute for Public Health – will serve as a platform to celebrate the efforts of groups in the Calgary area and understand these efforts as part of global patterns in social change.
Featuring
groups dedicated to improving urban health, the reception is being held in conjunction with the "Digital Connections and Divides: Shaping smart cities and healthy cities" symposium with Professor Green and Professor Steven Hoffman, Scientific Director of CIHR's Institute of Population & Public Health on Friday, June 22, 2018. More information about the symposium is available
here
.
The reception will showcase work from the following groups:
Based within the University of Calgary,
makeCalgary
is a unique initiative focused on community engaged research for a healthy city. Bringing together expertise and leadership at the University of Calgary, the City of Calgary, and Alberta Health Services, makeCalgary aims to better understand and strengthen the link between urban planning and design, municipal policies, and health. makeCalgary encourages, resources, and participates in collaborations where dynamic teams conduct meaningful and impactful research to inform both the general community and local policymakers.
Street CCRED
(Community Capacity in: Research, Education, and Development) is a community-based response to the suffering of Calgary's most vulnerable citizens. It is an inclusive collaboration comprised of community members, front-line service providers, academics, programs and agencies.
W21C
is a research and innovation initiative based in the University of Calgary (UCalgary) and the Calgary Zone of Alberta Health Services (AHS). W21C conducts health systems research with the overarching mandate to improve patient safety and quality of care. Through this strategic research and innovation agenda, they hope to MAKE CARE BETTER for Calgary's communities, both now and in the future.
The
Brenda Strafford Centre on Aging
aims to enhance the health and well-being of older adults and better inform public policy with regard to older adults' issues through coordinated research, teaching and learning, and community outreach efforts. The Centre serves as an administrative and collaborative hub for University of Calgary aging research and interdisciplinary educational programming undertaken by the faculties of Kinesiology, Medicine, Nursing, Social Work, and others.
The Group for Research with Indigenous Peoples (GRIP) is a network of 130 health researchers and students, Indigenous community members and organizations, health systems providers and government agencies with a focus on the achievement of Indigenous Health. GRIP's mandate is to encourage population and public health research that mobilizes partners to "help create, reinforce and sustain conditions conducive to healing, reconciliation and self-determination" (Aboriginal Healing Foundation, 2009, p. 7).
The 'smart cities working group' is an interdisciplinary group involving researchers from five faculties and nine departments of the University of Calgary. Such a variety of disciplinary approaches and expertise is mobilised in order to study the social and environmental implications of the 'smart city'. The group seeks to build a comparative framework that allows for the exploration of 'smart city' initiatives across the global North and the global South.
Academic Research and University Libraries: Creating a New Model for Collaboration is a research project led by Tom Hickerson, vice-provost (Libraries and Cultural Resources) and funded by The Andrew W. Mellon Foundation to explore the evolving role of libraries in the research enterprise. This project aims to develop a research platform of services, infrastructure, and expertise at the library to enhance campus-wide partnerships and reposition the library within the research endeavour. As a means to promote this collaborative process this project is funding two rounds of sub-grants to University of Calgary multidisciplinary teams for research in the areas of Arctic Studies, Smart Cities, and Cultural Discourse. Three of the six sub-grants awarded thus far have involved research teams studying the intersection of Smart Cities and Community Health: Mapping Urban Healthscapes (Suzanne Goopy, Nursing), Open Data for a Smart City (Ryan Burns, Geography), and Are Smart Cities Healthy? (Jenny Godley, Sociology).

Special Guest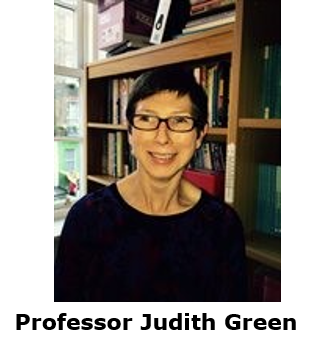 Professor Green holds the position of Chair in Sociology of Health at King's College London. Previously, she was with the Health Services Research & Policy department at the London School of Hygiene and Tropical Medicine, where she had been since 1996. She is a medical sociologist with degrees in anthropology and medical sociology, and is renowned for her work on the sociology of transportation. She brings a wealth of knowledge and an international reputation in linking social science with public health, as evinced by a textbook in Qualitative Health Research (in its 3rd edition) and editorial leadership for a peer-reviewed journal, Critical Public Health.