Description
Join us as we explore how Vancouver's urban environment is shaped - come with us on one of our new guided Urbanarium City Tours! This is a unique bike tour that will combine two of Vancouver's most interesting topics - its role as Hollywood North and its new leadership in cycling infrastructure and ridership.
We are living in one of the world's most fascinating urban environments as can be attested to by the many professionals and academics that come to study our special city recipe. During the tours we will show you the roots, the influences, the successes, and the failures that make up the complexity of what we see here today. Our tours are educational and social, with the ultimate intention of having our residents and visitors feel more engaged with Vancouver and more informed about the role we all play in the city.
...
Vancouver Cycling Infrastructure / Hollywood North Bike Tour
See scenes from your favorite movies and TV shows while enjoying a casual urban bike ride! This tour will visit famous movie locations in downtown Vancouver as well as showcase how recent protected bike lanes and other infrastructure has made cycling a safe, comfortable, and normal option for many people.
The tour will be led by Mike Zipf:
Mike is a Senior Engineering Assistant at the City of Vancouver specializing in Active Transportation. Mike joined Vancouver's Transportation Planning Team in 2014 and previously worked for the City of Coquitlam. He has 10 year experience in Transportation Planning and holds a bachelor's degree in mechanical engineering from Howard University in Washington, DC as well as a diploma in Urban Planning. He works on advancing design guidelines, research, and policy for improving walking and cycling in the City. His projects include the development of cycling guidelines for all-ages-and-abilities. He has a passion for walking or cycling for most trips all seasons of the year.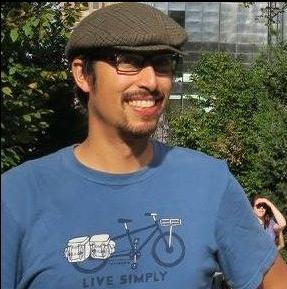 ...
The tour will start at 6pm - please plan to arrive earlier to check in .
Approx. 9km, 45min riding time.
Bring your own bicycle for the tour.
Waiver: Please note that by signing up for this tour you confirm that you have read and agree to the statements in this document: https://drive.google.com/open?id=0B3NMzIabTo6MVTFYb0duMnAyMU0
Weather: The tours run rain or shine, however, if the weather conditions will preclude the ability to reasonably give a tour, we reserve the right to cancel & refund your tickets.
Organizer of Urbanarium City Tours - Bike Tour: Cycling in Hollywood North
Urbanarium was founded by a group of urbanites in Metro Vancouver, including architects, planners and other leading residents who are passionate about city making.
Urbanarium believes in informing, educating and engaging the people in our region to help guide decision making to protect our future well being.
Urbanarium is starting to reach out to the community in different ways to provide stimulating and easy to understand information about how our urban system works, what forces are acting on it, what alternative futures might happen and what we can do to affect those outcomes.
Our intention is to become respected as a platform for advanced urban conversation in Metro Vancouver and a place where people can get reliable information without political or ideological bias.
The Vancouver Urbanarium Society is a registered non profit society. We post outputs from our online events on our instagram page.
Urbanarium | For smart cities