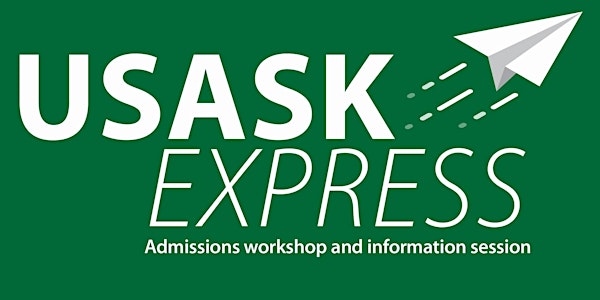 USask EXPRESS Admissions Workshop and Information Session (PM) - Prince Albert
When and where
Location
École St. Mary High School 380 14th Street West Prince Albert, SK S6V 3L5 Canada
Description
Be the first of your friends to get into university!
Join the University of Saskatchewan (USask) at our upcoming event in Prince Albert! Grade twelve students that bring all of their transcripts and meet admissions requirements could be admitted on the same day or within one week. You could be the first of your friends to get into university!
These events feature a presentation followed by an admissions workshop. Parents and guardians are invited to accompany students and ask any questions they may have about USask.
Please note that we are offering both morning and afternoon sessions of USask Express. Both sessions contain the same information. This is the event page for the Prince Albert afternoon session. If you prefer to register for the Prince Albert morning session, please click here.
---
Check-in
12:30 - 1 pm

Information session
1 - 2 pm
Learn about USask programs, admission requirements, scholarships, on-campus residence opportunities and more! There will be time for questions at the information session, but you can also let us know if there is anything specific you'd like to learn when you sign up for this event.

Admissions workshop
Starting at 2 pm
Apply on the Spot – A USask representative will take you through the online application for admission step-by-step.
To participate, please bring a laptop or tablet, your most up-to-date transcript(s) and a credit card to pay the $90 application fee.
Application evaluation - Sign up for a one-on-one confidential application evaluation with a USask admissions officer (limited seats are available for the one-on-one meetings).
Application evaluation is available for students who participate in Apply on the Spot at the event or students who apply before the event. Students are strongly encouraged to apply online before the event if they would like to participate in application evaluation at the event. Please click here to apply online.
On-the-spot application evaluation is available for current high school students or recent graduates who have not attended university or college previously and without any international secondary and/or post-secondary documents. Applicants must have submitted an application before or during the admissions workshop and provided the up-to-date transcript(s).
Students are encouraged to request official transcripts to be sent directly to the University of Saskatchewan from the Ministry of Education. Please note official transcripts take up to two business days to arrive. When ordering official transcripts, remember to indicate you would like your transcript to be sent to the University of Saskatchewan:
As soon as possible
After January Exams 2020, AND
After June Exams 2020
---
If you have any questions about our USask EXPRESS Admissions Workshop and Information Sessions, please contact:
Ally Chertez
Student Recruitment Officer
University of Saskatchewan
ally.chertez@usask.ca