Description
Used Homeschool Resource Sale
April 14, 2018
Location: New Life Church, 35270 Delair Road, Abbotsford
Do you have curriculum and other educational resources in great condition that you are finished with and want to pass along to others? We invite you to rent a table at the Used Homeschool Resource Sale!
Tables are 6 feet in length and are available for $20 each (includes 2 chairs). Also available are a few 1/2 tables for $10 (includes 1 chair). Space is limited so register soon!
---------------------------------------
Please be sure to read the following details:
WHAT CAN I SELL?
Sellers must be selling PRE-OWNED homeschool curriculum and resources. This is not the venue for vendors to sell unrelated products such as photography, home-based business products, or rhubarb from your garden, even though I am sure it's yummy. This is also not a general garage sale to clear out all of your household goods. Please respect the focus on homeschool materials. Having said that, educational CDs, DVDs, puzzles, games and even early-learning toys and Preschool items are absolutely welcome!
Here is an example on how to set up your display for success!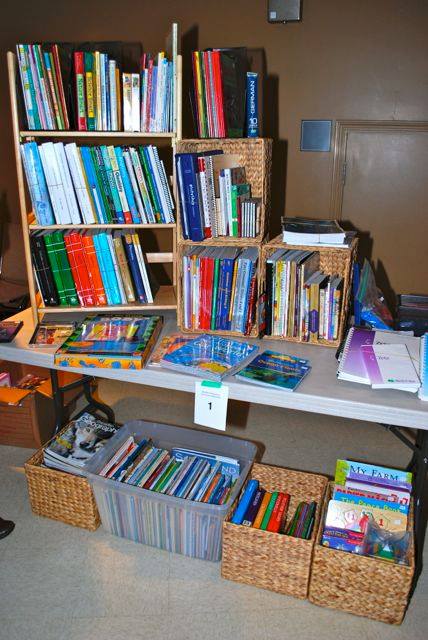 HOW THE DAY RUNS:
Sellers may begin to set up at 9am in preparation for the doors opening at 10am. For those of you that like to arrive at 9:45am, please keep in mind that you might miss out on the other vendors who try and sneak in some shopping while they set up! Doors open to the public at 10am and there is always a line of people excitedly waiting to shop, so being set up & prepared for them is key to your success.
** Please ensure that you take home the remainder of your items that are not sold. We are not responsible for discarding your leftovers.
PARKING
You may park in front of the church while unloading your items. We request that you park to the sides or behind the church before the sale starts (before 10am) so our happy shoppers can have easy parking access.
CANCELLATION POLICY:
* 100% refund offered up until 2 weeks prior to the event (March 31)
* 50% refund for cancellations between April 1 - 11
* 0% refund April 12 - 14
WAIT LIST:
Once we are full, we are happy to take names for a wait list of people wanting tables.
QUESTIONS? Contact us at abbychristianhomeschool@gmail.com
Please help spread the word and share this event on Facebook!

We hope to see you there!

Cheers,
~ Abbotsford Christian Homeschool Association
& your Used Homeschool Resource Sale planning team