Description
UX Camp 2016 is set for November 12th! This year we have several exciting speakers, topic and panels that cover the gambit of UX topics. This camp is for developers, designers, project managers, product managers - anyone who is interested in building better products.
Our agenda is still being developed so please check back here or on our Facebook page as we add speakers!
Start Time
UX Camp 2016 8:30am Registration 9:00am Opening Remarks 9:15am
We Won! Now What?: The Unintended Consequences of Design's Success
by Jess McMullin 10:15am
Creating a degree-level User Experience Design Major
by Robert Andruchow 11:15 am
Coffee! (provided by NAIT catering services)
11:30am
Panel: Putting the YOU in UX
by
Sheldon Bauld, Jordan Service, Jeremy Fritsche & Kerryn North 12:30 pm
Lunch (provided by NAIT catering services)
1:15pm
Content Roadmapping: Giving Life and Space to Great Ideas
by
Idris Fashan
2:15pm
Your Brain Hates UX
by Carson Pierce 3:15pm
Coffee! (provided by NAIT catering services)
3:30pm
Building a User Focused Organization from Within
by Paul Bellows 4:30pm Closing Remarks
SPONSORS
Big thanks to our sponsors! We couldn't have done it without you!
SPEAKERS
Keynote: Jess McMullin
Jess McMullin is an international leader in design and the public sector, and the founder of Situ Strategy and the Centre for Citizen Experience. Working in design since 1996, in 2009 he dedicated his management consulting and coaching to helping government work better for people. He works with purpose-driven clients to develop their capability and culture to tackle complex adaptive challenges. Based in Edmonton, he frequently teaches and speaks around the world.
We Won! Now What?: The Unintended Consequences of Design's Success

Our near future will disrupt today's UX Design. Shifts that are just over the horizon will radically change what we design, how we design, and who designs future experiences.

How will our work change when our palette includes everyday / everywhere sensors and networks, easily embedded intelligence, different realities, or procedural tools that algorithmically generate UX solutions?

These shifts will go beyond technology, and into the heart of the organizations we work with. How will we move past our traditional org chart homes in product or marketing to take on a greater strategic role? And what happens when all our peers or clients not only recognize the value of UX, but also adopt it as part of their own everyday work? Will UX become a victim of its own success?

To stay relevant, UX designers must embrace these opportunities with new methods, new mindsets, and new business models. And to keep ahead of the curve, UX practitioners can learn simple foresight tools that help you anticipate new trends and confidently confront the future.

This session will give you key insights for your practice and your career.
- Future trends and their immediate impact on UX design and UX careers.
- Methods from strategic foresight you can use on your projects and in your own plans for the future.
- A framework for adapting your current methods to work in any future medium.
---

Robert Andruchow
Robert Andruchow plays a leadership role in the design community through his work, teaching and research. Robert has his Masters and Bachelors of Design from the University of Alberta and is currently Assistant Professor and Coordinator for the Design Studies program at MacEwan University teaching user experience design. Previous to his appointment at MacEwan, Robert taught credit courses part-time at the University for 12 years. For 16 years, Robert has used his knowledge of the latest communications and design research to deliver innovative solutions for clients. Since 2006, as co-owner, Robert has overseen all aspects of Big Pixel Creative, a design company specializing in creating digital solutions for the non-profit community.
Creating a degree-level User Experience Design Major for MacEwan University
This talk will provide a summary of research and industry consultation workshops that provided the general framework for the UXD Major learning outcomes. This will include a summary of core competencies for a UX designer that were identified during the workshops. It will also summarize how the general design degree learning outcomes will serve UXD students. In particular, the foundational connection between design and the social sciences will be highlighted.
---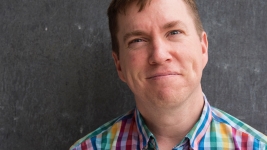 Carson Pierce
Carson Pierce's 15-year career in the digital space has included roles as a web developer, project manager, and production director. He is currently a Senior PM at DDB Canada, where he focuses on delivering digital marketing projects. For the past three years, Carson has been studying the intersect between knowledge work and psychology, neuroscience and behavioral economics, aided by his psychologist wife who tells him when he's wrong. Outside of work, Carson enjoys listening to music that no one else likes and playing hockey poorly. You can read the occasional article on his blog at carsonpierce.com or follow him on Twitter at @carsonpierce.
Your Brain Hates UX
You're really good at your job, we all know that. You use the lastest UX best practices and have some fancy software tools to help. So why do projects never seem to go quite as expected? We can blame the nature of digital work or the usual scapegoat - clients - but it's actually all in our heads. Literally. Our brains are simply not naturally wired for knowledge work. This session will explore this reality by drawing on the fields of psychology, neuroscience and behavioral economics and applying it to UX work. We'll look at some real life examples, do a few experiments of our own, and learn how to counter the misguided tendencies of our brains.
---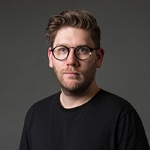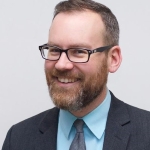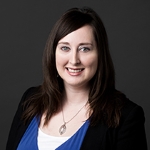 Sheldon Bauld, Jordan Service, Jeremy Fritsche & Kerryn North
Sheldon Bauld, Senior Consultant at nForm is a graduate of NAIT's Digital Interactive Media Design program, Sheldon brings over 10 years of experience helping clients solve problems in their digital domains. He has worked with clients spanning from local shops to national brands, and brings a wealth of experience in creative problem solving, user experience design, and marketing. Sheldon believes strongly in fundamentals and aims to build a solid foundation in every project he takes on.
Jeremy Fritsche has worked in the provincial public service, Edmonton Public Schools and as a consultant to help organizations meet their communications challenges - including major website and intranet redesigns. He enjoys building bridges between people with diverse perspectives to solve shared problems and helping faceless corporate entities see that the people they serve are, in fact, human beings.
Jordan Service, Developer at iomer, After graduating from the University of Alberta, Jordan has proven his knowledge and expertise on complex projects for corporate, commercial and government agency organizations. These projects are across the spectrum from open source development to business application projects, using the Microsoft .Net framework. Jordan is a solid team member with strong communication skills.
Kerryn North, Project Manager at nForm, As the project manager for nForm, Kerryn takes pride in keeping projects on track, on time and on budget. Her ability to work with a variety of people helps her see the big picture when making decisions. Prior to joining the nForm team, Kerryn worked in marketing, communications and event management in the non-profit and public sectors. She is inspired when working on projects with people from different backgrounds and hearing their perspective.
Panel - Putting the YOU in UX
---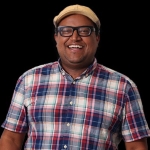 Idris Fashan
Idris Fashan, Digital Marketing Manager at Daytona Homes Master Builder, is a content strategist, digital marketer and copywriter with a deep passion for content strategy, web writing and workshop facilitation. Idirs has fought in the trenches of some of the most ambitious marketing initiatives in some of the most competitive verticals in western Canada. He believes it is important to take what he's learned and expand it - bringing his understanding of story, culture, communication and value to audiences. He presents these ideas in a real-world way that balances business goals and buyer mindsets.
Content Roadmapping: Giving Life and Space to Great Ideas
---

Closing Talk: Paul Bellows
Paul Bellows, Director, sales and marketing and a founder at Yellow Pencil, has been working with public sector and institutional customers on digital strategy since 1996 when he co-founded Yellow Pencil. Cities, regional governments, health care, and crown corporations are his specialty. Clients include Alberta Health Services, the City of Edmonton, Government of Alberta, Government of Yukon, City of Vancouver, BC Transit, the Library of Parliament, City of Mississauga, Edmonton Airports, Investors Group, CPA Canada, and the City of Red Deer. As well as leading Yellow Pencil's sales and consulting practice, Paul currently works with government organizations to build new ways of doing digital work in order to better meet citizen needs for service and information.
Building a User Focused Organization from Within
Organizer of User Experience (UX) Camp 2016
UX Edmonton is the hub for Edmonton's User Experience community! We bring together designers, developers, researchers and analysts from all industries and professions who share an interest in user experience.