Sales Have Ended
Registrations are closed
Sorry we missed you! Check out our other events to stay connected.
Sales Have Ended
Registrations are closed
Sorry we missed you! Check out our other events to stay connected.
Join Devvio CEO Tom Anderson as we learn how blockchain technology offer companies new ways to take control of and monetize their business.
About this event
In 2020, Canadian-based environmental, social and governance (ESG) funds saw inflows of $3.2 billion, while total net assets in ESG funds topped $22 billion, a 37% increase over the year before.
Needless to say, ESG can no longer be ignored by companies -- ESG efforts drive marketing perception and have significant effects on its financial metrics.
Join speaker and Devvio CEO, Tom Anderson, as we learn how blockchain could help you take control of your IoT business, add additional revenue, and empower your ESG strategies. Following the presentation will be a panel discussion led by Canadian Blockchain Consortium Executive Director Koleya Karringten.
Why Attend?
Learn how to harness ESG efforts using blockchain technology
Discover how ESG influences marketing perception and company financial metrics.
Understand the provenance of ESG assets, such as Carbon Offsets, to effectively create, buy and sell ESG assets
Explore the biggest challenges in ESG - trust and multiparty collaboration - and how the DevvESG blockchain ecosystem solves these problems
Discover how blockchain networks and applications can support sustainability throughout the energy value chain, build a new level of trust in ESG certifications, and create innovative markets for carbon credits and project financing.
Agenda:
3:00pm - Opening Remarks (Alberta IoT)
3:05pm - Blockchain Presentation with Devvio
3:35pm - Panel Discussion by Canadian Blockchain Consortium
4:10pm – Breakout Sessions
4:30pm - Close
Register to learn how blockchain and ESG can transform vital aspects of your business.
This event is supported by Alberta IoT's generous annual sponsors - Alberta Innovates, Aruba Networks, MNP, Rogers Communications, Canadian Blockchain Consortium, Lenovo, Microsoft, PCL, Socium Law, Titan Logix Corp, Tridon Communications, and Ingram Micro.
About the Speaker: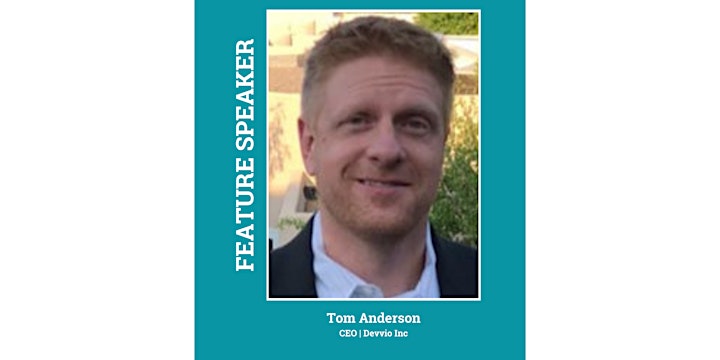 Tom Anderson | CEO
Tom is an experienced entrepreneur and previously founded Novint Technologies, a robotics company that created the world's first consumer 3D touch device. He was one of the earliest pioneers in the field of haptics (adding the sense of touch into computers/VR). He led fundraising of over $34 million, licensed tens of millions of dollars of game development, got national distribution, and took the company public. His Novint patents were sold to Facebook. He founded Devvio in Albuquerque, New Mexico, USA.
Connect with Tom on LinkedIn here.
About the Panelists
Koleya Karringten | Canadian Blockchain Consortium
A proud Albertan technology entrepreneur, advocate, and leader, Koleya Karringten has a unique perspective on the challenges and opportunities of product commercialization, ecosystem building and fostering inclusion in the technology industry. As the co-founder and CEO of Absolute Combustion, she has spent over a decade successfully designing and developing ground-breaking cleantech solutions for multiple industry sectors, including aerospace and Oil & Gas. She is a driving force in Canada's blockchain technology industry as the Executive Director of the Canadian Blockchain Consortium (CBC) and co-founder/board member of the Canadian Blockchain Association for Women (CBAW). In her leadership role at the CBC, she has merged her passions for technology and social good to bring together blockchain companies, corporate leaders and the government to build the country's largest blockchain ecosystem organization. An influential public speaker, writer, and community volunteer, Koleya strongly believes that uniting diverse voices behind a common goal is the path to creating a fairer, more sustainable and prosperous nation.
James Graham | GuildOne
James co-founded the company in 2001 and has since been innovating the energy industry by delivering complex data management and business intelligence solutions to the market. He has led GuildOne's progress into emerging technologies, including blockchain, machine learning and artificial intelligence to capitalize on these trends and position the company as a pioneering technology company world-wide.
Alexis Pappas | Canadian Blockchain Association for Women
Alexis is an entrepreneur and writer with a background in fields including energy, clean technology and digital innovation. She is the Executive Director of the Canadian Blockchain Association for Women, CEO of digital identity and credentials firm 1D Network, and a Director of the Canadian Blockchain Consortium. Passionate about diversity, Indigenous rights and the advancement of women, her vision is of a world where technology always includes the human equation.
Sunny Trinh | Avnet
As the VP of Demand Creation at Avnet, Sunny is a dynamic, highly organized, extremely adaptable sales executive with a can-do attitude that believes in empowerment and teamwork with a strong business acumen that drives change towards a proven track record of exceeding sales goals.