Using Digital and Social Media to Mobilize Climate Action: From Communities...
Description
Using Digital and Social Media to Mobilize Climate Action: From Communities of Interest to Communities of Practice

When: Thursday, November 20, 2014 from 6:00pm to 8:00pm
Where: Room C180, UBC Robson Square, 800 Robson Street, Vancouver

Live Web Stream: http://pics.uvic.ca/events/communities-interest-communities-practice


Join Professor Maged Senbel, Professor, School of Community and Regional Planning and UBC researchers Erik Blair and Victor Ngo as they share results on the use of social media for the Do It in the Dark campus residence energy challenge. Their research demonstrates how using multiple pathways of engagement, including entertainment engagement, can result in reduced energy consumption well beyond the period of public engagement. They will offer insight into how a mixture of social media and face-to-face interaction can best be used to educate, inspire, engage and support young people to value energy more and to reduce their everyday energy consumption.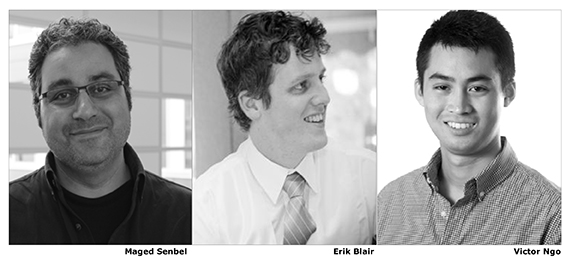 Maged Senbel is an associate professor in the School of Community and Regional Planning at UBC. His research focuses on public engagement in long term neighbourhood planning. He examines the use of different media to engage citizens in urban design decisions. He strives to make planning more accessible to both expert and non-expert audiences. Maged's publications include research on neighbourhood scale energy performance and comparative GHG emissions analysis and municipal climate change planning. He has also published articles on youth engagement in climate change planning, leadership in sustainability planning, and different approaches to spatial thinking for people new to design. Maged theorizes on approaches for cultivating inclusive and intercultural visions of a compelling urban future.

Erik Blair's passion and work meet at the intersection of climate change, energy conservation, behaviour change and communications. He currently works for Metro Vancouver's Integrated Air Quality and Climate Change Division on policies and programs that reduce greenhouse gas emissions from the transportation, business, residential and industrial sectors. Erik holds a Master's degree in planning and an undergraduate degree in geography from the University of British Columbia, and a diploma in digital audio engineering from the Centre for Digital Imaging and Sound. Erik also serves as the Vice President for the Vancouver chapter of Connecting Environmental Professionals (CEP), a local non-profit, and spends most of his free time on a mountain, in a tent, or with a guitar in hand.

Victor Ngo is a graduate student at the UBC School of Community and Regional Planning. Victor's interdisciplinary research and practice focuses on climate change and sustainability planning, integrating land use, transportation, urban design, and public engagement approaches towards more sustainable cities. He is affiliated with the Planning Evaluation Lab and the Health & Community Design Lab at UBC. Currently, Victor sits on the Youth Vital Signs Leadership Council at the Vancouver Foundation to improve youth voice and decision-making in Vancouver.

This is a free event, open to the public. Please register if you like so we have a sense of who and how many are attending and watching online. There is no need to bring a paper ticket with you.
We hope that you can make it, either in person or by accessing our webcast.
For more information contact:
Nastenka Calle
SFU Program Coordinator, PICS
n_calle@sfu.ca | www.sfu.ca/climatechange | www.PICS.uvic.ca
Sara Muir-Owen
UBC Program Coordinator, PICS
sara.muir-owen@ubc.ca | www.sustain.ubc.ca | www.PICS.uvic.ca

Organizer of Using Digital and Social Media to Mobilize Climate Action: From Communities of Interest to Communities of Practice
PICS was established in 2008 by an endowment from the BC Ministry of Environment. Hosted and led by the University of Victoria, PICS is a unique collaboration among BC's four research intensive universities--University of British Columbia, University of Northern British Columbia, Simon Fraser University, and the University of Victoria.