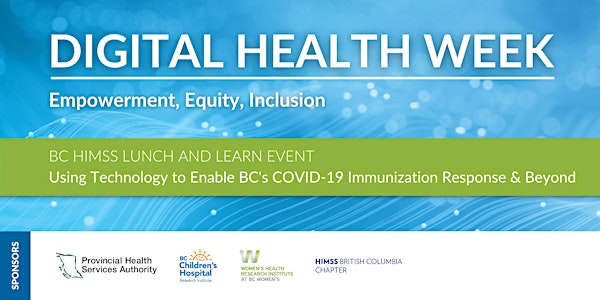 Using Technology to Enable BC's COVID-19 Immunization Response and Beyond
Join us for our Digital Health lunch n' learn about how BC built a province-wide immunization program in response to the COVID-19 pandemic.
About this event
Join us for a special Digital Health Week collaboration event!
We are pleased to bring you an exciting Digital Health Week lunch n' learn event, which will share the story of how BC built a province-wide immunization program in response to the COVID-19 pandemic. Our panelists will provide a high-level overview of how existing systems and patient immunization data were leveraged to determine patient eligibility, drive automated notifications, forecast future operational needs, centrally manage inventory and make vaccine cards/records accessible to patients and providers.
Panelists
May Tuason - Director, Clinical Architecture and Innovation, Digital Health Strategy Office, Provincial Digital Health Team
Elizabeth Lee, RN, BScN - Director, Clinical Informatics, Public Health Information Systems
Renaldo Scalabrino - Senior Enterprise Architect / Manager – Application Architecture
Greg Saxon - Director, Consulting Expert | BC Health Sector, Western Business Unit | CGI
This event is part of a series of Digital Health Week events being hosted across the province by the Provincial Health Services Authority (PHSA). Please see the PHSA Digital Health Week website for more information on all the exciting activities planned and join the mailing list for ongoing updates and news.
Brought to you by the digital health week organizers: Healthcare Information & Management Systems Society (HIMSS) – BC Chapter / The Office of Virtual Health / Digital Health Strategy Office / BC Children's Hospital Research Institute and Women's Health Research Institute
We hope to see you there as we cover this important topic and leverage the power of data to support development of programs and policies for better health outcomes of British Columbians.
BC HIMSS Member & Non-Member Registration
This event is free-of-charge for BC HIMSS Chapter members and for Digital Health Week attendees, thanks to this special partnership.
What is BC HIMSS & How Do I Join?
HIMSS (Healthcare Information and Management Systems Society) is a global advisor, thought leader and member-based society committed to reforming the global health ecosystem through the power of information and technology. As a mission-driven nonprofit, HIMSS offers a unique depth and breadth of expertise in health innovation, public policy, workforce development, research and digital health transformation to advise leaders, stakeholders and influencers across the global health ecosystem on best practices. With a community-centric approach, our innovation engine delivers key insights, education and engaging events to healthcare providers, payers, governments, startups, life sciences and other health services organizations, ensuring they have the right information at the point of decision.
BCHIMSS wants all digital health enthusiasts in our community to have the opportunity to access the valuable industry knowledge, best practices and innovation featured at our ongoing events. If you are an employee of our chapter Organizational Affiliate members - FNHA, IHA, PHSA, or VCH - you can automatically get free full regular BC HIMSS membership. If you haven't heard about this through your employer yet, email us at britishcolumbia.info@himsschapter.org for the sign-up link!
To learn more about joining BC HIMSS, visit https://www.himss.org/membership-participation/himss-british-columbia-chapter
What's next?
The BC HIMSS Annual General Meeting and Social is just around the corner on Thurs, Nov 23rd, 2022 from 5:00pm - 8:00pm at St. Regis Bar and Grill in Vancouver, BC. We'll celebrate the accomplishments of the past year including our transition back to in-person events, including our first in-person conference in over two years! We will still be offering virtual programs throughout the year and adding more in-person socials and events back in locations across BC this year.
AGM attendance is limited to current members in good standing. If you need to renew your membership before registering for the AGM, please visit the HIMSS membership page.
BC HIMSS is sponsored by: