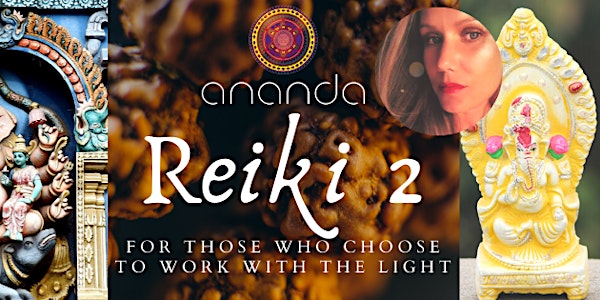 USUI Reiki Level 2 Certification in Kelowna, BC
You will receive your Reiki Level 2 Certification for completing this one day intensive course.
When and where
Location
Ananda's Private Kelowna Garden 948 Kennedy Street Kelowna, BC V1Y 4E8 Canada
Refund Policy
Contact the organizer to request a refund.
Eventbrite's fee is nonrefundable.
About this event
♥️Reiki Level 2 is for those continuing their Reiki journey and have completed Level 1.
♥️Join Ananda Cait, international Reiki Master & Sacred Ceremony Guide (founder of AnandaSoulRetreats.com) as we dive deep into your Reiki Level 2 Certification.
Each level is different and special. It will also be different for you in comparison to any other Reiki practitioner. You have your own energy and when merged with the Universal energy, your own healing gifts will be revealed. (Once you are attuned, you will be given an elemental flow assessment).
As such, your confidence in this practice will be unveiled one step at a time and I am here to help you with this process.
♥️We form deep bonds in these trainings as well, it's beautiful to see people on a similar journey connect so deeply and make strong friendships. Expect to learn, have fun, enjoy wonderful food (a vegan lunch) and be part of a group that is curious about energy healing work and high vibrational tools for ritual and ceremony.
Reiki Level Two Certification
Are you looking to deepen your Reiki path even further?
Learn how to do distant reiki on your loved ones.
Learn how to cleanse yourself, spaces and past life times using 3 sacred symbols.
♥️In this one day intensive you will give and receive: ♥️
~ Opening Sacred Cacao Ceremony
~ Learn the 3 Japanese healing sacred symbols and the meaning for each
~ How to perform long distance reiki
~ Practice performing long distance reiki
~ Chord cutting ritual
~ Receive and give Reiki treatments incorporating the symbols (application training)
~ Receive your own Reiki 2 Digital Manual
~ Receive Level 2 Reiki Attunement and Elemental Flow Assessment (with Clairvoyant Ananda Cait)
~ Closing Healing Circle Soundbath
~ Join Private Reiki Facebook Group for ongoing shares, support and inspiration.
~ Upon completion you will receive your level 2 Reiki Certification
Pre-Requisite: Completed Reiki Level 1.
If you haven't received Level 1 Certification yet.
Contact me for support.
Class 8 people max
Energetic Financial Investment includes lunch, digital manual, application training, sacred cacao ceremony, Level 2 Attunement and Clairvoyant Elemental flow assessment.
$220.00 CDN.
Saturday Aug 27, 2022
12 PM - 8 PM in my private garden sanctuary, Kelowna, BC.
- Reiki students who have trained with me in the past get special pricing for Reiki Master course.
- I love making these trainings an experience to remember: because what energy healing work teaches us most is that the journey is the juiciest part: Not the goal. This is why I take time to create a fn. playful, informal space so we can truly enjoy the presence of this experience together.
- Let's invite this in as we move forward and I look forward to meeting you and inviting you into our Reiki sacred circles.
- If this sounds right for you, please continue with the details below.

All my love,⭐️
📿Your Guide throughout this Journey, Ananda Cait.
🌹THE BENEFITS OF REIKI🌹
Rapid stress reduction
Chakra clearing and alignment
Relief from pain, panic, anxiety & depression
Improved sleep and digestion
A greater sense of well-being
Relief of headaches, cold symptoms, flu symptoms, strains, sprains and even the side effects of cancer treatments.
Increases vitality and postpones the aging process.
The continued use of Reiki treatments when you are not sick will manifest itself as self- confidence and self-assurance.
It speeds the healing of injuries
Gently realigns and detoxifies the body
Aids in the recovery from emotional trauma.
Provides long-term relief because it heals at the source of illness, whether it is at the physical, emotional or mental level.
WHAT IS REIKI?
Reiki (pronounced "ray-key") is a form of hands-on healing that originated in Japan, in 1922. It is used to restore balanced energy flow throughout the body.
- Reiki translated means "Universal life force energy." This universal life force is an energy found within all things, people, animals, plants, rocks, trees… even the earth itself has this life force energy and without it, our physical bodies would cease to live. Someone trained in the use of Reiki, channels that life force energy to the recipient allowing it to flow to where it is needed.
♥️Everything, as well as the body and its organs, generates a frequency. If our life force energy is low or blocked, we are more likely to get sick, which brings on symptoms of injury, illness and disease. When the life force is high (balanced energy), we can maintain our health and well-being.
- Reiki helps restore balance and being balanced helps maintain normal functioning. It provides deep relaxation and offers the body the life force energy where it is needed and assists the body in breaking up energy blockages therefore, enhancing healing and eliminating symptoms.
- Reiki gets to the root of the blockage (issue), breaks it apart and restores the proper balance. Reiki treats the whole of the person addressing physical, emotional, mental and spiritual imbalances.
- Reiki supports our well-being and strengthens our bodies natural ability to heal itself by encouraging balance in our energy centres called Chakras.
🌹CLASS DETAILS🌹
♥️One intensive full day immersive group class (semi-private or group classes can be scheduled separately also)
$220.00, ♾class sizes are limited to 8 participants
♥️Please note: all refunds or cancellations need to be made known 15-30 days before the training to make sure we have a circle of students that can be fully present.
About your guide:🌹
Ananda Cait guides students through a heart opening journey that will allow you to feel an inner joy start to arise. She began her yoga journey in 2001 and since then has dedicated her life to the yoga lifestyle.
🌹She has graduated from Teacher Training in traditional Ashtanga, Vinyasa, Yin, Restorative, Prenatal & Yoga Therapy with Critical Alignment. She has also received her Reiki Masters training and has hosted reiki circles and events across Canada, Texas, Aruba and in Costa Rica. She is internationally certified to teach, train and host energy work USUI Reiki, as well as guide sacred cacao ceremony. She is also the founder of the Sacred Bliss Ecstatic Dance based in BC, Canada.
🌹Her passion for creating a safe space for people to tap into their spirituality and releasing into their true authentic nature makes her a bountiful strength within the healing community as she continues to expand the boundaries of her students' inner awareness and mindset towards life.
🌹Ananda is the founder of Ananda Soul Retreats (anandasoularetreats.com) where she guides students from all over the world in Aruba and Costa Rica. These Yoga & Reiki travel experiences are next level into divine awakening -- for those that are ready to sink deeper into their spiritual journey and inviting the universal energy into their lives.