Utilisez votre Patrimoine Immobilier pour Investir ! (in French) 04/04/2016

Monday, 4 April 2016 from 6:00 PM to 8:30 PM (EDT)
Event Details
Nous vous invitons à assister à l'événement suivant:
UTILISEZ SON PATRIMOINE IMMOBILIER POUR INVESTIR

Être propriétaire aujourd'hui à Toronto offre d'énormes avantages :
y avez-vous songé ?
Que vous ayez encore une hypothèque sur votre maison/appartement ou que vous soyez libre de tout emprunt, avez-vous exploré les possibilités de maximiser ce patrimoine pour réinvestir à l'aide du refinancement ?
3 Experts Francophones en Immobilier, Placements, Hypothèques et Financement vous montreront concrètement comment, grâce à votre 1ère propriété (Home Equity), vous pouvez soit acheter un logement locatif, rénover votre maison, faire des placements attractifs, financer l'éducation de vos enfants ou augmenter vos revenus pour la retraite.
Au cours de ce séminaire, vous découvrirez :
- Le concept du refinancement et ses mécanismes,
- Les outils d'investissement possibles.
Danielle Vadius vous parlera des investissements dans les Mutual Funds et les Assurances, Laure Ampilhac vous expliquera comment investir dans les prêts privés (Peer to Peer Lending) tandis que Laurence Jollivet abordera comme sujet les investissements immobiliers permettant de générer des revenus fonciers.
Si vous êtes comme 42 % des Canadiens 'House Rich, Cash Poor', retrouvez-nous le 4 avril avec ce panel d'experts francophones.
'You might be sitting on gold and you don't even know it !'
QUAND
Lundi 4 avril 2016 de 18h00 à 20h30
LIEU
Canada Life Building - 330 University Avenue. Salle Hugh C. Baker. Toronto, Ontario M5G 1R8
Places limitées - GRATUIT - Inscription obligatoire


Partagez cet événement avec vos amis et connaissances !
Nous espérons que vous pourrez venir. 
Au plaisir,
---


 


Call Today


(416) 358-9686 | (877) 764-9492  
         
Certified Wealth Management Advisor
Mortgage Agent @The Mortgage Centre
iBrokerPower Capital Inc. Lic # 10538


   

Skype:

laure_in_toronto



╚►
Upcoming Mixer
: 03/30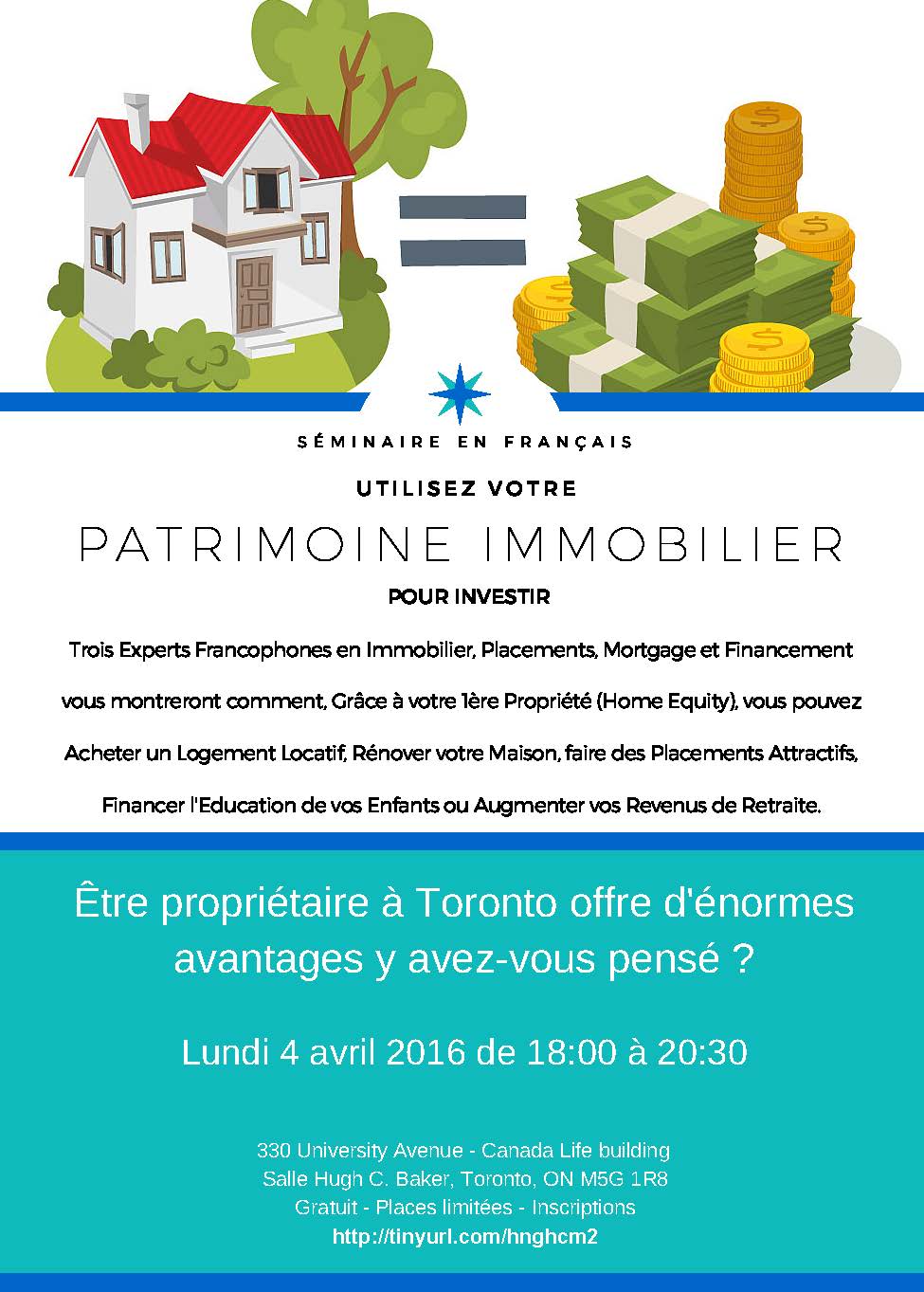 Danielle Vadius | Stratège en Assurance & Patrimoine | Speaker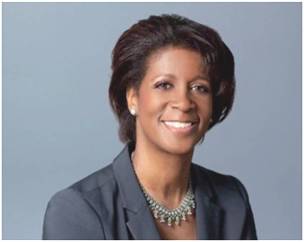 Stratège en Assurance et en Développement de Patrimoine
Danielle est un Conseiller en Sécurité Financière qui a une passion : aider ses clients à développer leur patrimoine en optimisant les outils financiers, fiscaux et de protection à leur disposition.
L'expérience de Danielle en France et dans les Caraïbes l'aide à mettre les choses en perspective : les composantes fiscales internationales doivent être prises en compte : « que se passera-t-il si je quitte le Canada ? ». Elle prend a cœur d'élever la connaissance de ses clients en matière financière pour mettre en place les stratégies adaptées à chaque situation.
Danielle travaille avec une clientèle francophone établie à Toronto. Son expérience d'une quinzaine d'années à la tête d'une société de conseil spécialisée dans la fiscalité et les investissements est un atout fondamental.
Parce qu'elle élève deux enfants, Danielle sait l'importance de protéger ceux que l'on aime grâce à une planification financière appropriée.
https://ca.linkedin.com/in/daniellevadius
Laure Ampilhac | Investissements immobiliers | Speaker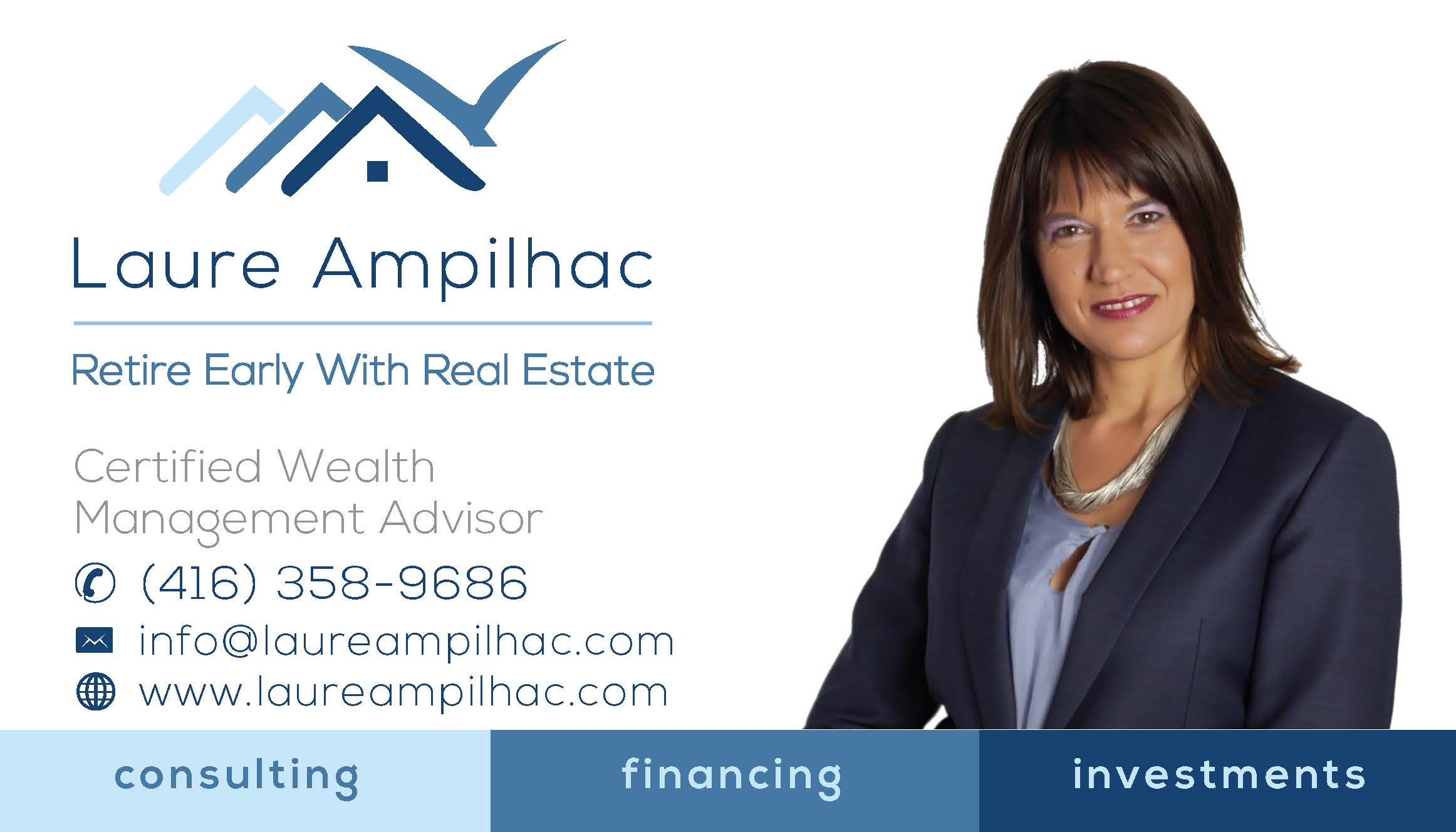 Après 15 ans en tant que cadre de développement d'affaires en France et au Canada, Laure a quitté son poste salarié au cours de la récession de 2009 pour suivre une nouvelle voie en consultante indépendante.
La formation « Rich Dad, Poor Dad » de Robert Kiyosaki l'a amenée à une carrière dans l'investissement immobilier, et par la suite à la création de sources multiples de revenus actifs et passifs. Laure ayant la fibre d'entrepreneur, est devenue gestionnaire d'immeubles (property management), agent hypothécaire et maintenant est conseillère en gestion de patrimoine immobilier. Son expertise et sa passion pour la retraite avant 65 ans lui permettent de coacher et d'accompagner les propriétaires de maison. Elle les encadre pour acquérir des propriétés supplémentaires et pour mettre en place une stratégie à long terme de retraite avancée en utilisant leur maison (home equity), leurs économies et les régimes enregistrés d'épargne-retraite (REER, CRI, CELI).
Les options d'investissements immobiliers que Laure propose :- Logements locatifs / Propriétés à revenus (cash flow)- Investir dans les prêts privés (devenez prêteur d'argent) *- MIC (Mortgage Investment Corporation)*- Préconstruction- Groupements / Société de gestion immobilière (Syndications)** Investissements admissibles aux REER.
Laure dans les médias sociaux :
https://www.facebook.com/laureampilhac
https://www.facebook.com/retireearlywithrealestate
https://www.facebook.com/realestatemixer
https://www.linkedin.com/in/laureampilhac
(416) 358-9686 | (877) 764-9492
Laurence Jollivet | Agent immobilier | Speaker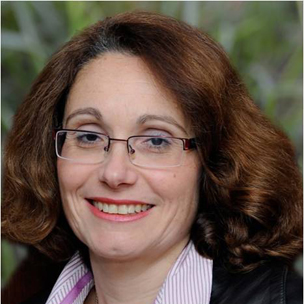 Avant de démarrer sa carrière dans l'immobilier avec l'agence Harvey Kalles Real Estate Ltd., Laurence a travaillé en France dans les secteurs de la haute technologie et du négoce de produits métallurgiques.
Arrivée à Toronto avec sa famille en 2002, Laurence s'est beaucoup investie dans la communauté francophone. Avec dévouement et efficacité, elle a accueilli de nombreuses familles francophones et les a aidées dans leur installation en leur fournissant de nombreux conseils pratiques et utiles.
C'est en aidant ces nouveaux arrivants qu'elle a commencé à s'intéresser au secteur de l'immobilier et qu'elle a ainsi rejoint l'agence immobilière Harvey Kalles Real Estate Ltd après avoir obtenu sa licence en 2011.
Se lancer dans une transaction immobilière est un processus long et complexe. Il est important d'avoir à ses côtés un agent immobilier qualifié, compétent et intègre pour vous accompagner à chaque étape de l'achat ou de la vente.
Réputée pour son écoute, sa disponibilité et sa connaissance du marché immobilier torontois, Laurence sera votre guide pour vous aider à concrétiser dans les meilleurs délais votre projet immobilier.
ljollivet@harveykalles.com
Direct: (647) 622-6994 |Bureau: (416) 441-2888
https://www.facebook.com/LaurenceJollivetRealEstate/
https://www.linkedin.com/in/laurencejollivet
18h00 : Accueil - Networking
Pour vous y rendre : Station Osgoode - Parking le plus proche: 60 St Patrick street
"Le Vrai Pouvoir, c'est la Connaissance"
Have questions about Utilisez votre Patrimoine Immobilier pour Investir ! (in French) 04/04/2016?
Contact Laure Ampilhac
When & Where

Canada Life Building
330 University avenue
Toronto, ON M5G
Canada

Monday, 4 April 2016 from 6:00 PM to 8:30 PM (EDT)
Add to my calendar
Organizer
✔ Laure Ampilhac
╚► Helping Canadians RETIRE EARLY WITH REAL ESTATE ★ Leveraging home equity ★ RRSP ★ Designing Early Retirement Plans
☆☆ Real Estate Investments Consultant | Certified Wealth Management Advisor | Mortgage Agent | Refinancing | Private Mortgage Lending | Six Degrees Real Estate Investors Mixer

My expertise and my passion for "early retirement" has allowed me to mentor anxious Canadian families and home owners who have not managed to invest their life savings effectively.

I help them acquire properties, diversify their investments and build a long-term retirement strategy using their home equity, savings and Registered Plans (RRSP, RESP, LIRA & TFSA).

Today, my clients include home-owners and individual investors who are ready to fathom new avenues for their own investments. I help them by:
★  Educating & Empowering though the Six Degrees Real Estate Investors Mixers (www.realestatemixer.ca meetup).
This is where I bring together seasoned investors, speakers and mentors from various backgrounds.

★  Educating & Coaching though one-on-one consultations.
This is where we take stock and compile their savings, pension, investments and available home equity (net worth).

★ Designing and Implementing a retirement income plan with a new investment strategy that incorporate their current locked investments with new acquisitions.These cater to the clients' current AND future cash flow needs.

Specialties: Real Estate Investing | Mortgages | Financing  | Private Money Lending | Alternative Investments | Pre-Construction Townhomes | RRSP | TFSA | Rental Property | Retirement planning | Wealth creation | Wealth management | Asset protection
► Visit www.laureampilhac.com to schedule your FREE Consultation!
► or call 416-358-9686

When working with investors, we explore the following real estate investment vehicles:
❶ Income properties (for Cash flow) and Pre-Construction TownHomes
❷ Investing in Private Lending (Mortgages & MIC)*
❸ Alternative Real Estate Investment (Private Equity and Syndication)*
* RSP-eligible
Utilisez votre Patrimoine Immobilier pour Investir ! (in French) 04/04/2016