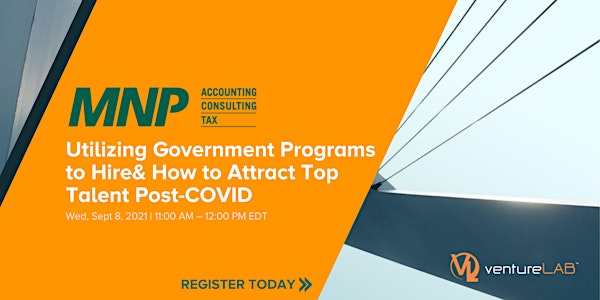 Utilizing Government Programs to Hire& How to Attract Top Talent Post-COVID
Join ventureLAB and MNP for an interactive session on hiring and attracting top talent while utilizing government funding.
About this event
MNP in collaboration with ventureLAB, will be hosting this interactive workshop about Utilizing Government Programs to Hire Employees & How to Attract Top Talent Post-COVID.
As COVID-19 restrictions are eased and demand on organizations increases, talent is becoming harder to find. This leaves organizations, such as startups, in an increasingly difficult place while looking to re-hire or hire new team members. During this workshop, Jim Cruickshank, Senior Manager, Consulting Services, at MNP will discuss how the 2021 federal budget and programs can assist in the re-opening of businesses and hiring of employees. Jim will also cover ways to attract and retain employees during a time where companies are competing for top talent.
AGENDA:
11:00 AM - 11:05 AM: Welcome and Introductions
11:05 AM - 11:45 AM: "Utilizing Government Programs to Hire Employees & How to Attract Top Talent Post-COVID" by Jim Cruickshank - Senior Manager, Consulting Services, MNP
11:45 AM - 12:00 PM: Discussion and Q&A
Interested in a one-on-one meeting with MNP? Register for the event to express your interest and we will work with you to set up a meeting.
SESSION FACILITATOR
Jim Cruickshank - Senior Manager, Consulting Services, MNP
Jim is MNP's Human Capital Consulting leader and a Senior Manager in the Firm's Organizational Renewal Consulting Practice in Mississauga. Jim is a senior business advisor and leader with two-and-a-half decades of experience in industry and consulting, in the manufacturing, environmental and consumer markets.
Jim draws on extensive experience in human capital consulting with a broad range of clients, including private enterprise, provincial and federal governments, municipalities and Crown corporations, to his role. His expertise includes organization design, change management and corporate strategy. Jim's broad human capital experience also includes succession planning, performance management strategy, human resources strategy and function optimization, and executive coaching.
Working alongside the General Consulting, Digital and Technology Solutions teams, Jim applies this wealth of experience of organization design and change management principles to help meet client needs.
Jim earned a Bachelor of Science (B.Sc.) in Physiology from Western University and a Master of Health Administration (MHA) from the University of Ottawa. He is a PROSCI certified Change Management Advisor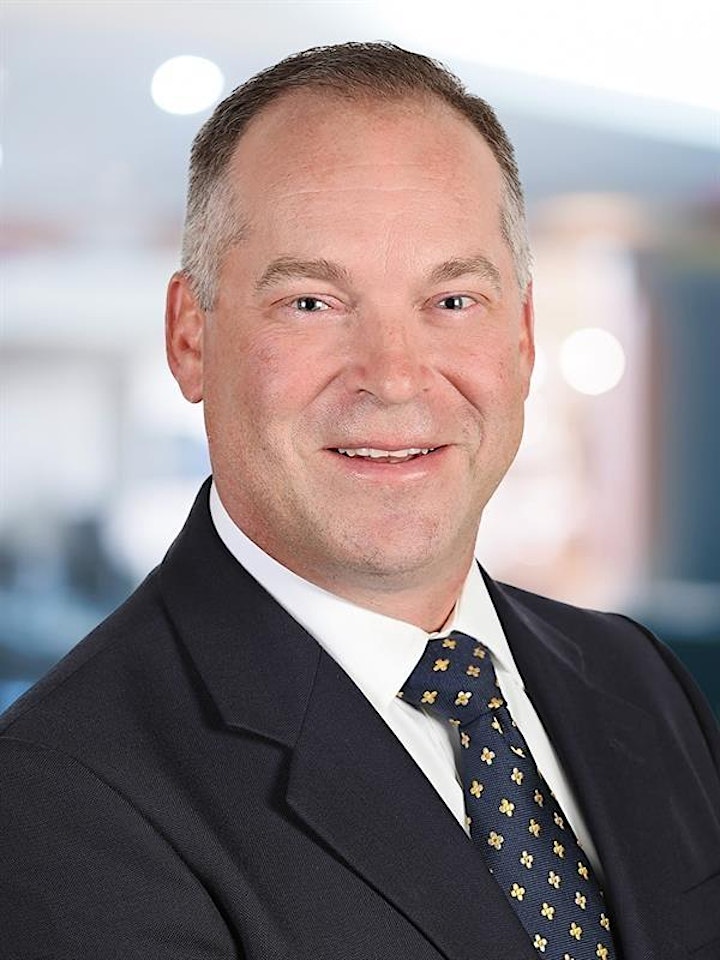 About ventureLAB
ventureLAB is a leading global founder community for hardware technology and enterprise software companies in Canada. Located at the heart of Ontario's innovation corridor in York Region, ventureLAB is part of one of the biggest and most diverse tech communities in Canada. Our initiatives focused on raising capital, talent retention, commercializing technology and IP, and customer acquisition have enabled thousands of companies to create over 4,000 jobs and raise more than $200 million in investment capital. At ventureLAB, we grow globally competitive tech titans that build-to-scale in Canada, for global markets.
Photo/Video Disclaimer
ventureLAB events are recorded for educational and marketing purposes. If you do not wish to be included in these recordings please let a ventureLAB team member know as soon as possible so that we can omit you from the recording.