UTMIST x AMD: How Machine Learning Transforms Gaming Experiences
Join our seminar with Max Kiehn, Fellow Engineer and ML Technical Lead at AMD, to learn about how AMD uses ML to automate gameplay testing.
About this Event
UTMIST is thrilled to have Max Kiehn, Fellow (Software Development), ML Technical Lead at AMD with us to talk about how his team uses machine learning to transform your gaming experience.
Video games are arguably the most popular application for graphics hardware. To deliver the best possible gaming experience, performance and the highest standard of graphics driver quality, AMD tests dozens of game titles on hundreds of configurations. This talk will describe how AMD is leveraging artificial intelligence and machine learning to automate all aspects of gameplay testing.
After the talk, we will also feature a fireside chat featuring Matthieu Chan Chee, Machine Learning Developer (PEY) Intern at AMD. Tune in to learn about an intern's experience working with Machine Learning at AMD .
Join us on Feb 23rd 5 - 6 PM to learn more about their team's engineering feat. There is also a Q&A session at the end. Mark your calendar and sign up now!
Note: No prerequisite is required for the talk.
Agenda
How Machine Learning is used to Optimize Gaming by Max Kiehn (5:00 - 5:40 PM)
Q&A (5:40 - 5:50 PM)
The Internship Experience at AMD with Matthieu Chan Chee (5:50 - 6:00 PM)
About the Speakers
Max Kiehn is an architect for software infrastructure at AMD Radeon Technologies Group. He has over 20 years of experience delivering practical global solutions, and expertise in Machine Learning, Data Analysis and Warehousing, Enterprise and Application Solution Engineering, Windows and Linux infrastructure, and Software project management. Max has worked on critical parts of software development pipeline including requirements management, source control management, issue tracking, DevOps, and test automation. His current focus is on leveraging AI to help improve software development pipeline efficiency.
Matthieu Chan Chee is a current computer science student completing his PEY at AMD, where he works on machine learning models to detect corruption in video games. Matthieu has ranked 1st at the National Mathematics Olympiad 2016 and was among the 37 worldwide recipients of UofT's Pearson Scholarship in 2017. More recently, Matthieu's team representing UofT was announced world champions for their work on Neural ODEs at ProjectX 2020, a 3-month global ML research competition.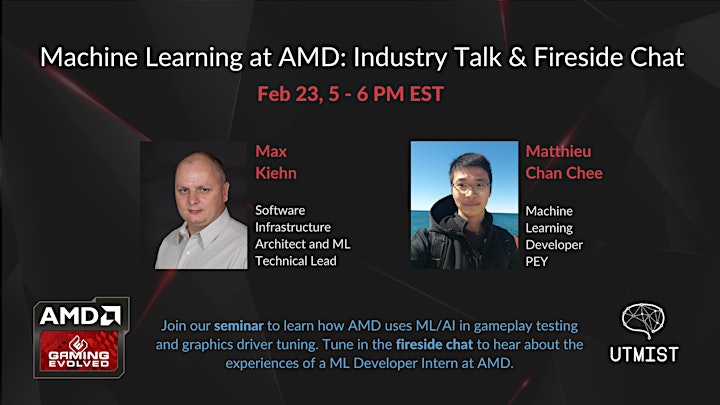 About AMD
Founded in 1969 as a Silicon Valley start-up, the AMD journey began with dozens of employees focused on leading-edge semiconductor products. From those modest beginnings, AMD has grown into a global company achieving many important industry firsts along the way. AMD today develops high-performance computing and visualization products to solve some of the world's toughest and most interesting challenges.
About UTMIST
We are the University of Toronto Machine Intelligence Student Team (UTMIST), a student organization devoted to promoting a vibrant machine learning community on campus and connecting students with graduate students, professors and industries in the field of machine intelligence, to clear the MIST around machine intelligence for the eager young minds.
The University of Toronto is one of the world centers of machine learning, yet most undergraduate students seldom have the opportunity of getting in touch with the scholars from academia and industry. This creates a disconnect between the undergraduate community and academia and industry.
Founded in 2017, we ran a series of successful initiatives including MIST101 (introductory workshops), our Guest Speaker Series, Technical Workshops, Paper Reproduction teams, and applied machine learning projects. Our team now totals over 60 graduate and undergraduate students and reaches a community of 950+ registered members.
Continuing this legacy, we aim to take on additional challenges during the pandemic to continue to provide students with more resources and opportunities in a virtual environment. We are collaborating with research institutes and companies to present more paper reading sessions and technical workshops, while also facilitating student groups to work on applied and research projects on machine learning.
Our ultimate goal is to build a platform to increase industry engagement, connecting students who are passionate about machine intelligence with research labs and industrial companies that are actively looking for brilliant minds to join them. We are striving to close the aforementioned gap between workforce and student communities.