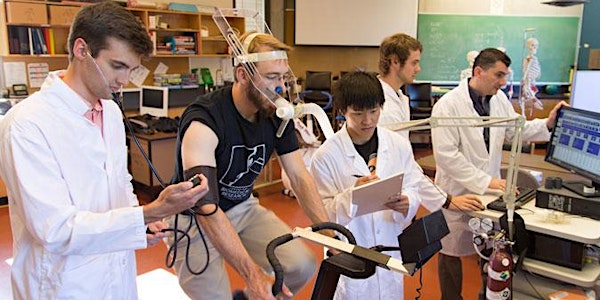 UVic Biomedical Technology Industry Partnership Day
Event Information
Location
Michele Pujol Room, Student Union Building
University of Victoria
Saanich, BC V8P 5C2
Canada
Description
**Students who would like to present a poster please see details below. Important to email cfbr@uvic.ca to reserve a spot for your poster, after you register on this page . We will pay for a new poster if we receive it by Monday, 23 October.

Biomedical Engineering and Biomedical Research at the University of Victoria generate strong connections between university research and local business. We are the home of the first accredited undergraduate program in Biomedical Engineering in Western Canada and this event is designed to showcase our innovative research and industry partnerships in biomedical research occurring in Victoria and the lower mainland. Our first ever Biomedical Technology-Industry Partnership day is open for the community, including students, faculty, local industry, and other interested parties.

Keynote Speakers
Terry Thomas, Chief Scientific Officer, StemCell Technologies
Scott Phillips, Founder and CEO, Starfish Medical
Join us for industry talks, panel discussions, a showcase of Biomedical Research projects, and a speed-networking session that will create new connections and spark collaborative project ideas with funding options available between researchers and industry.

9:30 – 10:30 Optional Lab tours (Meet at 9:30 in Bob Wright Building Foyer)

10:30 – 11:00 Registration with muffins, fruit and coffee (Michele Pujol Room Student Union Building)

11:00 – 12:30 Welcome:
Stephanie Willerth, Director, Centre for Biomedical Research

Lisa Kalynchuk, Associate Vice-President of Research

Keynote Speakers:

Terry Thomas, Chief Scientific Officer, StemCell Technologies

Scott Phillips, Founder and CEO, Starfish Medical
12:30 – 1:30 Lunch with short presentations by UVic representatives about research centres and undergraduate programs and co-op

1:30 – 2:30 Grant Opportunities Panel for collaboration between academic and industry

Ryan Dercho, Zymeworks Inc
Martin Boulanger Department of Biochemistry & Microbiology,UVic
2:30 – 3:00 Coffee break with posters

3:00 – 4:00 Careers in Biotechnology Panel

Tia Sojonky, StemCell Technologies
Nigel Syrotuck, StarFish Medical
Amanda Malone, Eupraxia Pharmaceuticals
Stefan Fletcher, Rebalance MD
4:00 – 4:30 Speed Networking
4:30 – Wine and Cheese with networking featuring posters and industry booths
Vender tables will be available throughout the day!
Call for Abstracts now open.

Students to be eligible to win one of 3 prizes for your poster please do these 3 things:
1) Register here on Eventbrite for the conference.
2) After registering email me at cfbr@uvic.ca with your intent to enter an abstract and poster.
Spots are limited so please let me know asap so I can hold your spot.Call for Abstracts now open.

We will pay for a new poster if submitted by Monday, 23 Oct. to cfbr@uvic.ca. Or bring USB to Petch 041.

Students to be eligible to win one of 3 prizes for your poster please do these 3 things:
1) Register here on Eventbrite for the conference.

2) After registering email me at cfbr@uvic.ca with your intent to enter an abstract and poster.
Spots are limited so please let me know asap so I can hold your spot.)

3) Submit your abstract to cfbr@uvic.ca by Monday, 23 Oct. Abstract submission information for booklet: Please include your name, department, and title (Less than 250 words)

**You can use a current poster from another event or you can make one specifically for this event and we will pay for poster printing if we receive it by the deadline of 23 Oct. ** If you would like a template to use for this event please email cfbr@uvic.ca
**You can use a current poster from another event or you can make one specifically for this event and we will pay for poster printing if we receive it by the deadline of 23 Oct. ** If you would like a template to use for this event please email cfbr@uvic.ca
$200. 00 cash prize
1) Best layperson explanation of their work – sponsored by CBR
2) Most innovative research with industry-partnership potential – sponsored by RPKM
3) Best advanced biomedical technology or material poster – sponsored by CAMTEC

For more information on attending, participating or sponsorship – contact:
Dr. Stephanie Willerth, Director of the Centre for Biomedical Research (cfbr@uvic.ca)
Date and time
Location
Michele Pujol Room, Student Union Building
University of Victoria
Saanich, BC V8P 5C2
Canada