An online conference featuring two panel discussions with academics, journalists and survivors, followed by a roundtable on policy responses
About this Event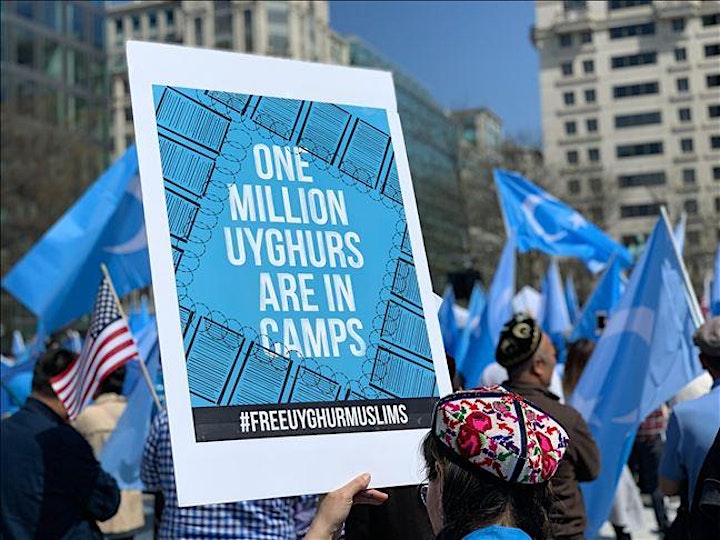 The Montreal Institute for Genocide and Human Rights Studies at Concordia University, in collaboration with the Political Science Department, are pleased to host the following event.
This event will be stream live on Facebook and YouTube
In light of the Human Rights violations against the Uyghur population happening in Xinjiang, a region in the northwest of China which is known to most Uyghur people as East Turkestan, join the Montreal Institute for Genocide and Human Rights Studies for a high-level discussion on the persecution of the Uyghurs.
China is believed to have detained up to 2 million Uyghurs and other Muslim minorities in internment camps in the far-western region of Xinjiang. While Beijing claims to be providing vocational training or rooting out terrorism and separatism, , there are numerous accounts of human rights abuses, including forced sterilization. According to The Atlantic, dozens of graveyards and religious sites have been destroyed, Uyghur language is banned in Xinjiang schools, and practicing Islam the predominant Uyghur faith, has been discouraged. There are now strong accusations of cultural genocide.
The format will consists of two-panel discussions followed by a policy roundtable. The first panel will be with academics, and the second with journalists and survivors. The roundtable will bring together experts and officials from human rights organizations to discuss possible policy responses to the persecution of the Uyghur.
10 am - 10:10 am Introductory remarks
Irwin Cotler, retired Canadian politician, Emeritus Professor of Law, and Founder and Chair of the Raoul Wallenberg Centre for Human Rights
10:10 - 11 am Panel 1: Academic Panel
Darren Byler, Department of Anthropology, University of Washington.
Dr. Sean Roberts, Associate Professor of the Practice of International Affairs, and Director, International Development Studies Program, Elliott School of International Affairs.
Marie-Ève Melanson, PhD candidate at McGill University's School of Religious Studies, a Research Assistant on Dr. Susan Palmer's SSHRC-funded project "Children in Minority Religions and State Control."
Dilnur Reyhan, President of the Uyghur Institute of Europe
Moderator: Prof. Kim Manning, Associate Professor of Political Science and Principal of the Simone de Beauvoir Institute at Concordia University
11 am - 11: 50 am Panel 2: Witness Panel
Mihrigul Tursun, camp survivor
Adrian Zenz, German anthropologist and Senior Fellow in China Studies at VOC
Moderator: Francine Pelletier, journalist at Le Devoir and journalism adjunct professor at Concordia University
11:55 am - 1 pm Panel 3: Policy Panel
Sophie Richardson, China director at Human Rights Watch
Nury Turkel, Uighur human rights lawyer, founder of the Uighur Human Rights Project, and Commissioner of the US Commission on International Religious Freedom"
Garnett Genuis, Member of the Canadian Parliament for Sherwood Park and Shadow Minister for International Development & Human Rights
Preston Lim, J.D. candidate at Yale Law School
Moderator: Kyle Matthews, Executive Director, MIGS
About the Speakers:
Darren Byler received his PhD from the Department of Anthropology at the University of Washington in 2018. His research focuses on Uyghur dispossession, culture work and "terror capitalism" in the city of Ürümchi, the capital of Chinese Central Asia (Xinjiang). He has provided expert testimony on Uyghur human rights issues before the Canadian House of Commons and writes a regular column on these issues for SupChina.
Irwin Cotler is the Chair of the Raoul Wallenberg Centre for Human Rights, an Emeritus Professor of Law at McGill University, former Minister of Justice and Attorney General of Canada and longtime Member of Parliament, and an international human rights lawyer.
Garnett Genuis is a Canadian politician who was elected to represent the riding of Sherwood Park—Fort Saskatchewan (Alberta) in the House of Commons of Canada in the 2015 federal election. He currently serves as the Shadow Minister for International Development & Human Rights.
Preston Jordan Lim is a J.D. candidate at the Yale Law School. He represented Canada as a Schwarzman Scholar at Tsinghua University, where he received a Master's in Global Affairs. He previously worked as Policy Adviser to MP Erin O'Toole. His writing on Sino-Canadian relations has been published in several outlets.
Marie-Ève Melenson, School of Religious Studies, McGill University
Dilnur Reyhan teaches at the National Institute of Oriental Languages and Civilizations in Paris. She is the president of the European Uyghur Institute, and director of the bilingual magazine Regard sur les Ouïghour-e-s.
Sophie Richardson is the China director at Human Rights Watch. Dr. Richardson is the author of numerous articles on domestic Chinese political reform, democratization, and human rights in Cambodia, China, Indonesia, Hong Kong, the Philippines, and Vietnam. She has testified before the European Parliament and the US Senate and House of Representatives.
Dr. Sean Roberts joined the Elliott School in 2008 as the Director of the International Development Studies program. Having conducted ethnographic fieldwork among the Uyghur people of Central Asia and China during the 1990s, he has published extensively on this community in scholarly journals and collected volumes. He has worked at USAID, was a post-doctoral fellow in Central Asian Affairs at Georgetown University, worked on development projects for a variety of NGOs and served as a Senior Program Officer at the Center for Civil Society and Governance at the Academy for Educational Development.
Nury Turkel is a Washington-based lawyer and the first Uyghur-American to serve on the United States Commission on International Religious Freedom (USCIRF), appointed by U.S. House Speaker Nancy Pelosi in May 2020. In countless policy forums and legislative hearings, he has helped shape U.S. and global policy responses to the largest persecution of an ethnoreligious group since WWII. Turkel also serves as the Chairman of the Board for the Uyghur Human Rights Project that he co-founded in 2003. Turkel was named to the 2020 TIME 100 most influential people in the world.
Mihrigul Tursun, camp survivor.