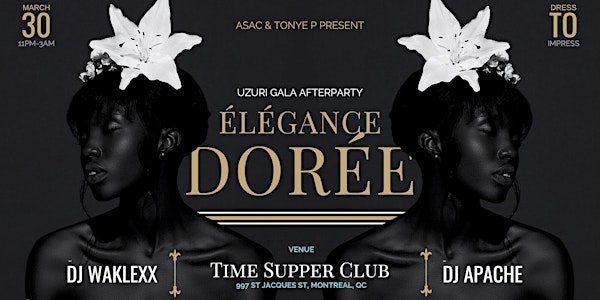 Uzuri Afterparty: Élégance Dorée
When and where
Location
Time Supper Club 997 Rue Saint-Jacques Montréal, QC H3C 1G6 Canada
Description
Version Française à suivre...
For the UZURI Gala Afterparty, we decided to aim high, dream big and offer you the night of a lifetime.
Together, the African Students' Association of Concordia, in collaboration with Tonye P, is inviting you to:
⚡️UZURI Afterparty : ÉLÉGANCE DORÉE⚡️
This year's edition takes place at the very iconic "Time Supper Club", the place to be ! To that effect, you have to go all out on this one. The theme, DRESS TO IMPRESS !
To make this afterparty even more epic, we brought together some of the best afro DJs in Montreal to keep you on your feet throughout the night : DJ Waklexx for our East Africans, DJ Apache for our West Africans, so everyone feels at home.
From the most recent afrobeats, to the most jamming dancehall music, not leaving aside the most hype hip-hop hits of the moment, there is no better formula to guarantee this night will be memorable !
The last ingredient to make this night as legendary as it is destined to be is YOU. We repeat: you, your friends, your friends' friends, your entire squad. WE ARE COUNTING ON YOU !
Purchase your tickets now !
________________________________________________________
Version Française
Pour l'Afterparty du Gala UZURI, nous avons décidé de viser haut, de rêver en grand et de vous offrir la soirée de votre vie.
Ensemble, l'Association des Etudiants Africains de Concordia, en collaboration avec Tonye P, vous invite à:
⚡️UZURI Afterparty : ÉLÉGANCE DORÉE⚡️
Cette année, la soirée se passera dans la très iconique "Time Supper Club", une salle légendaire ! À cet effet, vous devriez vous surpasser en vous mettant sur votre 31. Le thème, FAIRE SENSATION.
Pour rendre cette soirée encore plus épique, nous avons choisis parmi les meilleurs DJs afro de Montréal pour vous ambiancer toute la nuit: DJ Waklexx et DJ Apache.
Des derniers sons afrobeats du moment, aux rythmes endiablés de la dancehall, en passant par le bangers hip-hop les plus demandés, il n'y a pas de meilleure formule pour garantir que cette soirée sera mémorable !
Le dernier ingredient pour rendre cette soirée aussi légendaire que prévu, c'est VOUS. On répète: vous, vos amis, les amis de vos amis, votre squad. ON COMPTE SUR VOUS !
Réservez vos tickets dès maintenant !