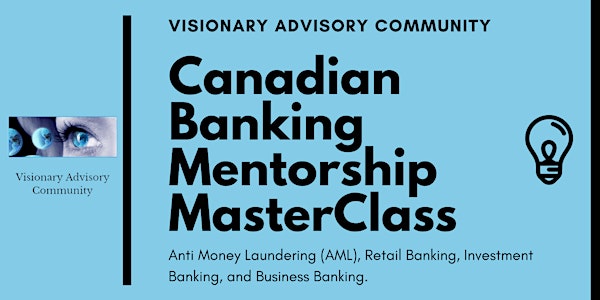 VAC Canadian Banking Mentorship Program
Canadian Banking Mentorship & Career Guidance Full Program - 1 month
About this event
Visionary Advisory Community - Vision & Mission :
- Happy to help you Make Life Decisions (Personal & Business), Achieve Mental Satisfaction & Give Back to your own Community by providing Expert Mentorship, Modern Decision making Techniques and Technology.
- Advice to Make Life Decision on your Career, Personal Finance, Business Owner Finance and Community Service.
Why choose to attend? :
- Visionary Canadian Banking Mentorship Program provided by Experienced Canadian Bankers working in the Industry using latest Technology options for Mentorship.
- Learn practical knowledge on Job Search as a Project.
- Retail Banking (Personal Banking). (Customer Service + Advisory roles)
- Anti Money Laundering AML. (AML101, AML roles, Risk-based approach)
- Business Banking. (Small Business or Commercial Banking or Analyst roles)
- Investment Banking. (Customer Service or Advisory or Analyst roles).
- Canadian Work Culture. (Diversity & Inclusion).
- Information about various Banking Courses including IFIC, CSC, ACAMS, AML, Moody's Small Business, Commercial Banking, Risk Managment and Investment Banking.
- How to get selected in banking / finance industry?, Different career roles available, How do you fit?, What's your brand ?, How to prepare / present your Resume as per new ATS system, How to prepare for an Interview?
Who should attend? : Participant (Visionary) want to -
- Enter Banking Industry with no Banking Industry Experience.
- New Immigrants / Work Permit with prior work experience.
- Canadian Students enrolled in Finance Courses.
- Career Change Professionals.
- Career Upgrade Professionals.
- Technology Professionals looking to enter FINTECH Industry who need Banking Knowledge.
What / Program Details :
Topics Covered:
1) VAC Career Success Strategy.
2) 4 Pillars for getting Jobs Faster : 
1) Resume Building, 
2) Interview Skills, 
3) Brand Building / Social Media Networking, 
4) Domain Knowledge & Certifications in the Banking Departments below.
3) Domain Knowledge - 4 Departments of Canadian Banking Industry: Retail, Investment, AML, Business Banking,
4) VAC Coffee with Recruiter / Talent Acquistion Specialists + Discuss about various Job Search Tools.
How it Works ? :
Customized One on One Mentorship - 1 month Active Program
One on One Mentorship :
- Customized Strategy and Plan as per your area of interest and challenges.
- Goals are structured in Short (0-1year), Medium (1-3years) and Long (3+ yrs) term.
Pre-book Meeting Schedule available.
Enrollment :
- Join us weekly from Monday at 6:30pm.
- We will send you Pre-book Meeting Schedule by email and LinkedIn.
- Please connect with our Chief Mentors right away.
Apurva Talsania LinkedIn Profile -
http://linkedin.com/in/apurva-talsania-20441838
+
Ruzaan Karwa LinkedIn Profile -
http://linkedin.com/in/ruzaankarwa
Mentorship Fees :
1) * $299 + HST Tax 13% + processing fees = $359.59.
OR
If you are in Financial stress select "VAC Pay it Forward Program" Free to Join VAC Canadian Banking Mentorship Program. When you get your Job (1st paycheck) you promise to proactively pay $360 ($299+Tax 13%) + Sponsor 1 person for $360 by e-transfer to visionaryadvisory@gmail.com
2) Mentorship Fees are only 1 time fees for 1 month program. VAC will be with you till you find your Job opportunity.
When / Where to attend ? :
- Online on our VisionTech Platform - powered by Microsoft Teams.
VAC Principles to Consider :
1) Help people when possible within your means,
2) Love and Respect your Senior Parents, your Spouses and your Mentors*.
3) Support Local Business Communities,
4) Give back to the Community and People who helped you.
* We reserve the right to terminate the Mentorship Program Incase of violation of principles.
Complaint Resolution Process :
- Managed by Chief Mentors.
Contact Information:
E: visionaryadvisory@gmail.com.