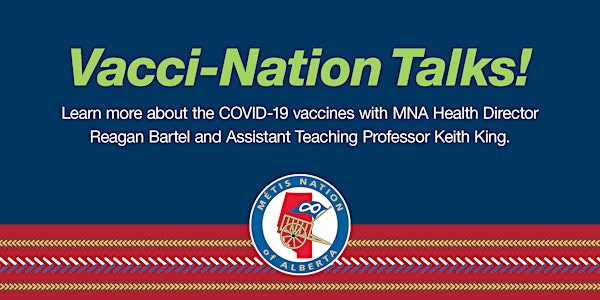 Vacci-Nation Talks!
Ask your questions about the COVID-19 vaccines with MNA Health Director Reagan Bartel and Assistant Teaching Professor Keith King
About this event
The Métis Nation of Alberta (MNA) recognizes the pandemic has been a challenging time for Métis Albertans. Citizens have been asked to do what they can to decrease the spread of COVID-19 through public health measures and it has been difficult for our community.
As you may know, the Government of Canada has approved four vaccinations for COVID-19 since January of 2021 and that has come with a lot of new information being shared.
The MNA recognizes that vaccination is a personal choice. No matter what you choose we're here to support our community by providing reliable, accurate, and trusted information, so you can feel confident in your choice. Join our Health Director Reagan Bartel and University of Alberta Assistant Teaching Professor, Keith King, as they share information and answer your questions live.