Valentine's Day Dinner at the Gallery |Dîner de la St-Valentin à la Galerie
About this Event
Love. Art. Together.
Are you looking for something special this Valentine's Day? Whether it's your first date, or your hundredth, make it a work of art you'll both remember.
This year, the Gallery offers you an unforgettable evening: a four-course meal, complimentary glass of prosecco and musical entertainment in a unique and romantic setting.
Enjoy wonderful company inside and outside the frame as you dine surrounded by some of the Gallery's most iconic masterpieces. Have your appetizer with Boudin, a meal with Turner, and coffee with Tissot, all in an intimate atmosphere that will make this Gallery feel like your very own.
Tables are extremely limited, however – only 24 couples will be hosted at this single-sitting event – so buy your ticket today.
Ticket information:
Tickets are $250 per table (seats two), not per person, taxes and gratuities included.
Ticket sales close Sunday, February 10, 2019.

Aimer l'art. Ensemble.
Cherchez-vous une activité spéciale pour la Saint-Valentin? Que ce soit votre premier rendez-vous ou votre centième, faites-en une œuvre inoubliable.
Cette année, la Galerie vous offre une soirée que vous n'êtes pas près d'oublier: un repas quatre services, un verre de prosecco et des prestations musicales dans une ambiance unique et romantique.
Vous serez en bonne compagnie à l'intérieur et à l'extérieur du cadre pendant votre souper auprès de certains des chefs-d'œuvre les plus iconiques de la Galerie. Prenez l'entrée avec Boudin, le repas avec Turner et le café avec Tissot, le tout dans une atmosphère intime qui vous donnera l'impression que c'est votre Galerie.
Les tables sont extrêmement limitées, cependant — seulement 24 couples dîneront leur de ce service unique — procurez-vous donc votre billet dès aujourd'hui.
Billets:
Les billets sont 250 $ par table (de deux personnes), et non pas par personne, taxes et pourboires inclus
Les billets seront en vente jusqu'au dimanche 10 février 2019.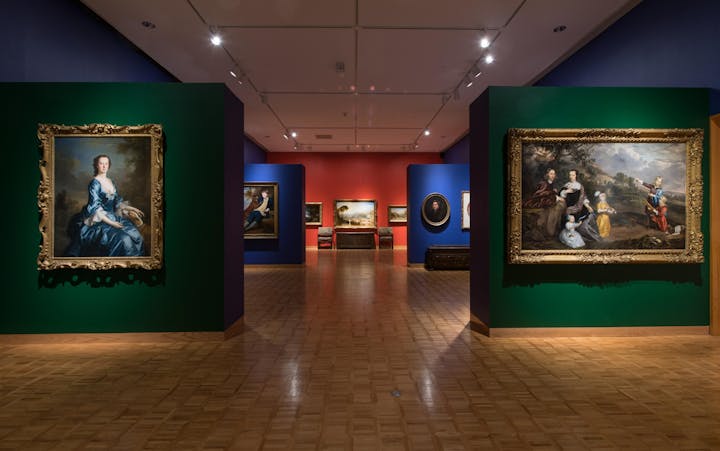 Details:
Schedule:
7:00 – 7:30
Welcome, Director's Toast
Enjoy the Gallery's exceptional permanent collection and the evening's musical entertainment before your meal
7:30 – 9:30
Dinner service
-
Menu:
Menu created by Executive Chef Greg Godfrey, and catered by the Delta Hotels by Marriott Fredericton
Appetizer
Herb polenta cake, wilted Swiss chard, pan seared duck, cherry compote
Entremets
Strawberry and champagne sorbet
Entrée
Slow roasted beef tenderloin, truffle and herb butter, merlot demi, mushroom and caramelized onion pave, baby carrots
Dessert
Cinnamon and dark chocolate ganache tart, fresh cream and berry.
Coffee and Tea.
Please advise us of any allergies or dietary restrictions when purchasing your ticket. Dietary concerns must be received by Sunday, February 10, to allow adjustments to your menu.

Détails
Horaire
19 h – 19 h 30
Accueil et toast du directeur
Profitez de la collection permanente exceptionnelle de la Galerie et du divertissement musical avant votre repas.
19 h 30 – 21 h 30
Service du repas
-
Menu
Menu créé par le Chef executif Greg Godfrey, et le service de traiteur assuré par la Delta Hotels by Marriott Fredericton
Entrée
Galette de polenta aux herbes, bettes à cardes flétries, poêlée de canard, compote de cerise
Entremets
Sorbet fraise-champagne
Mets principal
Longe de bœuf rôtie à petit feu, beurre à la truffe et aux herbes, demi glace au merlot, pavé de champignons et d'oignons caramélisés, petites carottes
Dessert
Tarte cannelle et ganache de chocolat noir, crème fraîche et baie
Café et thé
Veuillez nous informer de toute allergie ou restriction alimentaire lors de l'achat de votre billet. Les préoccupations alimentaires doivent nous parvenir d'ici le 10 février, afin que nous puissions ajuster votre menu.