Description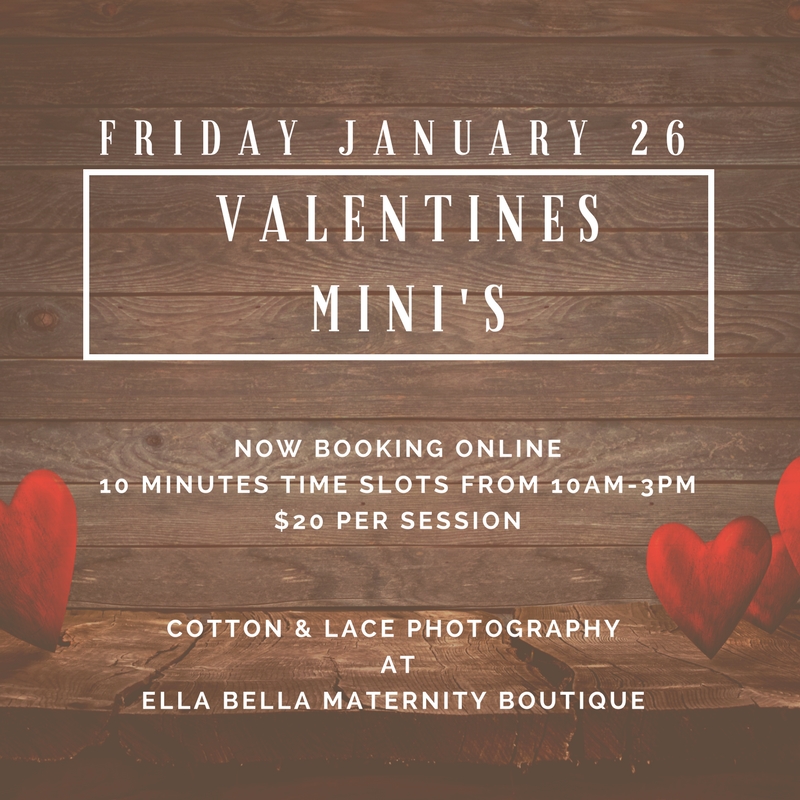 Valentines Day Mini's! We are SO excited to kick off 2018 with some more mini's with Cotton & Lace Photography!
Where: Ella Bella Maternity Boutique
PLEASE SEE NEW SEATING MAP FOR INSTANT RESERVATION!! We are hoping this will help with reserving spots more efficently! You do NOT need to print your tickets! Be evnvironmentally friendly.
Theme: Valentines. Last year we did a kissing a booth, this year we are excited to see whats planned!
$20 for two digital images
10% off at Ella Bella Maternity
Mini's are for infants and kids. You are more than welcome to book a family session with Cotton & Lace Photography to include the whole family (they will be amazing)!
Outfit options are up to you! Jen will always have decor and a neutral background.
Pay after appointment: Credit Card or E-Transfer
Please email maternity@ellabella.ca should you want to be added to wait list or for cancellations.
We run Mini's every month. If you can't get into this one, another one is only a few weeks away =)
** PLEASe repsect Jen's time. If you CANNOT make your appointment please cancel within 24 hours. No shows will not be allowed to book in the future**