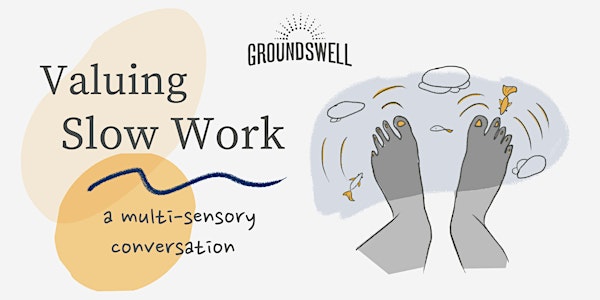 Valuing Slow Work: a multi-sensory conversation
How can slowing down help us be in better relationship with ourselves, our work, and our communities?
Refund Policy
Contact the organizer to request a refund.
Eventbrite's fee is nonrefundable.
About this event
Busy (as in, "How are you?" "Busy!") is one of capitalism's weapons against ourselves, those we care for, and the work we want to do. We believe that slowing down allows us to be in right relationship with work and each other. It allows us to be human beings rather than human doings.
Join us with special guests to explore how we can divest from urgency and 'grind' culture that prioritizes action and goals, and instead value taking the time needed to think deeply, feel fully, and act with accountability to our actions. More than productivity or outputs, *slow work* values the work of purpose, the work of creativity, the work of relationships, and the work of care...things we need to value if we're going to build alternative futures that work for everyone!
In this virtual event, you're invited to imagine and envision with all your senses: What does slow work mean and what does practicing slow work look, feel, smell, taste, and sound like to you and our guest speakers? How can slowing down help us build alternative futures of work for ourselves and the communities we belong to? Come to listen, watch, learn, and imagine futures where we work at the pace of our breath, the tides, and the growth of a spruce tree.
You'll experience a multi-sensory conversation celebrating a slower approach to work that our special guests are already practicing in their livelihoods. You're invited to create your own multi-sensory environment while you attend: surround yourself with music, food, art, scents, textures, plants, people - whatever makes you feel easeful, calm, and connected.
Your hosts for the event are Samita Manhas, Groundswell's Director of Programs, Paola Qualizza, Groundswell's Director of Ecosystem Development, and Daniela Guerrero-Rodriguez, Groundswell's Director of Education.
- - - - - - - - - -
Land and Location
Groundswell is situated on the stolen and occupied territories of the xʷməθkwəy̓əm (Musqueam), Skwxwú7mesh (Squamish), and səlil̓wətaʔɬ (Tsleil-Waututh) Nations. We will learn where each of our speakers are joining us from during the event, and we also invite you to share about the land and territories where you are situated.
- - - - - - - - - -
Accessibility
This event will be happening via Zoom Webinar. Once you register for the event, you will receive the link to join.
Live captioning will be provided during the presentations. Live captioning is sponsored by Community Futures - Entrepreneurs with Disabilities Program.
All are welcome and if you are able to, you have the option to make a donation. All proceeds will go towards future events.
----------
Featuring special guest speakers, Jacqueline Jennings, Laura Kozak, and Vidya Crawle, and multi-sensory conversation seeders, Rita Dickson and Danielle Soucie.
Jacqueline Jennings (she/her)
Jacqueline Jennings is of mixed heritage, Cree, Anishinaabe, Métis and of European settler decent. She is an impact investment professional, a decolonial facilitator, and an entrepreneurship educator. With a foundation in the private sector and particularly entrepreneurially driven apparel brands such as Lululemon and Aritzia, Jacqueline has in the last decade developed multiple startup accelerator programs. Currently, as a Venture Partner at Raven Indigenous Capital and as the Director of the Fireweed Fellowship, she supports guiding the flow of venture capital to Indigenous entrepreneurs previously excluded from equity investing due to systemic oppression. She is also a part of the Decolonize Together team delivering decolonial and anti-racist training to corporations and institutions. She is most interested in learning about how we can heal individually to reduce harm collectively and how to empower and take the lead from Indigenous matriarchy to repair, restore and enact reciprocity in a society overwhelmingly hurtling towards its own demise.
Based on the Sunshine Coast, mothering, building a home, riding her horse, learning about plant medicine, and growing veggies, Jacqueline is at home on the unceded land of the Sḵwx̱wú7mesh Úxwumixw (Squamish Nation) and is deeply grateful to the relatives who have cared for this land, that cared for them, since time began. jacquelinejennings.com
(In the photo below, Jacqueline Jennings is outside, with a cedar tree in the background. She has dark brown hair to just past her shoulders, and is is gazing up and to the left. She is holding a grey blanket around her which has red and brown strips and white geometric Indigenous patterns on it. Photo credit: Pauline Holden Photography)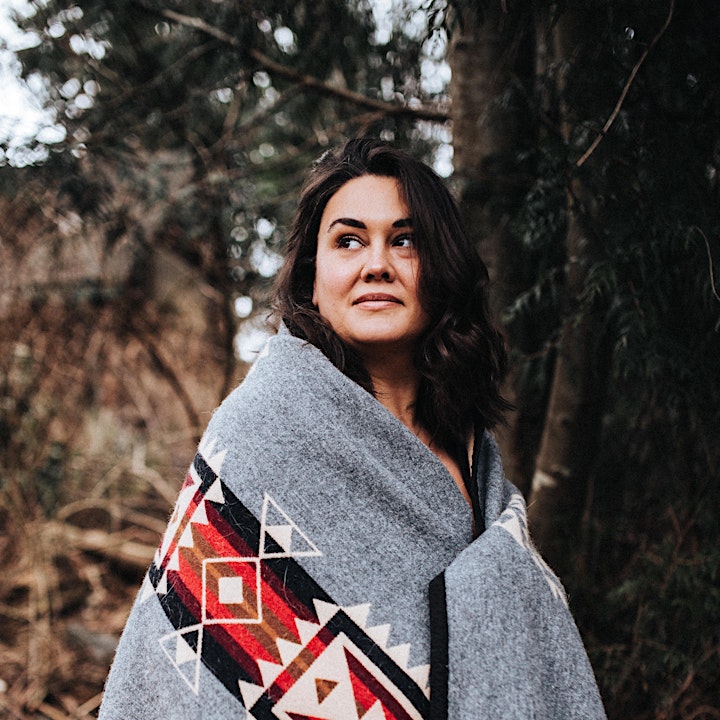 Laura Kozak (she/her)
I grew up in Alberta in Treaty 7 territory, with relatives from the Ukraine and other parts of Europe. I work as a design researcher, teacher and community organizer, currently teaching in the Jake Kerr Faculty of Graduate Studies at Emily Carr University. A focus of my work is Place-Based Responsibility - how we look after and contribute to relationships with our communities, land, water and more-than-human neighbours, which has led to collaborations with Indigenous artists and ethno-botanists; organizers, activists and social workers; gardeners and waste remediators; front-line workers in housing and housing advocacy; advocates for cultural labour; and artists engaged with land and material. I have a Master's of Advanced Studies in Architecture from UBC, am a Research Associate of Emily Carr's DESIS Lab and Shumka Centre, and was honoured in 2021 to received the Ian Wallace Teaching Award. This year I began learning to grow vegetables from the incredible gardeners at Strathcona Community Garden with my kids, Ida and Walter. laurakozak.ca
(In the photo below, Laura is smiling at the camera and is wearing a sky blue knitted toque and red lipstick. She has blue eyes and blond hair. Behind her are book on a high shelf.)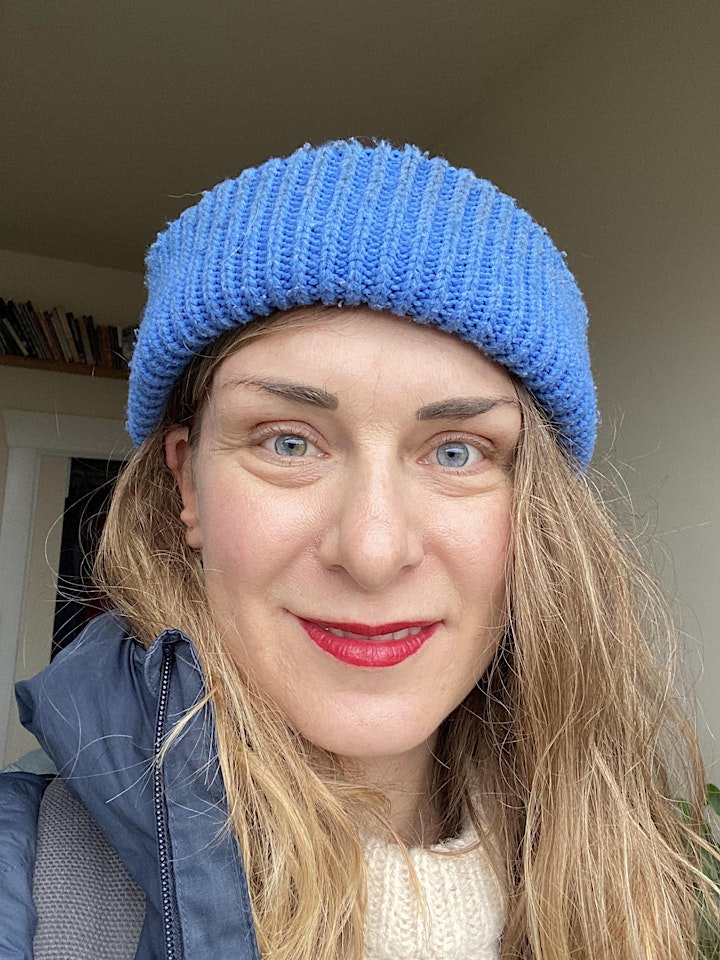 Vidya Crawley (they/them; she/her)
As CEO & Lead Educator at Groundswell, Vidya (they/she) brings an inclusive and experiential approach to business, leadership & design education for social change. Having supported over fifty organizations and hundreds of individuals on the path to values-based work since 2001, Vidya enjoys subverting "business as usual" with ways of working that are rooted in relational principles, social-emotional learning, and strengths-based approaches. As a social entrepreneur and equity-centred designer, they thrive on building thoughtful cultures and spaces to make business and work more human. Vidya identifies as non-binary and is a second generation South Asian immigrant & settler currently living and working on stolen and occupied xʷməθkwəy̓əm, Sḵwx̱wú7mesh, and səlil̓wətaʔɬ territories. groundswellschool.com
(In the photo below, Vidya is smiling and looking at the camera. She has brown eyes, brown skin, long dark brown hair, and is wearing a navy blue shirt. She is outside and behind her is a string of lights, with mountains and city buildings in the distance.)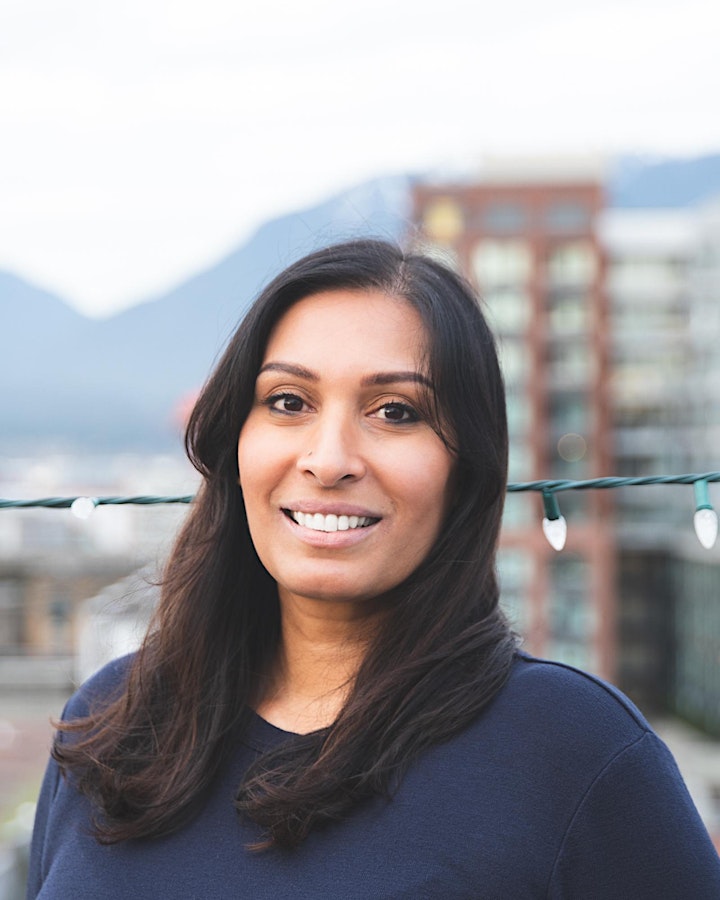 Rita Dickson
Rita is a Canadian-born linguist of Jamaican, likely West African, descent. She has spent the better part of two decades working in the post secondary school environment, training ESL teachers and tutors. More recently, she has used her expertise in Applied Linguistics to aid internationally trained pharmacists in achieving ease and confidence in their workplace English...with the final aim of becoming fully licensed Canadian Pharmacists.
A number of years back, Rita found herself taking an unexpected step off her career path due to a significant experience of 'disorientation', often experienced by racialized people and described in Canadian author Ian Williams' Giller Prize shortlisted book Disorientation: Being Black in the World (Random House Canada, 2021).
Disorientation is an interrupting experience. It cannot be prepared for. It is enacted upon an individual. It disrupts their reality. It halts the forward momentum of their life. With the impact of a whiplash, one is jolted into consideration of their own race, "while minding one's business...usually at a moment when [one's] internal experience is not framed in racial terms."
As Rita uses this unexpected career hiatus to conceive of new ways of working, she is excited to have been given the opportunity to speak on a subject as innovative as 'valuing slow work', ...and with such an interesting collection of visionaries! linkedin.com/in/dicksonconsulting
(In the photo below, Rita is wearing a white shirt and there are leafy green bushes behind her. She has brown skin, a big smile, and her hair is in dreadlocks.)
Danielle Soucie
Danielle is a natural dye and textile artist who lives on the unceded traditional territory of the Sinixt First Nation. Argenta, BC is home, where she lives in a tiny house that is 10x smaller than her garden. It's in this garden sanctuary where she grows her food for the year and the plants to dye the wool of her alpacas Penny & Theo. The forest outside her front door is home to lichen, fungi, fauna and flora which she forages for in honourable harvest and is the source of inspiration for her art.
(In the black and white photo below, Danielle is sitting with one arm across her body. She is wearing light coloured overalls over a geometrically patterned shirt. Behind her is a window and a wall hanging with an animal skull and hide. She has light eyes, light skin, is wearing glasses, and her hair is tied up.)