Description
Where Monsters Come To Slay
The world you once knew is about to be stripped away as creatures of the night come alive in a new, body-positive and hilarious burlesque musical inspired by classic horror movies and everything that goes hump in the night. VAMP: A Supernatural Musical Burlesque combines circus, the art of burlesque and storytelling of musical theatre to tell the empowering story of a young woman's sexual awakening in a ghoulish world.
At the heart of the story is Grace, a young woman on the verge of adulthood trying to find her place in the world. When an unlikely event tears Grace from her safe, predictable, yet unsatisfying life, she finds herself transported to a lustful spirit realm dominated by Seductra, a glamorous vixen of lust and our horror host. To escape Seductra's playful torments, Grace must risk everything to overcome her fears and earn her way back home. Along her journey Grace learns valuable lessons about herself as she fights off hoards of wickedly extravagant monsters, including zombies, Frankenstein's monster, vampires, werewolves, witches, ghosts, mummies and, of course, clowns.
Dark, sensual, and over-the-top funny, VAMP will make you scream with glee and ecstasy as creatures of your naughtiest nightmares come to life to sing, dance and tease the night away. The show will captivate and excite you as you tap your toes to an eclectic mix of popular songs and watch your favourite monsters come alive.
VAMP: A Supernatural Musical Burlesque premieres May 3-18 at Performance Works on Granville Island.
More info about the show and cast at www.toofly.ca/vamp
Questions? Please email boxoffice@toofly.ca
---
Audience Advisory: VAMP contains (tasteful) nudity, mature subject matter and strong language. Theatrical effects including fog and strobe lighting will be used in this production. Please contact us for more info.
Seating is mixed cabaret, with theatre seats and limited small tables for 4. Seats are not reserved unless you book a full table.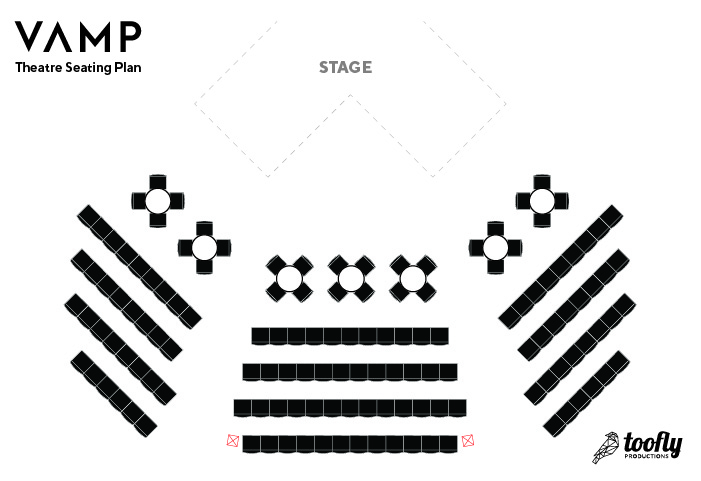 Organizer of VAMP: A Supernatural Musical Burlesque
Spreading love with musical theatre.
We create supportive environments for emerging artists to share their passion for performance.
We create innovative and original theatrical works with empowering messages of self-love.
We encourage of the Vancouver community to interact with the arts through innovative styles of storytelling.