A new and exciting performance by some of the most talented Tap Dance artists in the city!
About this event
Join us for our 1st live performance in 2 years! Nothing makes the gift of dance sweeter than having been away from it for so long. So, come join us for this evening of extraordinary tap dance skill and soak in the joy and freedom we all feel when we dance. With performances featuring new choreography by Tap Artistry, Jeffrey Dawson & Friends, Faculty, special guest soloists and live musicians.
A bit about the show:
Jeffrey Dawson & Friends
This suite is a celebration of the versatility, dynamism and power of tap dance. Directed by Jeffrey Dawson, these dancers will take you through an array of styles, tempos, feelings and grooves; dancing fast, slow, loud, soft and everything in between - but connecting it all is the passion and love for the art form of tap dance. Deeply rooted in tradition, yet experimenting with new ideas; intimately connected with the music, yet bringing their own voices; this is a raw distillation of the dance as seen through the lens of Vancouver. Audiences are sure to walk away with a greater understanding of the many facets of tap dance, and an appreciation of the love and dedication to this art form we share at the Vancouver Tap Dance Society.
Run time: 40 mins
Tap Artistry
This suite is a daring piece of dynamic, physical and rhythmic storytelling. The performers in this creative collaboration of emerging artists explore perspectives of sanity & clarity, chaos & cosmos and the contrasting aspects of the human emotional experience, voicing many of its extraordinary highs and lows and woven together by the dancers' pursuit of collective expression. Their inner connection to the dance equals their outward connection to each other, and thereby their connection with you the audience. With the contrast of deeply felt high-energy musicality, a Capella voicings and gently gliding soft-shoe pieces, this suite will take your breath away!
Run time: 35 mins
Soloists performing with live musicians throughout the evening include Riley Skworoda, Troy McLaughlin, Terry Brock and Joel Hanna.
It has been a long time since we have been able to share our craft with an audience. We have been locked in and preparing for a year and that time has finally come again. We've missed you. So please join us, sit back and relax. But, hold on to something and let us dance for you!
Total Run Time: 120 mins
Tickets: $35 + fees & taxes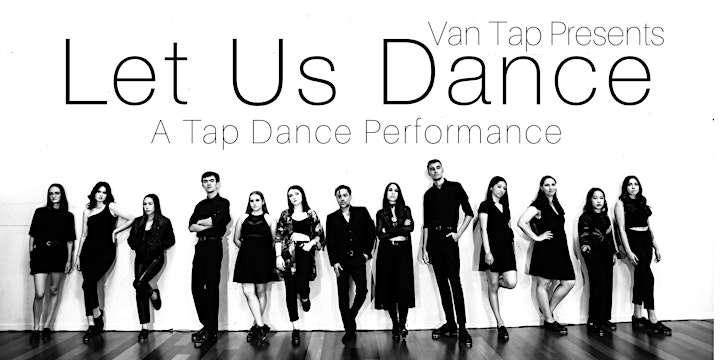 Organizer of Van Tap Presents: Let Us Dance