Description
Our very first Planner Meetup is approaching very quickly! It will be a fun day full of networking, swag, Photo Booth, and activities! We'd love to see you out there!
We also have decided to have a theme for the event. Our groups purpose is to bring planner addicts in the area together, so we wanted this event to provide opportunites that allow you to really get to know everyone! We're going to have some games and activties planned for this event!
Time: 1:00-5:00pm
Location: 1950 Argyle Dr, Vancouver, BC V5P 2A8
Schedule: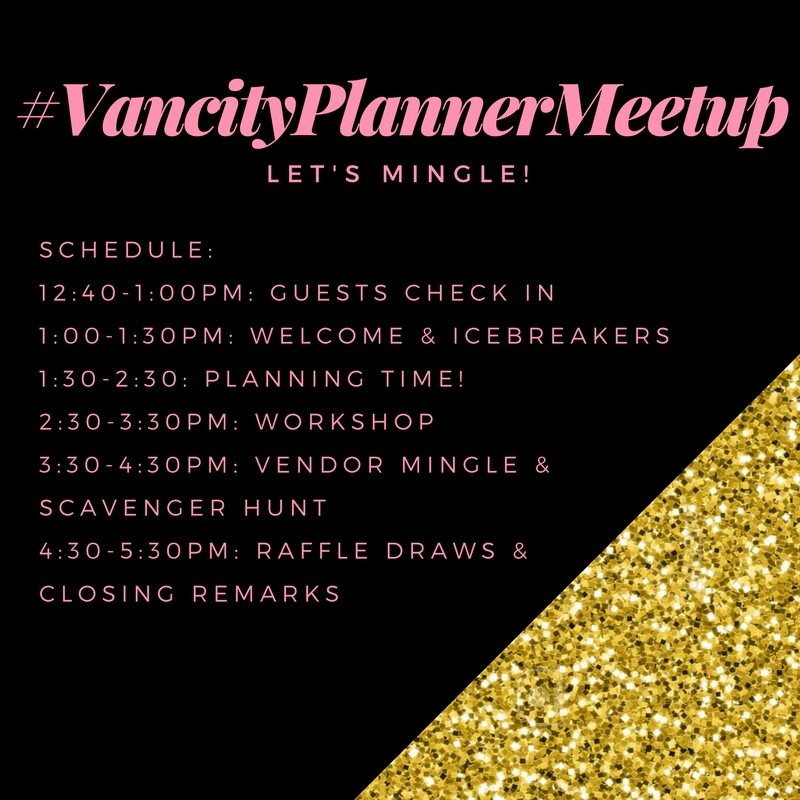 Cost: $20 + Fees
Please BRING YOUR TICKET on the day of the event to be able to enter the room. We will email all guests with information regarding the event and what to bring. Please refer to FAQ section on our website for any questions. If you still have questions, please email us at vancityplannerexpo@gmail.com.
There is a small parking lot behind the library and residential parking nearby. SInce it is a busy street most residents park in their alleys/ garages, but you would be allowed to park on the main road.

It is also accesible by transit.
You can either get of the Langra Canada Line Station, take the 49 Metrotown Bus, get off Victoria and walk.

OR

Get off the Metrotown Skytrain Station, take the 49 UBC bus or 430 Brighouse St. bus, get off Victoria and walk.

Unfortnately, there will not be room for kids in the actual room, but if they are old enough the library will be open during the meetup and they could hang out and read books there.
SPONSORS & VENDORS TBA!
If you are interested in being a sponsor, please email us at vancityplannerexpo@gmail.com with the headline 'sponsorship inquiry.'