Description
#VancouverArtAttack2014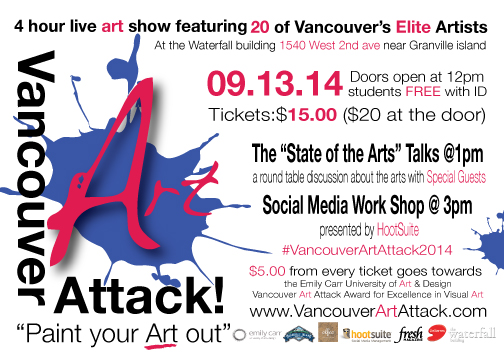 ---
The Artists:
Bill Higginson
www.beheld.me/artists/bill-higginson

Ola Volo
www.olavola.com


Bryan Coombes
www.beheld.me/artists/bryan-coombes

Jeff Wilson
www.jeffwilsonart.org

Jolayne Devente
www.beheld.me/artists/jolayne-devente

Jim Park
www.jimpark.ca/

Thomas Tai
www.beheld.me/artists/thomas-tai

Olga Rybalko
www.beheld.me/artists/olga-rybalko

Sean Karemaker
www.seankaremaker.com/


Brent Clowater
www.brentclowater.com/
Fiona Tang
www.fiona-tang.tumblr.com/


Mandy Tsung
www.choplogik.org/mandytsung/


Ann Willsie
www.beheld.me/artists/ann-willsie


Susie Cipolla
www.susiecipollaart.com


Hajni Yosifov


Ilya Viryachev
www.ilyav.ca


Jace Junggyu Kim
www.behance.net/apologies


Shane Molina
www.hawaiianmako.com/

Mike Soloman
www.soloman.ca

Peter Martin
www.pkamartin.com
---
The State of the Arts:
@1PM
During the live art show you are invited to come listen to "The State of the Arts talks" A round table discussion group, that talks about current events and issues that are taking place in the art world followed by a question and answer period.

Speakers in the discussion group are, educators, artists, curators, gallery owners and other prominent figures. This is the perfect opportunity for artists and current students to get first hand knowledge of what is taking place in the Art world.
This years guest speakers:
Pennylane Shen of Bau-Xi gallery

Chris Bentzen of Hot Art Wet City &

Marion Webber artist, marketer and educator with over 30 years of experience
Navigating throught the commercial gallery industry

The curation process

The live art movement

Online galleries

Tips on how to stand out in a saturated market
---

Social Media is Important.
That is why we have partnered up with Vancouver based social media giant, HootSuite.
At 3PM join us for a hour long social media workshop, tailored to young entreprenuers and artists and learn how to become social media savvy.
---
Earlier this year The Emily Carr University of Art and Design,
Vancouver Art Attack Award for Excellence in
Visual Art
,
was established.
The award has been created for the fourth year students attending Emily Carr.
This fund will provide an annual award of excellence to an
Emily Carr
visual art student, based on his/her entry in the Degree Exhibition, as selected by the Degree Exhibition jury.
25% of our "Fresh of the easel" live auction proceeds are put towards this award, annually.
The award is open to all visual art students in the bachelor and graduate programs.
The goal of this award is to "aid in the pursuit of artistic dreams" and help with the transition from starving student to accomplished artist.
As Vancouver Art Attack grows, so will the size of the award.
Our goal is to create a yearly, BC wide artist award
.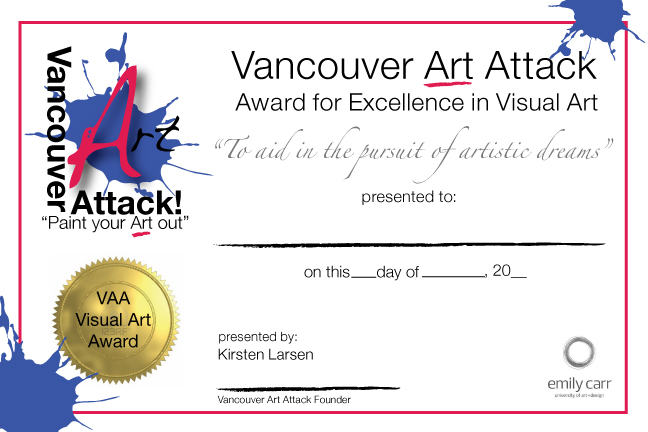 Organizer of Vancouver Art Attack - Paint your Art out!
Vancouver Art Attack! was created in the spring of 2013 by creative consultant and entrepreneur Kirsten Larsen.  What started off as a one time fundraiser for the HIVE a local not for profit in the DTES, became one of the cities largest live painting events.
Since its inception, we have collaborated with over 100 local artists, introduced first-time buyers to collecting, hosted numerous solo exhibitions, pop up art galleries and have worked with several corporate clients. 2018 we saw the launch of the much anticipated Vancouver Art Attack Award of Excellence in Visual Arts At Emily Carr University.
Today we are a consulting agency that specializes in private art acquisitions, customized solo exhibitions for artists, art advisory for corporate clients and artist representation.
Our Mission:
To foster and aid in the development of the careers of our cities emerging and established artists. To provide a platform to showcase their talents on a national and international stage, while having the opportunity to meet and connect with potential art collectors, galleries and the public.
#VanArtAttack