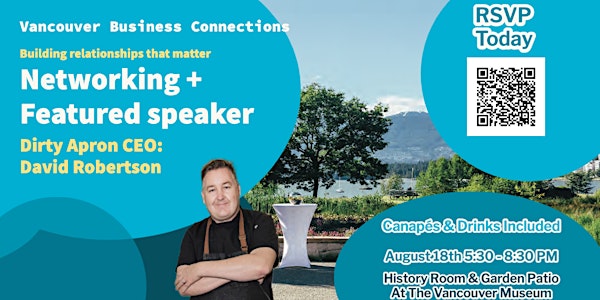 Vancouver Business Connections
Join your fellow business owners for an evening of networking and be a part of the region's most exciting business forum.
When and where
Location
Museum of Vancouver 1100 Chestnut Street Vancouver, BC V6J 3J9 Canada
About this event
Who is this for: Entrepreneurs, leaders, salespeople
Creating consistent, repeatable and scalable ways to grow business and income is always our goal. We want to do it better, faster and more seamlessly. Why? So we can take vacations and spend the quality time that we want with the people we love. How do we do all this without spending a fortune or running ourselves ragged? That's the big question and this group is dedicated to the answer.
5:30-7:00pm Networking:
Meet someone new and enjoy an adult beverage and canapés from Dirty Apron on the beautiful garden patio of the Vancouver Museum with incredible views
7:00-7:30pm Fireside Chat with Dirty Apron CEO, David Robertson:
Dirty Apron CEO, David Robertson will share the vision, leadership and innovation he used to build his company into a staple of Vancouver's food scene. While so many in his sector lost businesses during the pandemic, under David's leadership, Dirty Apron thrived and expanded into new markets. Hearing his insights is sure to give new perspective, inspire collaboration and motivate you to fast forward to your next big win!
7:30-8:30pm Mingle:
Enjoy the beautiful space, finish a previous conversation, and have a final snack before you leave!
What to Expect:
This is going to be a fun event for business owners intent on building connections and leadership while also enjoying an extraordinary experience!
Tickets include: one drink ticket, canapés and dessert
This is not a BNI. We are committed to fostering meaningful business connections and sharing practical leadership advice that actually makes a difference. Contact Josh for more information and any questions regarding this event.
604.313.9805 | sold@joshkepkay.ca
Space is limited. Register now.
PLEASE NOTE:
Do not register if you are a residential real estate agent or mortgage broker, or if you are currently an active BNI member.