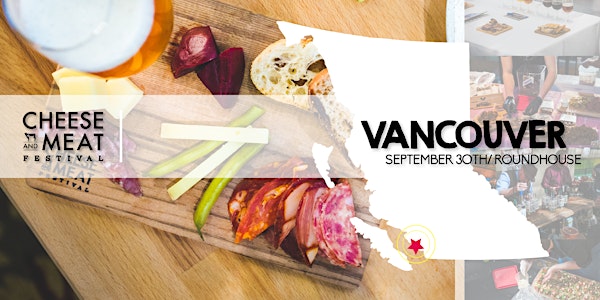 Vancouver: Cheese and Meat Festival 2017
When and where
Location
Roundhouse Community Arts & Recreation Center 181 Roundhouse Mews Vancouver, BC V6Z 2W3 Canada
Description
VANCOUVER - The Cheese and Meat Festival allows consumers to taste their way through international and local meats, accompaniments (pickled items, chocolates, coffees, etc) and cheeses while pairing them with wine, beer, and cider. The festival takes place at the historic RoundHouse in Yaletown. All attendees will be given a small charcuterie board upon entry that will allow for samples to be placed on the board while vendors describe the item being showcased.

LOCATION: THE ROUND HOUSE

DATE: SEPTEMBER 30th, 2017
TICKETS ARE ALLOCATED BY TASTING SESSION (UNLESS YOU ARE A SUPER PASS HOLDER)
TICKET TYPES
TASTING TICKET - GAINS YOU ACCESS TO THE TASTING SESSION FOR THE TIME YOU PURCHASE
SEMINAR TICKET - GAINS YOU ACCESS TO THE SEMINAR YOU PICK (DOES NOT INCLUDE A TASTING SESSION)
SUPER PASS - GIVES YOU ACCESS TO ALL TASTING SESSIONS AND SEMINARS AND INCLUDES VIP ENTRY

TASTING SESSION TIMES:
AFTERNOON (3PM START)

EVENING (7PM START)
WHAT DO YOU GET FOR THE PRICE OF A TICKET? Upon entry, you will be given a charcuterie board (that you can keep) and a tasting glass. You will be able to walk around at your leisure tasting cheese's, meats, accompaniments, and beverages. Each session is 2.5hrs.
SEMINAR TIMES:
FIND YOUR CHEESE SPIRIT - 1:30 PM (DURATION 1HR)

ALLURE - SPARKLING WINE & CHEESE PAIRING - 1:30 PM (DURATION 1HR)

HOP'S INTO THE CHARCUTERIE WORLD - 5:30 PM (DURATION 1HR)
PROHIBITION - CLASSIC COCKTAILS & CHARCUTERIE 5:30PM (DURATION 1HR)
Ticketing Policies:
All ticket sales are final, refunds will not be given upon purchase to the event unless the event is cancelled due to unforeseen circumstances. Tickets can not be exchanged or changed.
By redeeming this ticket, you hereby acknowledge your permission to use your picture for television, video screens, and elsewhere. You hereby waive all residual rights or claims that might arise from use of your picture or likeness for any purpose at any future date.
As our guest, you are required to comply with our safety rules and are cautioned to heed all warnings. By accepting admission with this pass, you agree to release us from all responsibility for any loss, injury or damage which you may suffer, excepting any loss, injury or damage caused by our reckless, willful or grossly negligent acts.
Disclaimer - The Cheese and Meat Festival does not represent the vendors. The vendors are responsible for portions and ensuring they have enough product for all attendees. The Cheese and Meat Festival regulates this to our full ability.