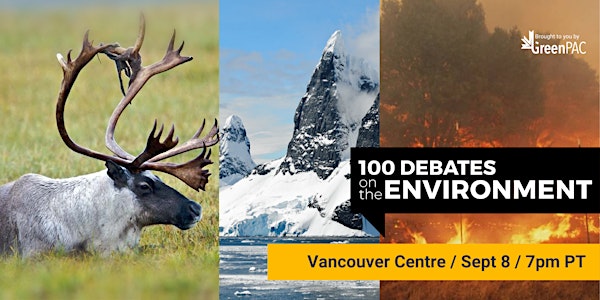 Vancouver City Centre - Debate on the Environment
You're Invited - Debate on the Environment in Vancouver City Centre
By Corinne - Six Words Communications
When and where
Date and time
Wed, Sep 8, 2021 7:00 PM - 9:00 PM PDT
About this event
Join us on Wednesday, September 8 from 7-9PM for a virtual Debate on the Environment with candidates from Vancouver City Centre.
Please RSVP/register for your ticket here to obtain the Zoom link or watch the livestream here: https://www.facebook.com/events/563442141750494/
Vancouver City Centre Candidates
Conservatives: Harry Cockell - awaiting reply
Green: Alaric Paivarinta - confirmed
Liberal: Hedy Fry - confirmed
NDP: Breen Ouellette - confirmed
PPC: Taylor Singleton-Fookes - confirmed
Can't make it? Email corinne@sixwordscommunication.com and we will send you the recording after the event.
This debate is part of the 100 Debates on the Environment initiative, a national non-partisan movement coordinated by GreenPAC. The Vancouver City Centre debate is being organized by Vancouver-based communications firm Six Words Communication.
About the organizer
Six Words Communication provides strategic communication, change management, and marketing services to people and organizations working to build stronger communities and a healthier planet.