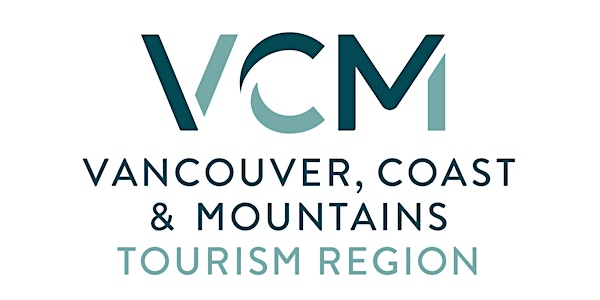 Vancouver, Coast & Mountains Industry Forum 2022
The VCM Industry Forum purpose is to present updates on industry programs offered by Destination BC.
When and where
Location
Pinnacle Hotel at the Pier 138 Victory Ship Way North Vancouver, BC V7L 0B1 Canada
About this event
The Vancouver, Coast & Mountains (VCM) Industry Forum will be held in-person for the first time in three years! Join us on Tuesday, November 29, 2022, at the Pinnacle Hotel at the Pier in North Vancouver. This year's agenda will include lots of time for networking and reconnecting with the tourism industry in the region. Hear from keynote speaker, Tewanee Joseph, CEO of the Tewanee Group, a First Nations-owned and -operated company focused on delivering meaningful partnerships, communications strategies and planning, and training in communications and inclusivity. Topics will also include the importance of creating a respectful workplace to retain staff, Indigenous tourism capacity building, and an update on tourism emergency management. We look forwarding to having you join us!
This Forum is geared towards large and small tourism businesses, along with Community Destination Management Organizations (CDMOs) in the Vancouver, Coast & Mountains region. The purpose of the event is to present updates on industry programs offered by Destination BC.
Destination BC uses Eventbrite to manage attendance for corporate events. Destination BC is collecting your personal information through Eventbrite under section 26(c) of the Freedom of Information and Protection of Privacy Act.
Registration through Eventbrite is voluntary. Please be aware that IP addresses, event responses and personal email addresses (if supplied in place of a business email) will be collected by Eventbrite, and this information will be stored by Eventbrite outside of Canada. By clicking on the Attend Event or Register button, you are consenting to your personal information (IP address, event response and email address) being stored in the United States. Your consent is effective as soon as you register.
If you do not wish to register through Eventbrite, please email vcm@destinationbc.ca who will register you separately.