Vancouver College Alumni & Friends Irish Christmas Luncheon
About this event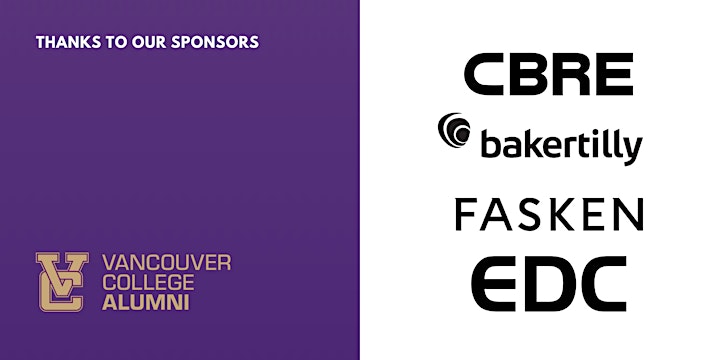 Join us for the 4th Annual Vancouver College Alumni & Friends Irish Christmas Luncheon at the Terminal City Club downtown Vancouver. This event is an excuse to step out from work early, network with other VC supporters and hear from an amazing speaker.
The first three events sold out quickly as space is limited.
Speaker:
Join us for a fireside chat with Tony Holler, a past Vancouver College parent, entrepreneur and philanthropist . Dr. Holler will be joined by Global News Anchor Chris Gailus as they dive into Dr. Holler's story.
Agenda:
11am Registration
11:45am Lunch
12:30 - 1:30 Keynote
1:30 - 3:00 Network & Socialize
Your ticket includes:
Delicious 3 course meal
Hosted Bar (beer and wine)
Hosted Irish Whiskey Bar
Photo Booth
========
Dr. Tony Holler Biography
Tony Holler grew up in the Okanagan Valley. His father was a fruit farmer and his mother a teacher. He came from a large Catholic family and had three brothers and four sisters. After completing high school he went on to Okanagan College before attending UBC where he earned both his Science undergraduate degree and his Medical degree. He worked as an emergency physician at the UBC hospital for 11 years. In 1993, he left his career as an emergency physician and joined a start up Biotechnology company, ID Biomedical, a company focused on infectious diseases and vaccine development. The company eventually focused entirely on vaccine development and Tony became the CEO, leading the company through a series of acquisitions which led to the purchase of ID Biomedical by GlaxoSmithKline for approximately $2 billion.
After working with a variety of medical companies in 2007 he followed one of his passions and bought Poplar Grove winery in the Okanagan. He increased the size and output of the company to where it now produces more than 35,000 cases of wine each year. He continues to build Poplar Grove with the help of his wife, Barbara, and their four sons, Christopher (VC'02), Andrew (VC'03), Matthew (VC'06) and Eric (VC'10), all Vancouver College graduates.
He became a major factor in the revitalization of Vancouver College's facilities and his generous gifts to the school were recognized by its new Science Centre being named in his honour. In 2013, he was also inducted into Vancouver College's Hall of Honour as a Builder.
Learn more about Tony (video)
========
Chris Gailus Biography
Emmy-winning journalist Chris Gailus co-anchors the highly-rated Global News Hour at 6 on Global BC with Sophie Lui. He is the winner of back-to-back Canadian Screen Awards (formerly Gemini Awards) for Best Newscast, Large Market. In 2015, the Canadian Screen Awards crowned him as the country's best local news anchor. In 2017, Chris was nominated with co-anchor Sophie Lui in the same category at the Canada Screen Awards.
Chris returned to Canada and the Global News family in 2006. Prior to that, he was host and anchor of the morning program Good Day New York at WNYW, the Fox news affiliate in New York and at the time, the most-watched, locally-produced morning show in the northeastern U.S.
Chris has nearly 30 years of experience in broadcast journalism and is a proud graduate of the Broadcast Journalism Program at Mount Royal University in Calgary where he made the Dean's List for Academic Excellence and received the Jimmy Condon Scholarship to play basketball. After graduating in 1989, he worked in Lethbridge, Alberta as a reporter covering municipal and agricultural issues before moving up to news anchor and eventually winning a CanPro Award as anchor of the Best Small Market Newscast. He returned to Calgary in 1992 as reporter and anchor of CFCN's weekend newscast before moving to Calgary 7 (now known as Global News Calgary) as one of its main evening news anchors.
In 2000, Chris moved to the U.S. to be the anchor of the morning newscast at the ABC affiliate in Dallas, Texas. He covered major stories such as the crash of the space shuttle Columbia and the subsequent investigation, the impact of the September 11th attacks on Dallas, and the deployment of U.S. troops from Fort Hood at the outbreak of the war in Iraq. He was nominated for a Katy Award, the highest honour in Texas journalism.
In 2003, he moved on to anchor Good Day New York at WNYW where he received a career highlight, winning a New York Regional Emmy Award for "Best Morning Newscast" in 2005.
========
This is the 4th Annual Irish Christmas Luncheon.
In 2017, our inaugural event, our speaker was Finbarr O'Reilly (VC'89) an internationally acclaimed photographer.
In 2018 our speaker was Dr. Keiron McConnell (VC'86), a VPD Gang Squad member, shared his research on gangs in Vancouver, Toronto, Los Angeles, Chicago, and London.
In 2019 our speaker was Mel Zajac, a past Vancouver College parent, real estate developer and philanthropist. He joined Global News Anchor Chris Gailus for a fireside chat.
========
COVID19 Notice - All attendees will have to provide their vaccine passport to gain entry to The Terminal City Club.
========
A big thanks to our sponsors for sponsoring the bar!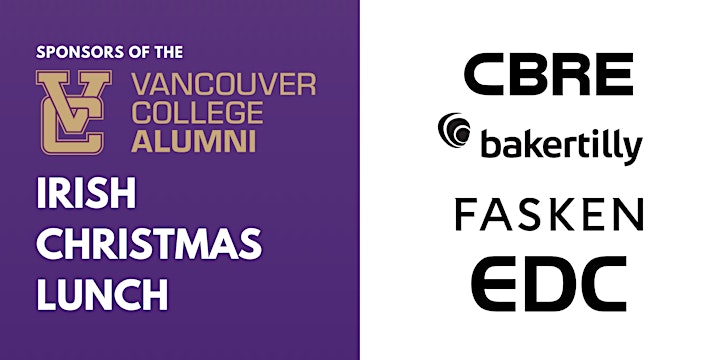 Organizer of Vancouver College Alumni & Friends Irish Christmas Luncheon