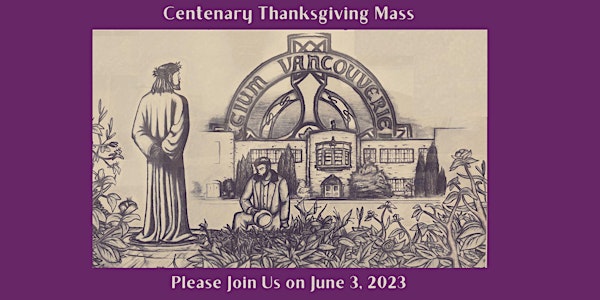 Vancouver College Centenary Thanksgiving Mass
Join us on June 3 as we come together in thanksgiving to officially close our Centenary celebrations as a faith and learning community.
Date and time
Starts on Sat, Jun 3, 2023 11:00 AM PDT
Location
Vancouver College 5401 Hudson Street Vancouver, BC V6M 0C5 Canada
About this event
In honour of our school's centenary, we come together as a faith and learning community to give thanks for our many blessings, reflect on and grow from our past, and pray that, with God's guidance and grace, Vancouver College will continue to faithfully serve our students and community for His greater glory. Registration is free - kindly RSVP so we can plan the reception accordingly.
Mass at 11 AM
Coffee, tea, and light refreshments to follow
Main Celebrant:
The Most Reverend Michael Miller, Archbishop of Vancouver
Master of Ceremonies:
Fr. Pablo Santa Maria (VC 2003)
Alumni priests and former chaplains confirmed to concelebrate to date:
Fr. Mark Dumont (VC 1962), Fr. David J. Norman (VC 1966), Fr. Fabian MacDonald (VC 1968), Fr. James Hughes (VC 1988) Fr. Richard Conlin (VC 2006), Fr. Manoj Xalxo, Fr. Vincent Hawkswell, Fr. Ron Thompson, assisted by Deacon Mike Boreham (VC 1970), Deacon Henk Luyten (VC 1973), and Seminarian Paul Vo (VC 2012).
We hope to see you then!