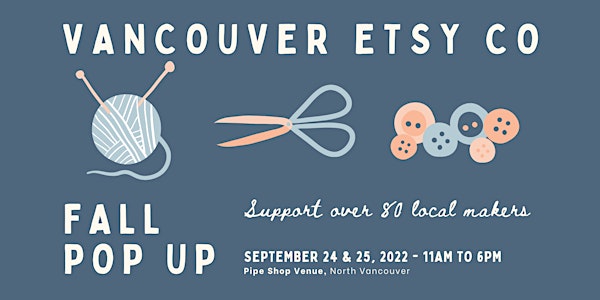 Vancouver Etsy Co Fall Pop Up Market
We are back for our much anticipated Fall Pop Up, but this time for two days at the Pipe Shop Venue in North Vancouver.
When and where
Location
The Pipe Shop 115 Victory Ship Way North Vancouver, BC V7L 0B2 Canada
About this event
Come by and support 80 local makers and creatives. The first 50 people in line will receive market cash to spend at the Pop Up!
RSVP to the FB event to receive notifications about giveaways, vendors and more!
Tickets are $5 online or at the door with 50% of proceeds going to BCSPCA and Dress for Success Vancouver.
Children 12 and under are free.
--
Health and Safety COVID-19 Protocols
Since the beginning of the pandemic, Vancouver Etsy Co. has been following the advice of public health authorities and we will continue to abide by the latest guidance while making every effort to ensure your time with us is safe, fun and enjoyable!
Province-wide restrictions have been lifted and in line with the latest guidance, mask wearing will not be required. We encourage everyone to take precautions based on their individual risk assessment and comfort level.
Self Assessment of Symptoms: If you are not feeling well and are experiencing any COVID-19 symptoms, please stay home.
Vancouver Etsy Co. will monitor and control the venue capacity. Entry into the venue may be paused throughout the day.
Health & Safety Acknowledgement  
Please note that while Vancouver Etsy Co. continues to adhere to health and safety guidelines to keep you safe, an inherent risk of exposure to COVID-19 exists in any public place where people are present. By being in public spaces like a Vancouver Etsy Co. event, you voluntarily assume the risks related to exposure and agree that you will assume all responsibilities for any risk of bodily harm, disease, or loss of property sustained while attending this event and waives all right to lay claim for a refund or damages resulting from any cause whatsoever either before, during or after the event.  
By entering the event, you also acknowledge, understand, and confirm each of the following in accordance with applicable health guidelines:  
You and/or any Minor for which you serve as a Guardian will abide by all health-and-safety requirements outlined by Vancouver Etsy Co.
You and/or any Minor for which you serve as a Guardian are not currently experiencing any of the following symptoms of COVID-19, as identified by the government of British Columbia. such as:  
For purposes of this acknowledgement, a "Minor" means any individual who is under eighteen (18) years of age or has not reached the age of majority as defined by such individual's jurisdiction of residence, and a "Guardian" means such Minor's parent or legal guardian or other individual attending a Vancouver Etsy Co. event who is over the age of eighteen (18) and acting in loco parentis for such Minor.  
Please do not enter a Vancouver Etsy Co. event if you cannot confirm all of the above criteria.
IMPORTANT: Please note all restrictions and requirements are subject to change at any time in accordance with government guidelines and legal allowances. These may include, without limitation, changes to capacity, attendance procedures, and entry requirements, such as wearing masks, proof of vaccination and/or negative COVID-19 test, daily screening, contact tracing and any other protective measures.
If any visitor, exhibitor, partner, sponsor, or staff do not comply with any laws, mandates, health orders/directives, and/or event code of conduct, show management may refuse admission to the event or require individual to leave the venue and with no refunds of entrance fees, booth fees, membership fees, parking fees, rental fees, or any other expenses/payments.