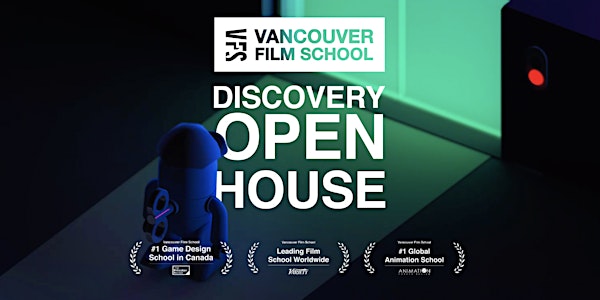 Vancouver Film School - Online Open House - June 2022
If you missed our Open House, the recorded event is available online for a limited time.
About this event
Learn how VFS can set you up for creative success.
Learn how VFS can set you up for creative success in 2022.
VFS's latest Open House may have come and gone, but there's still time to discover one of the world's Leading Global Creative Schools. For a limited time, the recorded event from June 4 will be available online for you to view. This is the perfect opportunity for those who were unable to attend, or those who would like to view the event again. Register for free to receive your link.
VFS Open Houses are your opportunity to learn about our full-time, 12-month programs, our campus, our part-time online workshops & certificate courses, and the VFS student experience. If you're looking to take the first step in your creative career, tune in and find out what interests you.
Recordings will be available on the event platform. You will be required to create a profile. Once logged in, navigate to the Replay tab. The recording will expire on June 7 at 10 a.m. PST.
Discover VFS Connect:
VFS offers short-track, entry level workshops and certificate programs designed to enhance your skills and career portfolio. Whether you're a high school student planning a career in the entertainment industry or a professional looking to pivot, VFS is here to help you elevate your career.
• Learn about our entry-level workshops (4 days).
• Learn about our online certificate courses (7 weeks).
• Find out how a VFS workshop or certificate program can help elevate your current skills and prepare you for our advanced production programs.
• Gauge your interest before deciding to embark on a full-year program at VFS.
Discover Pathways:
Did you know you can obtain a bachelor's or master's degree through VFS? We've partnered with renowned post-secondary institutions around the world to give you the option to go farther, faster.
• Learn about the programs and degree options available to you.
• Explore the pathway learning journey.
• Discover locations in the world where you could complete your pathway and learn and how getting a degree online with travel works.
• Find out how you can get your degree faster this way than through university alone.