Sales Have Ended
Registrations are closed
Thank you so much for your interest! Write to valentina@inwithforward.com to learn about opportunities to participate.
Sales Have Ended
Registrations are closed
Thank you so much for your interest! Write to valentina@inwithforward.com to learn about opportunities to participate.
Join Vancouver Foundation's BetaPhil project to test ways to strengthen equity and deepen systems change impact. Sign-up to one session!
About this event
It is time to move from charity to justice. We're seeking equity and deep systemic change to disrupt dominator cultures* that Vancouver Foundation, and other philanthropic foundations, benefit from.*White supremacy, colonialism, hetero-sexism, classism, ableism
Is your group or organization ...Working to tackle the root causes of inequity and guided by people with lived experience of marginalization because of race, class, religion, nationality, social or ethnic origin, sex, age, disability, sexual orientation, gender identity, or any other status reflective of the diversity of our community?
You're invited to take part in a paid, two-hour creative brainstorming session. Together, we'll explore:
What makes for a good application
Alternative questions and formats
How we enable applicants to be honest, uncertain and a little less performative
Ways to make power, privilege and world views visible
Who should sign-up? We're looking to talk to the writers and masterminds behind a group or organization's grants, 1-2 people
Why take part? Influence how Vancouver Foundation supports groups in under-resourced environments and from under-represented world views.
What to expect:
2 hour interactive session in small groups
A video to watch and a digital deck of cards to look through beforehand (about 30 minutes of time)
Honorarium of $125 per each person participating. With up to $250 honorarium for your group or organization's time.
Choose the date & time that works for you! We have 3 sessions in September to choose from:
Tuesday, September 8th 1-3 PM
Thursday, September 10th 9-11 AM
Friday, September 11th 1-3 PM
We are having a session in Spanish, and with Mandarin and Punjabi interpreters. These events are available through eventbrite as well. If you have questions please write to valentina@inwithforward.com
Curious about what systems change is? This diagram shows some of the key elements:
1. Relationship between parts
2. Parts of whole
3. Root causes
4. Structures keeping problems in place
5. Looking into people's hearts and minds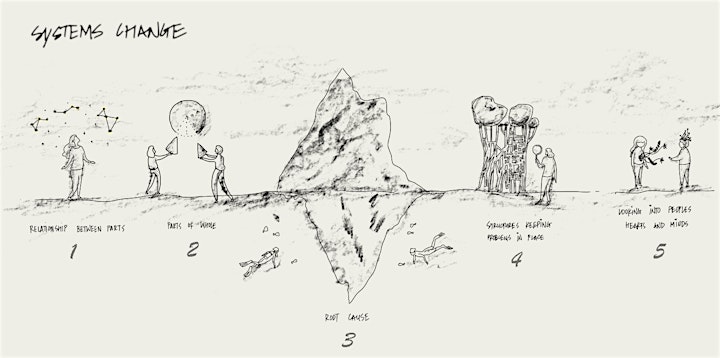 To learn more about BetaPhil, the questions we are exploring, process, principles and more, go to our website www.betaphil.org.
Have any questions? Eager to participate but none of the times work for you? Let's chat! Reach out to valentina@inwithforward.com