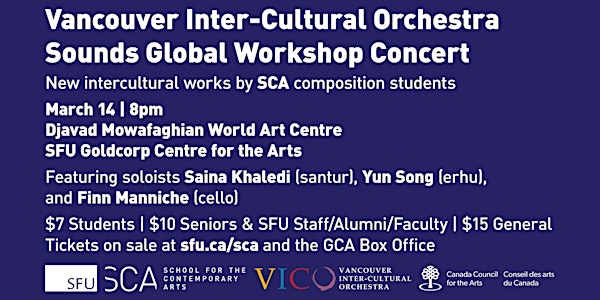 Vancouver Inter-Cultural Orchestra Sounds Global Workshop Concert
When and where
Location
Goldcorp Centre for the Arts 149 W Hastings St Djavad Mowafaghian World Art Centre Vancouver, BC V6B 5K3 Canada
Description
Performers:
Saina Khaledi, Santur
Yun Song, Erhu
Finn Manniche, Cello

New intercultural works by SFU composers:
Daniel Blackie
Sam Meadahl
Annette Wong
Mark Virginillo
Marion Edralin
Lucy Li
Gordon Auyeung
Angela Lee
Kira Bennett
Christopher Giles
Katherine Wong
Monique Ataei

Description:
In its 5th year, the Sounds Global Composers' Workshops organized by the Vancouver Inter-Cultural Orchestra are designed to introduce composers to traditional intercultural instruments from all over the world. Participants have been working closely with the VICO performers to develop new experimental pieces that examine and combine Persian, Chinese and Western music with their own cultural backgrounds.
Contains 1 Intermission.

About VICO:
The Vancouver Inter-Cultural Orchestra's mission is to act as a forum for the creation of a new musical art form, one in which all of Canada's resident cultures can take part. Through composition, performance and educational outreach to both music professionals and the general public, the VICO serves as a voice for Canadian composers and musicians of diverse backgrounds, and fosters the creation of musical works that fuse and transcend cultural traditions.

"music that sounds like Vancouver looks" (Alexander Varty, The Georgia Straight)
"the United Nations of music" (CBC Radio)
Recipient of the City of Vancouver's Cultural Harmony Award in 2012.