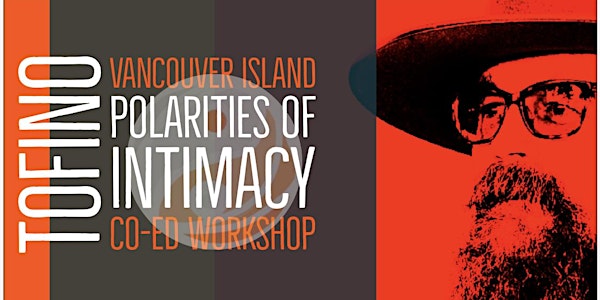 Vancouver Island Co-ed Polarities of Intimacy: Tofino
Part of the 2023 Vancouver Island Polarity of Intimacy Series A three-hour evening intro to "polarities" work.
When and where
Location
Tofino TBA Tofino, BC V0R 0A4 Canada
Refund Policy
Contact the organizer to request a refund.
Eventbrite's fee is nonrefundable.
About this event
NOTE: If you are already registered in the Feb 24-26 Menswork retreat, then you are already registered for this event AND you are encouraged to bring a feminine practice partner (a friend, a spouse, a romantic partner, a date). Their participation is also included in your Menswork registration.
QUESTIONS?
If you have questions after reading the description and pricing (below) PLEASE set up a 15-minute no-charge Zoom chat.
Or email me at hans@sacredbodies.ca
WHO IS THIS FOR?
Anyone of any sexual orientation who is curious about the power of "polarities work" to bring more of who they are to their relationships, families, work —themselves!
Anyone who may be struggling with trust, sex, marriage, parenting, responsibility, confidence, or purpose in their lives.
Anyone who may just want to take things up to the next level. We are looking forward to working with you.
IN THIS THREE-HOUR EVENING MINI WORKSHOP participants will be introduced to a way of relating to themselves and each other that isn't just about "sex," but has an impact on all relationships in our lives.
We'll have some talk,
Some solo and dyad practice,
Some Q&A.
Expect to sit. Expect to move.
NOTES
This is a fully-clothed event
Touch may, with consent, be part of some practices
There will be NO "sexual touching"
The emphasis will be on safety and integrity. Only in a safe environment are we fully able to open to our deeper sexual polarity
We'll be drawing on teachings from yoga, Argentine tango, Kundalini Yoga, somatic trauma work, and qigong. We'll reference the work of individual teachers like John Wineland, David Deida, Kimberly Ann Johnson, among others.
I will be using the terms "feminine-identified" and "masculine-identified" throughout the workshop. I know these words will be problematic for some. Bear with me. As I will describe in the workshop, these terms are meant to be used as tools to unlock the power of polarities NOT to restrict or limit anyone into "binary" ways of being. More on that in the workshop!
TEACHER
Hans Peter Meyer, author at apprenticeshiptolove.com, teacher and founder of SacredBodies.ca
Occasionally I work with a feminine-identified colleague.
BUDDY/COUPLE PRICING
Bring a friend OR a practice partner and save $25 per person (eg. if you are feminine-identified, I suggest bringing a "masculine-identified" practice partner, and vice versa; I know these terms are problematic for many; bear with me as I dive into these terms as useful "tools" rather than fixed realities during the workshop).
Polarities work is always better with buddies. You'll be more committed. You'll suport each other. You'll create more success together.
To qualify for buddy/couples pricing each buddy/couple must:
pay full registration separately,
send me a note telling me who your buddy is at least 24 hours before the workshop.
Once you've each registered I'll reimburse you each $25 on your registration when you arrive at the workshop.
QUESTIONS?
Please email hans@sacredbodies.ca or set up a 15-minute no-charge Zoom chat at sacredbodies.ca/chat.